Back to the list
Bitcoin vs. The Stock Market: Which has better returns?
www.chepicap.com
27 March 2019 19:00, UTC
Reading time: ~3 m
---
Investing in cryptocurrency is often compared to investing in the stock market. Although there are some very important differences, in general, both can lead to comfortable returns or getting wrecked, depending on timing. Today we're going to look at a few legacy stocks and see how they compared to Bitcoin during certain windows to determine which has better returns, Bitcoin or the stock market...
There are obviously a lot of variables in this comparison, so to keep it simple we will just stick to Bitcoin and not altcoins, as obviously, every crypto has its own journey. And we'll limit the stocks we compare to Apple, Google, and Amazon as they give a decent representation of the technology sector. Lastly, all comparisons will be based on $1,000 investments, because basically, we're just looking to highlight the percentage of return. Results are from the investment calculators on dqydj.com for Bitcoin and www.buyupside.com for the legacy stocks.
2018
If we purchased $1,000 worth of Bitcoin (BTC), as well as equal values of Apple (AAPL), Google (GOOGL), and Amazon (AMZN) in January of 2018 and held until January of 2019, how would each investment fare?
Apple: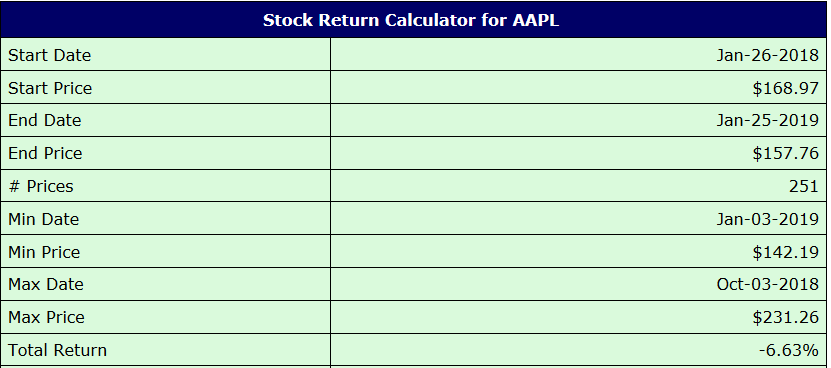 Google: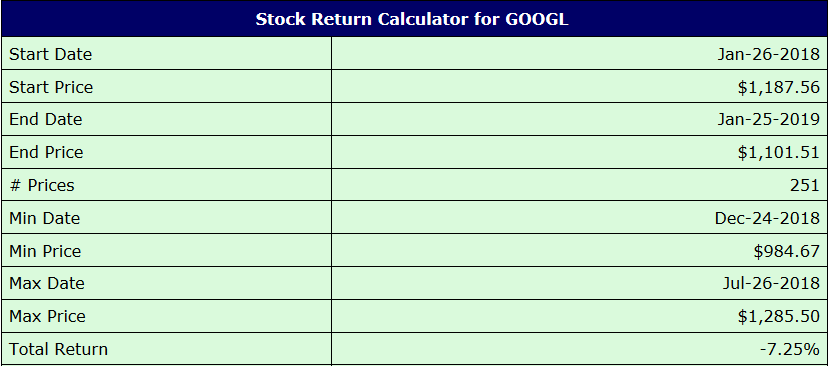 Amazon: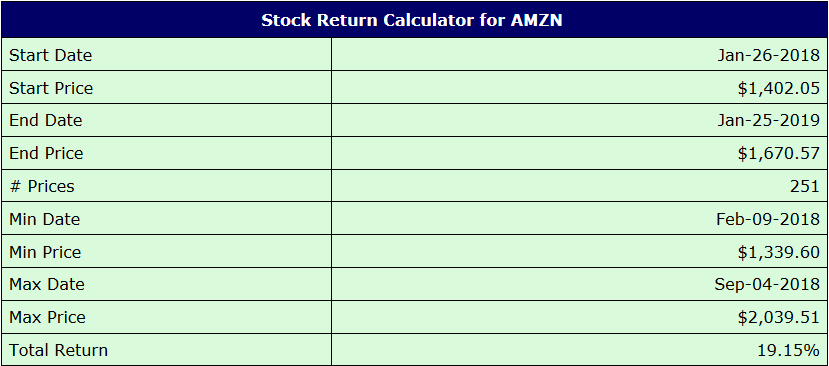 Bitcoin:

Of the four, only Amazon had a positive return in 2018. Not surprisingly, Bitcoin was the worst of these investments in 2018, as a $1,000 investment would only have returned about $322. 2018 was notoriously bad for crypto of course, so now let's take a look at a more forgiving year, 2017.
Read more: Will central banks accumulate Bitcoin? "Hugely impactful on the price"
2017
Apple: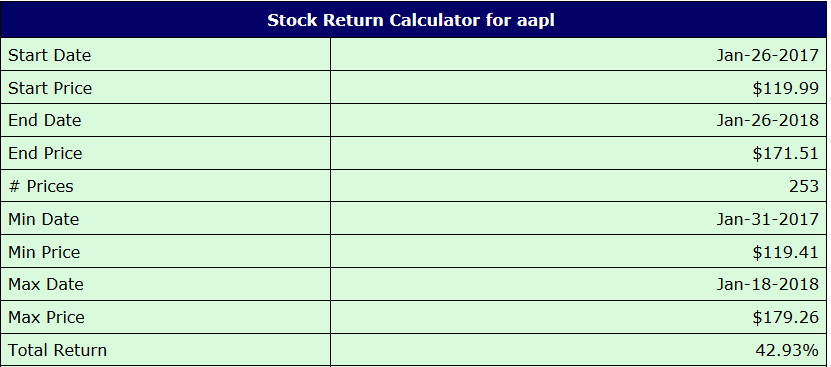 Google: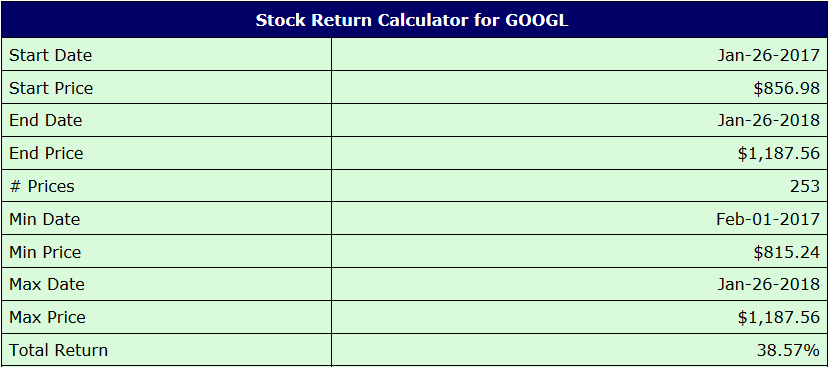 Amazon: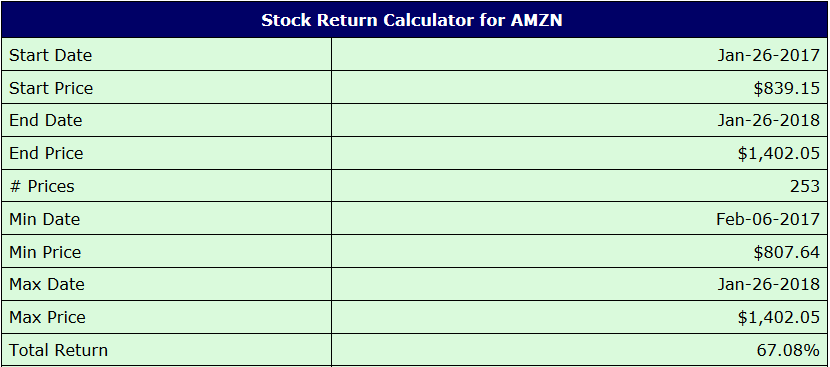 Bitcoin:
While 2017 was a better year across the board, with all our legacy stocks gaining near or over 50%, Bitcoin blew them out of the water this year with well over 1000% returns. Obviously, these results are very narrow windows into two very different years, so now let's take a look at how these stocks compare to a purchase of Bitcoin in 2011 through to today.
2011-Today
Apple: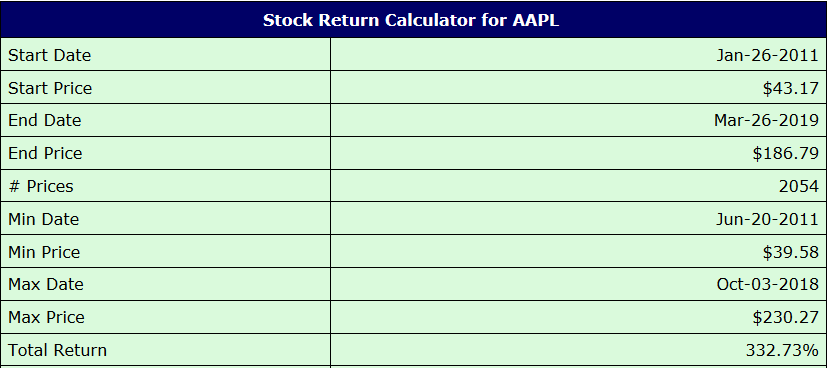 Google: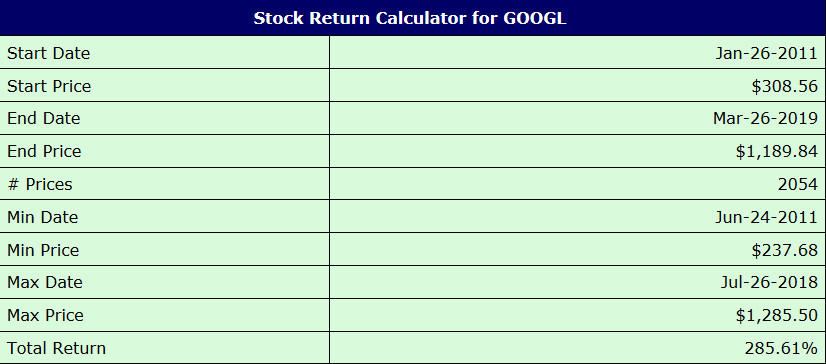 Amazon: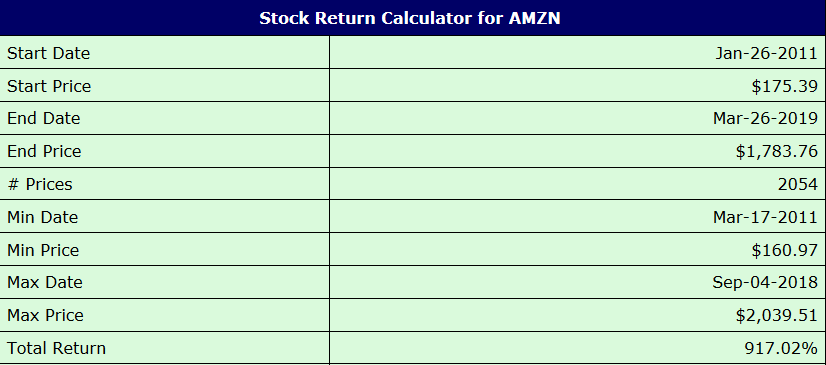 Bitcoin:

Clearly, all these stocks did quite well over this time, with all three showing multiple hundred percent gains. Amazon is even approaching 1000% returns. When it comes to Bitcoin, yes, you are reading that right, a purchase of Bitcoin in early 2011, if held to today, would give the hodler a return of 947,647%. There's basically no comparison.
Read more: What happens to Bitcoin if the stock market crashes?
Now, this in no way makes Bitcoin a "better" investment. Those gains came with extraordinarily high risk. There was never any guarantee that Bitcoin would stick around (still isn't, but it's looking good). Along the way, there was quite a bit of volatility in the market. Anybody in 2011 would have called the legacy stocks the safer bet, and for good reason.
It is unlikely Bitcoin will ever see quite the explosive rate of growth in its price again, as it simply doesn't have as much "room to grow," though there is much debate as to just how much of the global economy it stands to absorb. Nonetheless, if the next decade could bring Bitcoin returns that are even just a tiny fraction of the last 8 years, there will be a lot of Lambos on the roads of 2029.
Read more: What does Apple Card mean for crypto?; Is Bitcoin at $1 million really possible?
5 BRAND NEW Bitcoin price predictions! Subscribe to the Chepicap YouTube Channel for more videos!


---
Source
---
Back to the list