Back to the list
COMP Technical Analysis: Bulls Beat Exceed 50-day EMA To Test $55
cryptoknowmics.com
10 September 2022 12:54, UTC
Reading time: ~2 m
---
COMP price action shows a bullish reversal from $44.5 with a double bottom pattern, resulting in a  jump above the 50-day EMA.  The COMP prices reverse from the $44.5 mark after the rising channel fallout with a double bottom reversal crossing above the 50-day EMA. However, the recovery rally might shortly bearish opposition at the $55 mark. So, should you consider hopping on the rising rally or wait for the $55 breakout?
Key Points:
The COMP price action showcases a double-bottom reversal.
The bullish reversal may shortly challenge the $55 mark.
The intraday trading volume in Compound (COMP) is $40.04 million.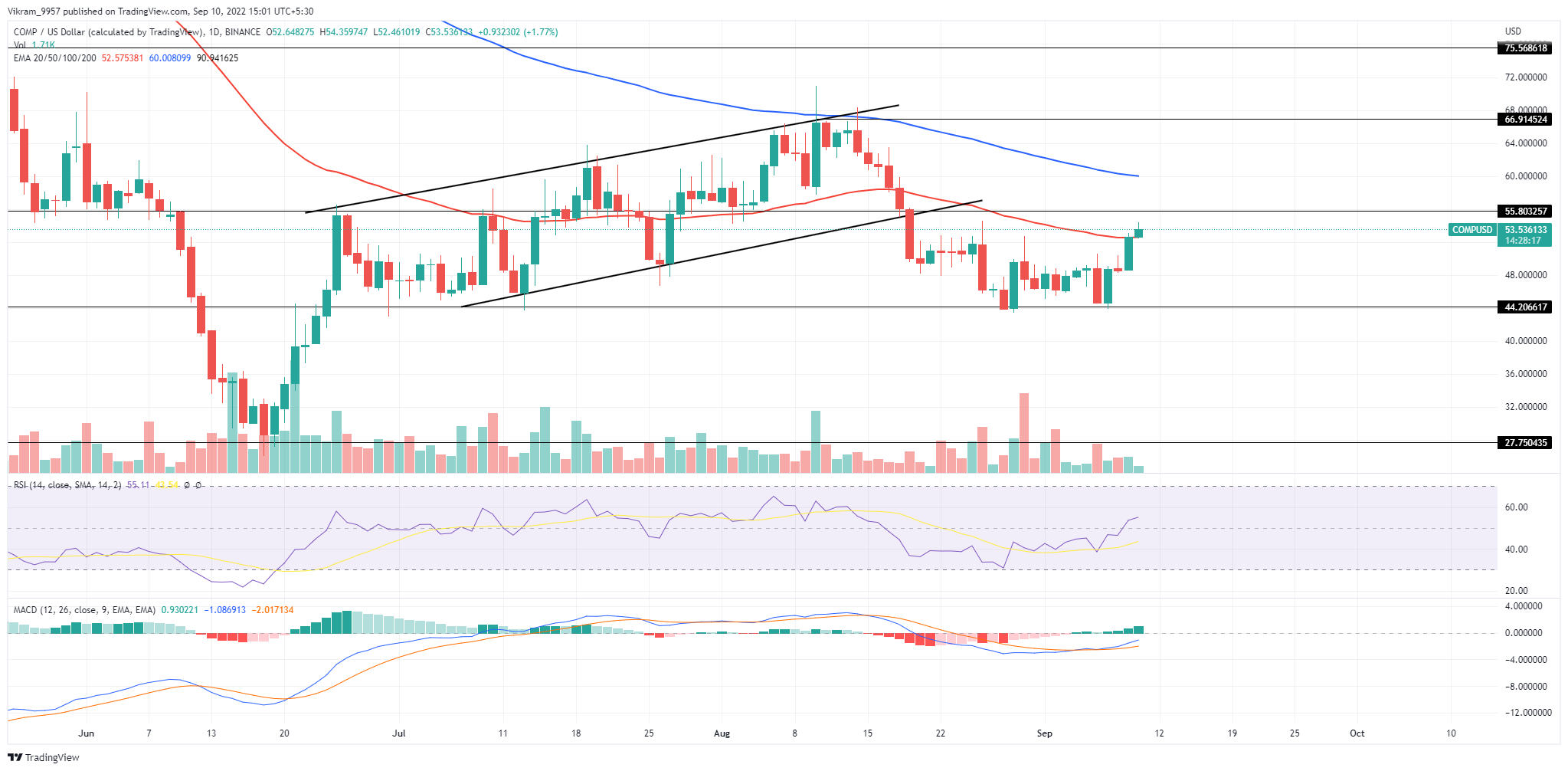 Source - TradingView
COMP Technical Analysis
The COMP price broke below the rising channel pattern due to the increased selling pressure during August, resulting in a 40% drop to $44.5. The buyers at the support level led contained the falling prices leading to a sideways shift in trend. However, the bullish influence growing over the consolidation range led to a double bottom reversal breaking above the 50-day EMA. But, the lack of a significant surge in treading volume to support the bullish reversal questions the trend continuation. The bullish breakout rally crosses the 50-day EMA to challenge the overhead resistance of the $55 mark. Sideline buyers can expect the $55 breakout as an entry spot with the potential to reach the $66 resistance level. Conversely, a reversal from the $55 neckline will likely drop the COMP market price by 10% to test the $50 mark.
Technical Indicators
The daily-RSI slope reverses from the 14-day SMA to exceed the halfway line and maintains a diagonal trend in the nearly overbought zone. Furthermore, the MACD and signal lines gain bullish spread with the recovery rally fueling the positive trend in histograms. Thus, the indicators display a remarkable rise in buying pressure, teasing a jump in COMP prices to the $66 mark. Resistance Levels - $55 and $66 Support Levels - $50 and $44.5
---
Source
---
Back to the list