Back to the list
The true value of XRP's market cap
www.chepicap.com
12 March 2019 00:30, UTC
Reading time: ~6 m
---
A new debate over the 'true' market cap value of XRP has opened up with neither side conceding, but how is market capitalization defined? And what does that mean for the true value of XRP's market cap?
Towards the end of January, a fresh batch of condemnation was stirred up for Ripple, and for once it was nothing to do with XRP's asset classification; instead, this latest uproar pertained to the way in which Ripple presents the market cap of XRP.
The furor started over a report produced by Messari Research – a cryptocurrency based research firm with a penchant for transparency. Within the report, the firm asserts that the market cap of XRP is false, and perpetuated by Ripple for their benefit.
Read more: Messari Research claims XRP market cap is grossly overstated

🚨Exclusive report: We believe Ripple's $XRP market cap is likely overstated by $6.1 billion based on inflated circulating supply numbers.

Read our summary and methodology: https://t.co/0zD5YUSTpV …

Newsletter subscribers can access the full report through that link.

— Messari (@MessariCrypto) January 24, 2019
The report outlines the claim that 46% (19 billion) of XRP's 41 billion supply is either locked up as per a founder's agreement or in Ripple's charitable arm RippleWorks, meaning it's not actually in circulation and thus, in Messaris eyes, not a valid contributing factor of the XRP market cap.
Due to these assumptions, Messari places XRP's 'true' market cap at approximately $7 billion, (using current prices). This is in stark contrast to the widely denoted $13 billion market cap.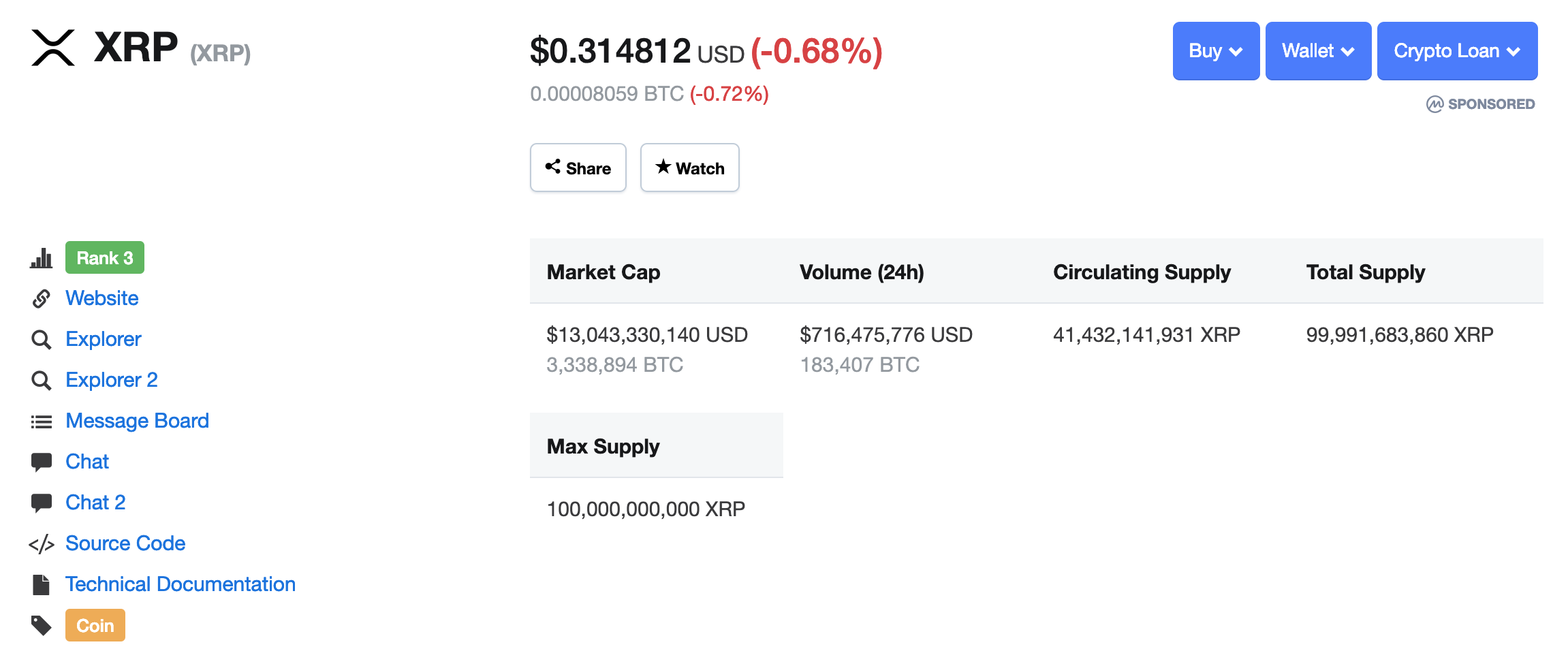 This prompted Messari to recommend major indices such as  Bloomberg-Galaxy, MVIS CryptoCompare, Bitwise as well as passive funds such as Grayscale's Digital Large Cap, and Bitwise's 10 Large-Cap Crypto to revise their circulating supply assumptions for XRP to reflect their 'updated' figure of XRP liquidity.
The report caveats that a "more precise estimate of XRP's supply will likely requires disclosures from Ripple"
This (unsurprisingly) caused a stir within both Ripple, and XRP community proponents, with the latter coming out in strength, defending Ripple's XRP market cap metrics, much like an army - an XRP army.
FUD!!

— True (@XRPlosion) January 25, 2019
Who is messari? Are we letting 5 guys who work out of a wework space have a professional opinion now?

— bob (@Tombok90) January 24, 2019
Shameful. pic.twitter.com/s5iJEM6fiS

— BG Iradji🇺🇸 ㊙️ (@BGIradji) January 24, 2019
Ripple had a far less volatile response, stating:
"Not only does this report contain several inaccurate assumptions around lockups and selling restrictions, the entire report is based on an incorrect calculation of market cap. While decentralized digital assets like XRP are different from traditional equities, the term 'market cap' is always a very simple calculation: current price X total number of the asset = market capitalization. That puts XRP's current market cap at approximately $31 billion. We believe that any other calculation of market capitalization for XRP is not a clear representation of the truth."
All in all:
Messari posits that due to certain restrictions on the total supply of XRP, it's official market capitalization is not a true reflection, and is in fact, overstated by around $6 billion.
Ripple responds by stating that market capitalization is a simple equation: Total supply of an asset x by its current price = market cap.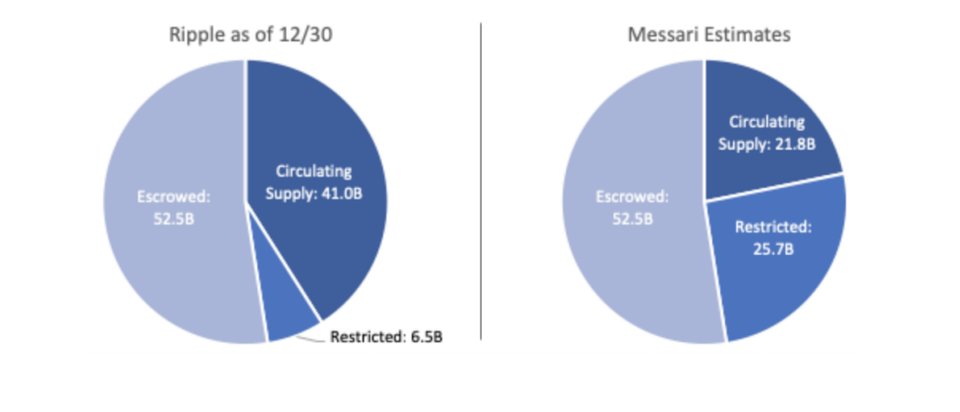 So who's right?
Well, this effectively boils down to the representation, and interpretation of data, which, in this case, could be deemed as a fairly subjective topic, especially when it comes to the nascent crypto industry.
Firstly let's look at this from a point of pure semantics.
The dictionary definition of "market capitalization":

Given this literal definition we can see that market cap = the value of a company, calculated by multiplying the total number of shares by a present share price.
However, a share, by definition is an equal part of a company's capital, divided; something which entitles the holder to a portion of these profits. Now Ripple would perhaps agree that XRP is not a share in Ripple, but that isn't the main issue.
Let's assume for argument's sake that XRP = a share. If all shares are equal, and by definition, they should be, It would perhaps be disingenuous to count the XRP locked up in escrow as a contributing part of XRP's market cap, giving credence to Massari's argument.
Read more: XRP at $589? Is it really possible for Ripple's token?
 
On the flipside, however, some argue that while these token aren't technically in circulation they still belong - or will belong - to someone, regardless of whether they're currently held in escrow or not.
2/4........ in its market cap. Whether it's held in an escrow 'vault' or by the founder of the company on a Ledger Nano S. It makes no difference. The point is, it exists, today, in its full 'unadulterated' form and it belongs to someone. Would you exclude the USD someone has....

— QuantumPanda (@QuantumPanda1) February 4, 2019
There are also further issues raised with Messari assumption. One main point of contention is the idea that if this applies to XRP, it should also apply to every other cryptocurrency; with many offering Bitcoin as a prime example of a cryptocurrency with many inaccessible, or lost tokens.
All this seems to be stating is XRP is less liquid atm due to lockups.  Do research on the fact that 25% of bitcoin is lost.  Its marketcap is currently 25% overstated.  Not including satoshis wallet.

— Nicklas Baesler (@NicklasBaesler) January 25, 2019
Although a relatively old example, Chainalysis reported back in 2017, that a massive 2.56 million BTC, with a current USD value of $9 billion, was lost and thus taken out of circulation.  So if in the interest of fairness, if Masssiris assumption of 'true' market cap value is to be recognized, it must apply to every other cryptocurrency, taking into account evert lost or inaccessible token.
Interestingly, there are some who believe that XRP's market cap may actually be understated. This is due, again, to semantics.
As per Ripple's formal statement, specifically denoting market cap calculations: "current price X total number of the asset = market capitalization," XRP would actually cite a total market cap of $31 billion (total supply of XRP = 100 billion x current price of approx. $0.31 = $31 billion)
Quote from above:
"Traditionally as a financial term, market capitalization is TOTAL SUPPLY multiplied by the price."

XRP total supply = 99,991,699,770.49

So actually it's being underreported almost everywhere.

— Rich Devor Jr (@devor_jr) February 1, 2019
Who cares?
The issue with an inflated market capitalization is much the same problem as wash trading, it deceives investors with a false expectation of liquidity and therefore may attribute to speculators buying based on an unreal belief that a certain asset is more valuable than it actually is.
Read more: The sirens of crypto: Wash trading epidemic continues with $6b in false volume

In this case, it could be the difference between Ethereum, or XRP at the coveted #2 in the top cryptocurrencies by market cap; an accolade which still holds a fair bit of gravitas.
So what is XRP's true market cap? Well, that's a pretty subjective question... It seems, at its core, this debate really comes down to which metric you want to believe. Either market cap explicitly includes all XRP ever created, or it only includes those in current circulation, excluding all in escrow. 
So what do you think? Is XRP's market cap overinflated, underinflated or just right?
Read more: XRP is traded more than Bitcoin, Ethereum, and Amazon on eToro; Why do some people hate Ripple (XRP) so much?; 


---
Source
---
Back to the list