Back to the list
Mining Pools for Bitcoin, Ethereum and other Cryptocurrencies
changelly.com
19 November 2020 08:10, UTC
Reading time: ~17 m
---
Bitcoin mining pools are still in great demand, even in 2020. Changelly is always on guard to provide you with the latest learning materials about crypto essentials. We've gathered everything you need to know about Bitcoin mining pools, starting from basic definitions and the best mining pools to mine BTC and ending with all the nuances like the mining payouts schemes, etc. Dive into a comprehensive bitcoin mining pools guide with Changelly. 
What Is a Mining Pool?
A mining pool is a united group of miners who share their computational resources (hashing power) over the network in order to find the next block and get a reward. Mining might be costly in terms of electricity and equipment costs. With combined hashing power, miners manage to find new blocks efficiently and in a much cheaper way.
Pool Concentration in China
Since the very beginning of mining activity, China has been the most attractive place to set up a mining pool for many reasons. The most important factor is that China supplies cheap electricity. Bitcoin or any other Proof-of-Work-based cryptocurrency requires a pretty big amount of electricity. Therefore, China seems to be the right place to start a mining pool. That is why major Bitcoin mining pools are located in China. 
However, according to the latest news, China might soon lose its leading position in the mining industry.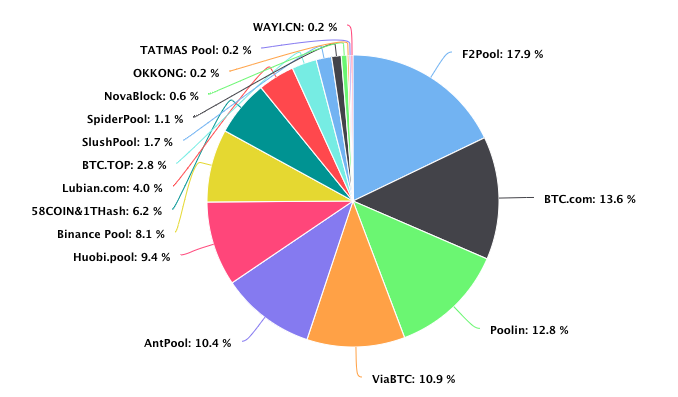 #1. F2pool 
BTC Hash rate: 129.65EH/s
Share: 17.9%
Location: China
F2pool was the first Chinese project of its kind. Currently, it is the best crypto mining tool in terms of the number of supported currencies. Initially, they only focused on Bitcoin, but then ETH was introduced in 2015, and by 2019, they added a wide variety of other coins.
By 2020, f2pool again took the first place, growing its hash rates, so it remains one of China's best Bitcoin mining sites and around the world. The website supports English, Spanish, and Chinese. F2pool charges 2.5% as a mining pool fee when mining BTC. Both Android and iOS apps are available for personal account management. Simplicity and reliability – that's what miners value f2pool for.
Notably, f2pool mined Bitcoin block number 629,999. This was the last block before the third Bitcoin halving that happened this year.  
#2. BTC.com
BTC Hash rate: 16.070 EH/s
Share: 13.6%
Location: China
The second largest BTC mining pool is also situated in China. BTC.com takes 13.6% of hashrate within the Bitcoin network. BTC.com mining pool is run by a Chinese-based giant company Bitmain which is also behind Antpool and Antminer ASICs. 
However, some users complain about support work and troubles with reward's withdrawals. Yet, BTC.com has been on the market for quite a while, proving its consistency and taking the third position in our top list. The pool utilizes several payment systems, including FPPS and PPS (will be explained below). 
#3. Poolin 
BTC Hash rate: 126.14 EH/s
Share: 12.8%
Location: China, Hong Kong
The Poolin mining pool follows the motto of "Making the world a better place through decentralization." Being the third most popular Bitcoin mining pool on the market, Poolin lets users mine not only BTC but also Bitcoin Cash, Bitcoin SV, Litecoin, Decred, Dash, ZCash, Monero, and Electroneum on ASICs and graphics processors from Nvidia and AMD. 
It supports several reward systems, including PPS, FPPS, and PPLNS. The payments are made once a day at 12 AM (UTC+2). The minimum withdrawal amount depends on the cryptocurrency.
Although Poolin is a young project, it provides a range of cool features like average transaction commission, an internal PIN token, which serves as proof of participation in the Poolin community, and much more.
#4. ViaBTC
BTC Hash rate: 128.09 EH/s
Share: 10.9%
Location: China
ViaBTC was founded in 2016 in China as "an innovation-intensive startup." Following this description, ViaBTC has been working hard to prove this ambiguous statement. In 2020, ViaBTC offers a range of opportunities to mine not only BTC but also other cryptocurrencies. 
The service allows for cloud mining, group or solo mining, and so on. ViaBTC introduces an all-in-one mobile application for iOS and Android devices so the users can monitor cryptocurrencies' hashrate in real-time. 
#5. Antpool 
BTC Hash rate: 14.3 EH/s
Share: 10.4%
Location: China
As mentioned above, Antpool is another project of the industry's behemoth Bitmain. Being oriented primarily on Chinese miners, Antpool mining pool provides a suitable environment for BTC mining. 
Antpool allows miners to discover blocks for the broadest range of cryptocurrencies, including ETH, RVN, ZEC, AXE, BTM, and many others. Since this pool offers to mine different types of digital assets, it has introduced a relatively new feature called Smart Pool. 
Antpool's Smart Pool schedules your hashrate so that you can mine the most profitable cryptocurrency and, as a result, get higher profits. 
#6. 1THash & 58coin
Share: 6.2%
Location: China
A relatively new mining pool was developed by a Chinese company Chengdu Wanyou Computing Technology, in 2018. Since then, 1THash has continued to grow and evolve, turning into a popular platform. It is a BTC-oriented mining pool, so developers can concentrate solely on improving user's interaction with Bitcoin mining.
However, that also means that you won't be able to mine altcoins on the same platform, so if you prefer to have multiple crypto at hand, you should probably look at other platforms. It also concentrates on Chinese miners. The platform provides the English language making it available for the rest of the world as well.   
#7. Slush
BTC Hash rate: ???
Share: 1.7%
Location: Czech Republic
The platform was introduced on November 27, 2010, by Satoshi Labs. This fact makes Slush pool the oldest Bitcoin mining in the industry. In the summer of 2017, the site became the leader in Bitcoin mining. After the BTC fork, BCH appeared, and Antpool shifted part of its capacity to Bitcoin Cash, which led to Slush Pool's leadership. In 2017, the pool introduced a fixed commission of 2%. In 2018 Slush Pool ranked third for the share of production of the first cryptocurrency.
Even though Slush pool is currently in maintenance, the mining pool still takes around 1.7% of the market share. 
#8. Huobi Pool
BTC Hash rate: 14.175 EH/s
Share: 9.4%
Location: Hong Kong 
Initially based in China, the Huobi cryptocurrency exchange has met several obstacles on the way to the top charts. However, it could make it and now takes the leading position in the industry. Like another crypto giant Binance, Huobi stepped into the mining waters and succeeded. 
In terms of crypto mining, Huobi Pool primarily focuses on two types of cryptocurrencies based on the Proof-of-Work algorithm (BTC, LTC, BCH, ETH, etc.) and delegated Proof-of-Stake (dPoS)-based EOS. Being one of the most reliable Bitcoin mining pools on the market, Huobi Pool provides suitable environments for efficient crypto and BTC mining. 
#9. Binance Pool
PoW Hash rate: 13.29 EH/s
Share: 8.1%
Location: Malta (initially China)
Binance established its rights on the crypto market in 2017. Since then, the Binance ecosystem has been growing rapidly. Today, Binance is the biggest cryptocurrency exchange in the industry that offers a wide range of crypto products, including a Bitcoin mining pool.
Just like in other crypto sectors, Binance Pool managed to succeed in the field of mining. It currently takes a share of 8.1% of all miners. Binance Pool allows users to mine blocks for blockchains built on the SHA-256 hashing algorithm (BTC, BCH, BSV) and Ethash. Binance mining pool is not as big as others, yet it provides native UX/UI, which is recognizable by users. 
Quick Tip
Mining is not the easiest way to get crypto but definitely the most interesting one. Not ready to spend precious time on mining basics? Then Changelly might be the right choice for you. Buy BTC and a range of 170 other crypto assets with a credit card (Visa, Mastercard), bank transfer, or Apple Pay on Changelly. 
Bitcoin Mining Pool Comparison
Changelly provides different payment methods, including bank cards (Visa, Mastercard), bank transfers, and Apple Pay. Buy crypto at the best rates on the crypto market and pay with your native currency – Changelly accepts over 50 fiat currencies.
Want to purchase crypto instantly and on the go? Try our enhanced Changelly application that is available for both iOS and Android devices. 
Which Countries Mine the Most Bitcoins?
The number of countries that mine the most Bitcoins directly correlates with the electricity bills. Bitcoin mining just like mining of any other cryptocurrency consumes a lot of electric power. As we've already told you, China provides the cheapest electricity alongside access to top-notch mining hardware and software. Therefore, it is no surprise that the vast majority of Bitcoin mining pools are located in China.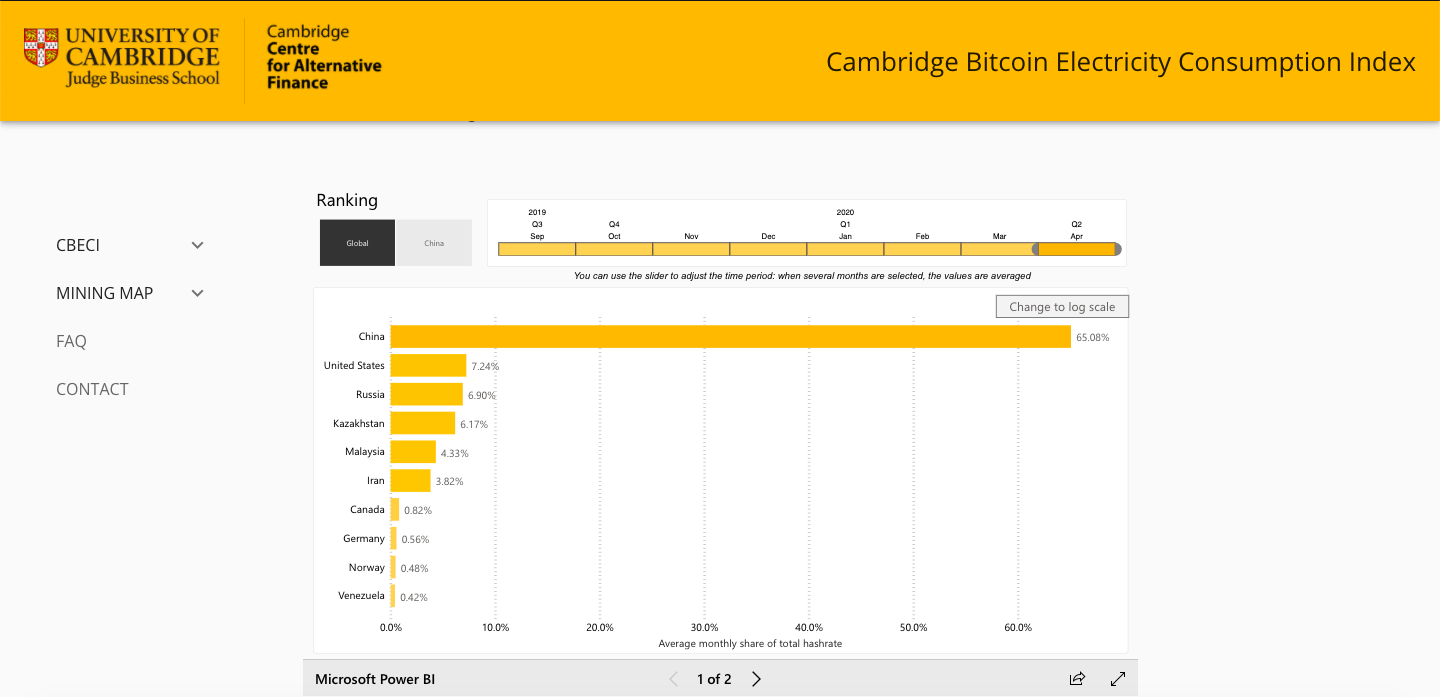 ---
Source
---
Back to the list