Back to the list
Ethereum [ETH] Technical Analysis: Bear has taken over the bullish market
ambcrypto.com
27 December 2018 10:50, UTC
Reading time: ~2 m
---
The cryptocurrency market has fallen after observing a week's high. The third-largest coin on the top-10 cryptocurrency list, Ethereum [ETH], has had a shaky ride ever since the market started showing an upward trend. However, the coin did manage to stay in the third position and not slip from its rank like many other major coins.
According to CoinMarketCap, ETH was valued at $126.41, with a market cap of $13 billion at press time. The 24-hour trade volume of the coin was reported to be $2 billion, with a fall of 7.54% over the past 24 hours. The coin, which registered an overall growth of 19.26% over the past week, has now slipped by 3.26% over the hour.
1-hour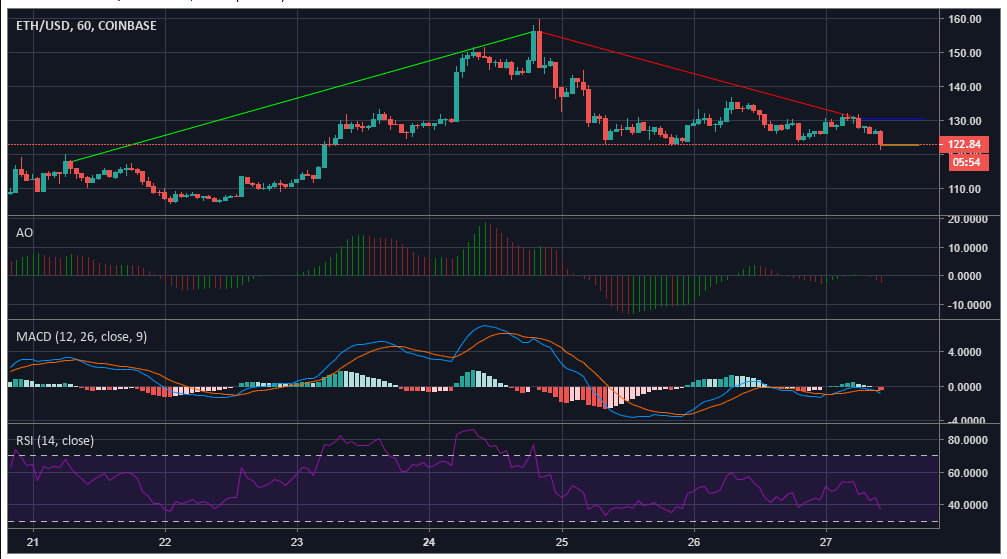 Source: Trading view
The one-hour chart of Ethereum reports a massive uptrend from $117.75 to $156.07, however, the chart indicates a downfall in the value of the coin from $156.04 to $130.51. The wounded market has marked a resistance for the coin at $130.51 and has offered strong support at $122.71.
Awesome Oscillator indicates a bearish market gaining momentum.
MACD line is under the signal line and appears to have undergone a crossover, marking a bearish market.
Relative Strength Index showcases that the buying and selling pressures are evening each other out.
1-day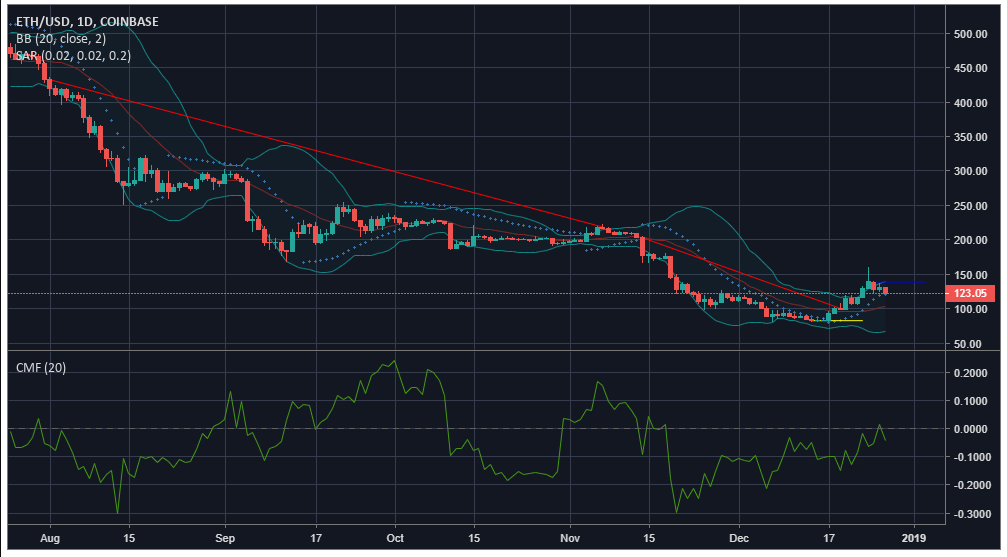 Source: Trading view
As per the one-hour chart of the coin, a downtrend was observed from $432.36 to $218.66, which further extends to $101. The price of the coin is seen to slip by a lot over the past few months. The coin registered a resistance at $139 while reporting support at $83.
Bollinger Bands is indicating a bearish run for the coin, as the moving average line is under the candlesticks. The bands appear to be diverging, thus an increase in volatility must be underway.
Parabolic SAR, on the other hand, points towards a bullish market as the markers align themselves under the candles.
Chaikin Money Flow marker is under zero, indicating that money is flowing outside the market.
Conclusion 
At the time of press, a bear market is seen to mark its territory. The indicators Awesome Oscillator, MACD, Bollinger Bands, and CMF predict a bearish market. However, Parabolic SAR forecasts a bullish market to come back.
---
Source
---
Back to the list