Back to the list
Ethereum Clinches New Milestone, Will the Bull Rally Carry the Price to the Next Levels?
coinpedia.org
03 February 2021 09:10, UTC
Reading time: ~2 m
---
Ethereum Price above $1500 for First Time
The Ethereum price initiated the rally a couple of days before following a modest pullback below $1300. However, the price jumped immediately above the levels and picked up the bullish momentum. 
The accelerated rally manifested the strong aspiration of the ETh bulls to carry the price towards new highs. Therefore with the Bitcoin bull run, ETH price also pumped hard to hit the milestone at $1558 and trading around the same labels since then.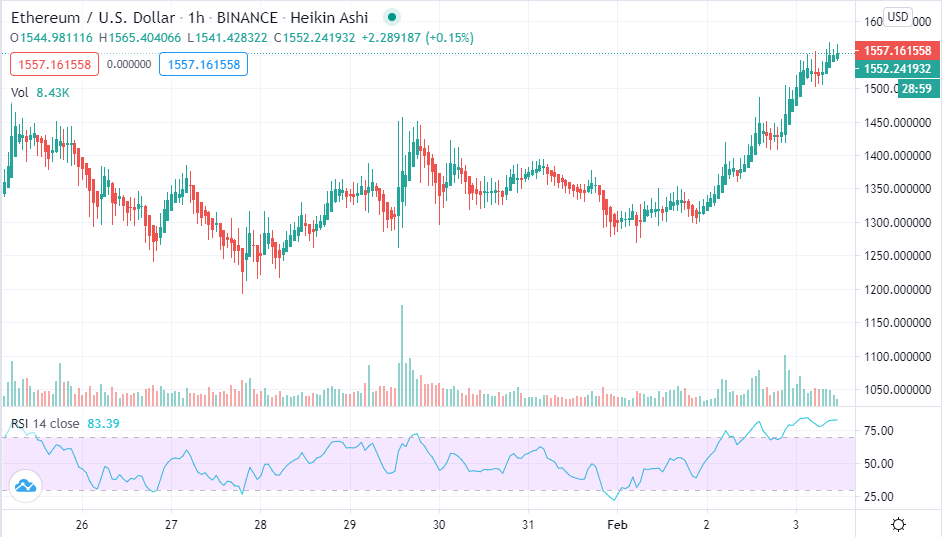 The ethereum derivatives market witnessed a massive jump as the traders may be self-assured about the future prospects of the asset. With the geared up Bitcoin price rally, ETH price too smashed the highs. However, the prime focus would be on the assets not visiting the previous levels below $1500, else a major correction may be on the way.
Altcoins May Follow the Trend
As Bitcoin price rose above the strong resistance levels at $35,000, the altcoins appeared to have reinstalled on the path towards their lost positions. And hence Ethereum which stood strong despite Bitcoin's free-fall quickly gained a strong grip and jumped out of the box.
The bull market is expected to go nearly 100x or more if Bitcoin price gets another 10x, according to a popular analyst, Lark Davis. 
According to the analysts, if bitcoin price gets another 10x boosts, it may hit $350,000 and hence ethereum may also hit $15,000. And if the bitcoin price and ethereum price rallies, then the assets with the small market capitalization may also rally hard more than 100x.
Collectively, the Etherum price rally may be massive within the current bullish trend and go as high as $10,000 as predicted by a popular analyst Micheal van de Poppe.
---
Source
---
Back to the list