Unstoppable Rally Now Takes Bitcoin Price Above $8000, Adds $1200 in a Single Day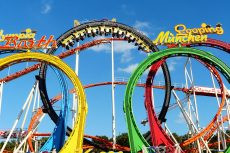 www.coinspeaker.com
2019-05-14 08:33
Reading time: ~4 m
---
Looks like the Bitcoin bulls are in no mood to hear as the world's largest cryptocurrency continues to make new highs every day. Just when yesterday, Bitcoin price seemed to be consolidating around $7000 levels, the bulls charged-in again!
At the press time, Bitcoin (BTC) is trading at a premium of 13.61% in the last 24-hours. The Bitcoin (BTC) price at present is $8018 with a market cap of $141 billion. Furthermore, Bitcoin's daily trading volumes have reached over a massive $31 billion indicating a significant jump in the on-chain activity.
Over the last 24-hours, the Bitcoin price has surged by $1200 pushing it to make new highs for 2019. The rapid movement of the BTC price from $7000 to $8000 follows the prediction of several technical analysts saying Bitcoin was already in the oversold region.
Bitcoin is undoubtedly the best performing asset class for investors in 2019, so far. Since April 1, 2019, investors have got a 100% appreciation on their BTC investments.
Analysts have spotted a parabolic price pattern based on the BTC charts. Previously, a similar parabolic pattern occurred during the end of the 2015 bear market.
Is #bitcoin repeating history again?

The current parabolic rise looks very similar to how the previous bear market in 2014-15 ended. $BTC/USD increased roughly 150% from previous lows on both occasions. pic.twitter.com/LQa8iBnR4S

— CoinDesk Markets (@CoinDeskMarkets) May 13, 2019
It looks like the history is repeating itself and what follows from here could be massive price gains for Bitcoin investors.
Bitcoin at $10,000 – The Next Target
Analysts say that if the latest bull trend continues, Bitcoin can soon surge past $10,000 levels. Although some traders suggest that a major retracement in the price post that, is very likely.
Analyst Josh Rager notes that the FOMO (Fear-of-Missing-Out) will play a crucial rule in providing stimulus to the ongoing Bitcoin rally.
$BTC – The FOMO is real

Bitcoin is currently on a tear & the next target of serious interest is $8200+

High interest remains near $6400 if BTC decides to cool off & pullback

My dream area to buy would be $5500 to $5700 but there's no promise $BTC will hit that low again pic.twitter.com/GkEmn4uf8t

— Josh Rager 📈 (@Josh_Rager) May 13, 2019
Another cryptocurrency trade 'The Crypto Monk' notes that anything in the $6K range will be a dream entry. He said:
"Anything in the 6k's right now is a dream entry. All eyes on $6.8k support. It's all about consolidating, and establishing a range to leave some room for alts."
Thomas Lee, the co-founder of Fundstrat Global recently conducted a poll for a FOMO prediction.
At what price will see FOMO from those who gloated about 90% crash in $BTC?

Military term, SWAG (scientific wild-assed guess).

My SWAG is $10,000 is price that causes FOMO from those who saw #bitcoin as dead forever.

POLL:
At what price do we see FOMO?

— Thomas Lee (@fundstrat) May 12, 2019
Institutional Participation on the Rise
With the recent price rally in Bitcoin and the overall crypto market, the cryptocurrency investment firms are seeing a major rise in assets under management. Digital Currency Group's Grayscale is managing $1.7 billion worth assets as on May 14, 2019, says company founder and CEO Barry Silbert. Grayscale's subsidiary investment vehicle – Bitcoin Investment Trust (GBTC) looks after all the assets under management.
Grayscale Bitcoin Trust (symbol: $GBTC) assets under management hit $1.7 billion today https://t.co/23SkUyDL2W

— Barry Silbert (@barrysilbert) May 13, 2019
Other traditional financial giants like Fidelity Investments are planning a big-bang entry in the coming weeks. A Fidelity spokesperson recently confirmed that the firm will start Bitcoin trading services aimed at institutional players only. We expect a massive influx of liquidity post the start of the service.
ICE's Bakkt, Nasdaq, and other big players are already queuing up to get their cryptocurrency products and services to the market soon.
Retail Giants Start Accepting Bitcoin Payments
Some of the big retail giants like the Amazon-owned Whole Foods Market, Nordstrom, Basking Robbins, Barnes & Noble, Regal Cinemas, etc have announced to start accepting Bitcoin and other cryptocurrencies as payments against their products and services.
This will be enabled due to a partnership between the Gemini crypto exchange and payments startup Flexa. Tyler Winklevoss, the co-founder of Gemini made the announcement, saying:
"Together, by providing Flexa with trusted custody and infrastructure, we hope to profoundly improve the payment experience; and merchants who are currently subject to overly complex, expensive legacy systems of credit and debit cards stand to benefit significantly".
The payments shall be facilitated using the SPEDN mobile wallet app. Gemini will take the custody of all cryptocurrency deposits in SPEDN while ensuring the safety of tokens.
SPEDN application is currently available on iOS and powered by the Flexa Network, an ethereum-based payments network.
---
Source