Back to the list
Time for Bitcoin?: US stocks plummet as China-US trade war continues
www.chepicap.com
14 May 2019 01:00, UTC
Reading time: ~4 m
---
Today America has awoken to a very bloody Monday, as two of the countries most time-honored stock indexes, the Dow Jones futures, and the S&P 500 futures note some pain in store for the coming week… the crypto markets, on the other hand, are citing continued gains, but are these two happenings connected?
According to Market Watch, Wall Street is in for a rough start of the week with the Dow Jones futures down around 500 points, and the S&P 500 futures citing a 57-point drop.
The stock markets appear to be reacting to the news of China raising tariffs on US goods, seemingly in retaliation to the Trump administration's raising of duties on $200 billion of Chinese imports from 10% to 25% last week.
This tit for tat trade war seems to be having a direct and negative impact on the US markets, and according some may even start trickling down into other asset classes:
China may stop purchasing US agricultural products and energy, reduce Boeing orders and restrict US service trade with China. Many Chinese scholars are discussing the possibility of dumping US Treasuries and how to do it specifically.

— Hu Xijin 胡锡进 (@HuXijin_GT) May 13, 2019
However, one nascent asset class is showing signs of strength despite these impositions. Today Bitcoin (BTC) is continuing in its recent rally ever upward, citing a move once again above $7,300, relaying a current price of $7347: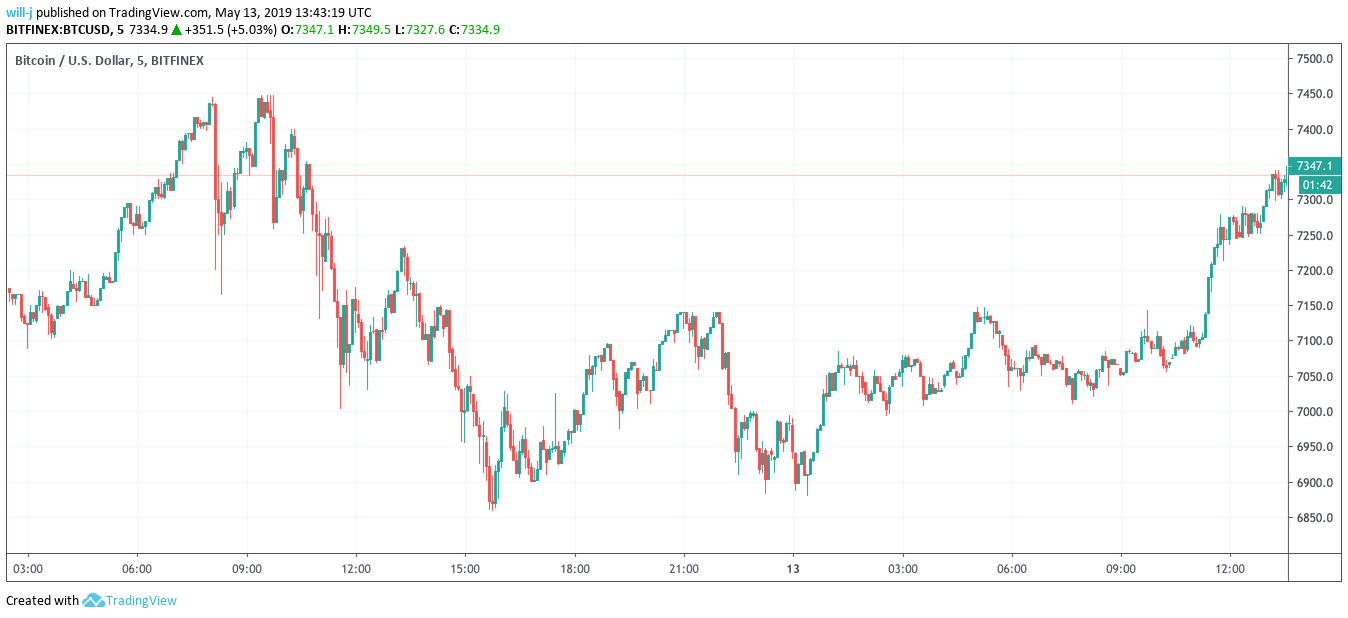 BTC/USD Chart provided by Tradingview
As many point out, this could be a sign that more and more investors are jumping into Bitcoin as a result of failing legacy stocks:
We may be witnessing Bitcoin turning into a safe haven asset in real time. What a time to be alive.

— Marty Bent (@MartyBent) May 13, 2019
Flight to safety of bitcoin

— Barry Silbert (@barrysilbert) May 13, 2019
One user on Twitter even pointed out an apparent inverse correlation between the Dow Jones and Bitcoin, giving further credence to the idea of Bitcoins growing popularity as a safe haven asset:
Correlations? #DowJones #omx #bitcoin $btcusd pic.twitter.com/C8S5jre46y

— sajklan aka psygam₿ler ⚡️ (@sajklan) May 12, 2019
Interestingly, Chepicap recently interviewed Broadcaster and prominent Bitcoin propagator Max Kesier, who shared his thoughts on the previous BTC resistance levels of $6K which was providing an almighty barrier to further gains.   
Within the discussion, Keiser relayed that the stock market was about to crash, suggesting that this would provide a catalyst for Bitcoin to smash through this stubborn resistance.
"Is the stock market about to crash? ... I think the answer is yes, so Bitcoin would cut through the $6000 resistance pretty easily, make new all-time highs … there's very little supply between $6000 and $10,000 so any amount of demand will take us to new all-time highs." 
Max Keiser: BTC to $400K? Bitcoin to make new ATH with stock market about to crash Subscribe to the Chepicap YouTube Channel for more videos!


Of course, the crypto market managed to rally through these levels despite any such crash, however, with renewed resistance for BTC around $7,500, will the US stock market slump provide further momentum for Bitcoin?
Whether or not the traditional markets crash, this slight dip for stocks appears to have come just in time for Bitcoin, as its rally looked to be nearing a local top; prior to this renewed vigor, some analysts were pointing to a potential revisit to $5k.
If 7400 was the top, BTC could correct all the way to 4800. Every weekly NVT sell signal has produced a fall to at least the 618. If that continues to be true, and if 7400 was the top, BTC should fall to at least 4800 or so, because that's where the current 618 is.

— MAGIC (@MagicPoopCannon) May 12, 2019
What do you think is next for BTC? Will the drop in US stocks provide propellant for the market? or will we dip to lower levels?
---
Source
---
Back to the list