OmiseGo Prices Double, Approaching Overbought Territory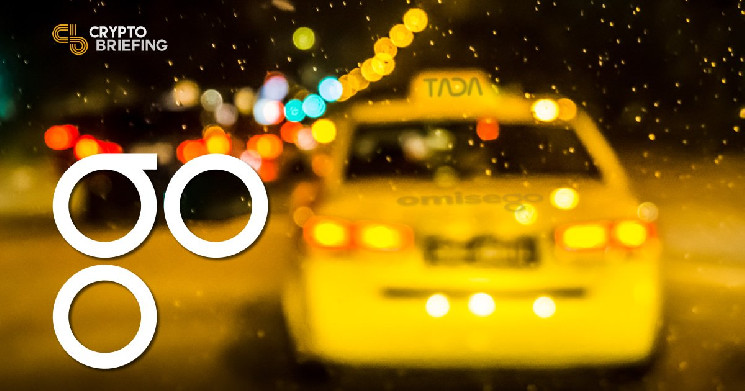 cryptobriefing.com
2020-05-23 06:30
Reading time: ~3 m
---
OmiseGo outperformed the rest of the market, with OMG doubling in price over the last week. Nevertheless, different metrics indicate OMG is approaching overbought territory.
OmiseGo's Social Engagement Metrics Explode
$25 billion was wiped-out of the cryptocurrency market over the past two days. Speculation around a 50 BTC transaction potentially owned by Satoshi Nakamoto fueled the bearish impulse.
Despite the ongoing market-wide correction, OmiseGo has managed to weather the storm; OMG is up 35% since the sell-off began.
Since Coinbase Pro revealed that it would be listing OMG on its retail platform, the ERC-20 token has done nothing but shoot up. Alongside its price, social engagement metrics skyrocketed over 2.8x since the announcement was made, according to crypto insights provider LunarCRUSH.
Over the past 24 hours alone, OmiseGo has seen nearly 3 million engagements and over 1,500 posts shared across several social networks. But the party may soon be over.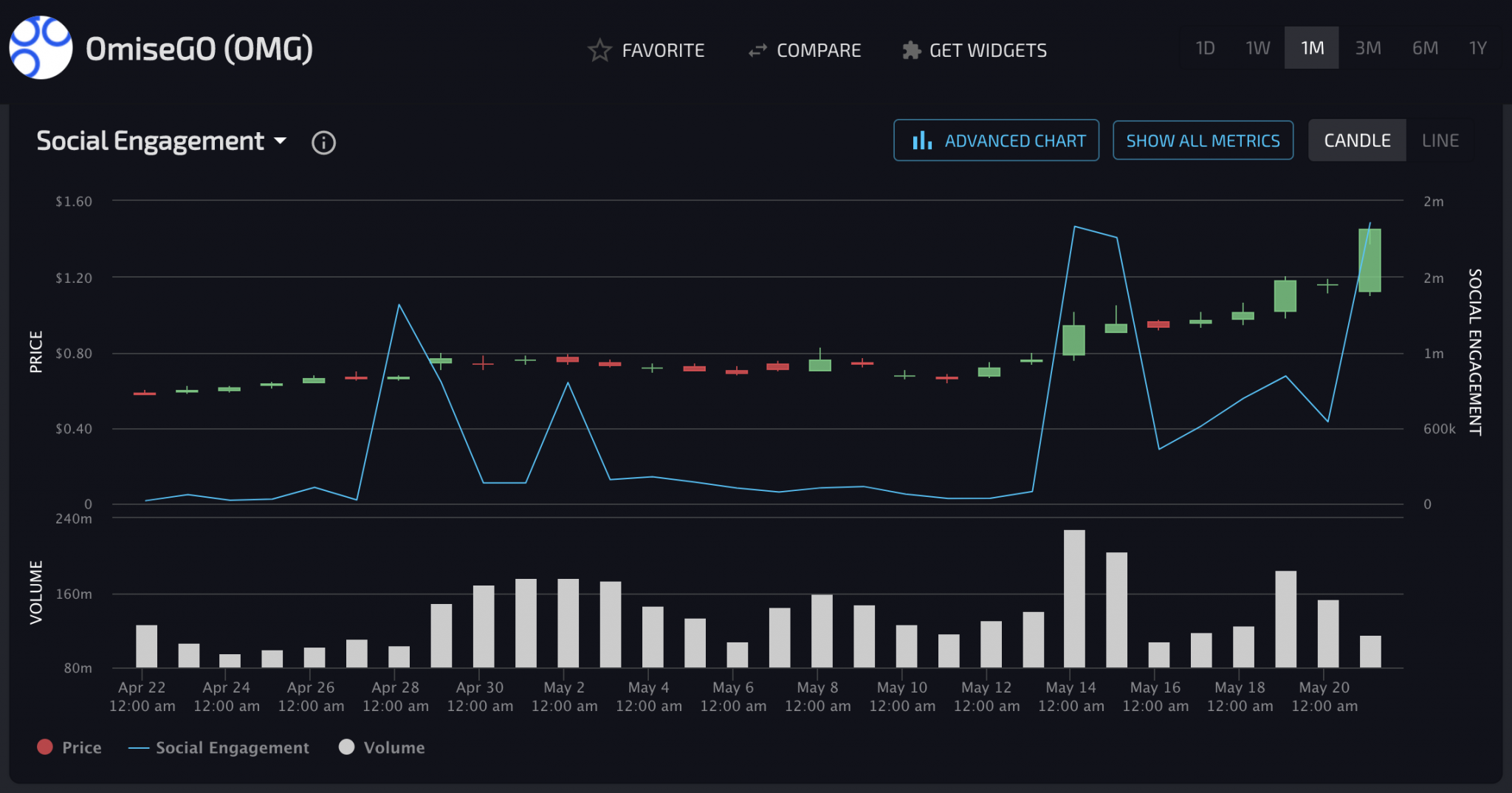 OmiseGo Social Engagement by LunarCRUSH
Dino Ibisbegovic, head of content and SEO at Santiment, affirmed that extreme spikes in a cryptocurrency's social mentions are often followed by steep pullbacks. As the hype begins to peak, large investors may start dumping their holdings, sparking a corrective period.
"On average, the coins that gained more than 15% in 2 weeks before appearing on the Emerging Trends list. The moment they show up on the list, the dump begins. In the second week since appearing on the Emerging Trends list, the coins we backtested have, on average, lost a massive 8% of their total price. And this is on a sample of 200 coins," said Dino.

A Correction Is Underway
A spike in Santiment's "token age consumed" index affirms that large holders are dumping. Addresses with millions of dollars in OmiseGo, colloquially known as whales by crypto traders, are selling their holdings onto the market.
More than 370 million tokens have changed hands in the past few hours, indicating that large addresses are unloading their OMG on the market.

From a technical perspective, the TD sequential indicator adds credence to the idea of a potential downward impulse. This index is currently presenting a sell signal in the form of a green nine candlestick on OMG's 1-day chart.
If validated, the bearish formation estimates a one to four daily candlestick correction before the uptrend continues.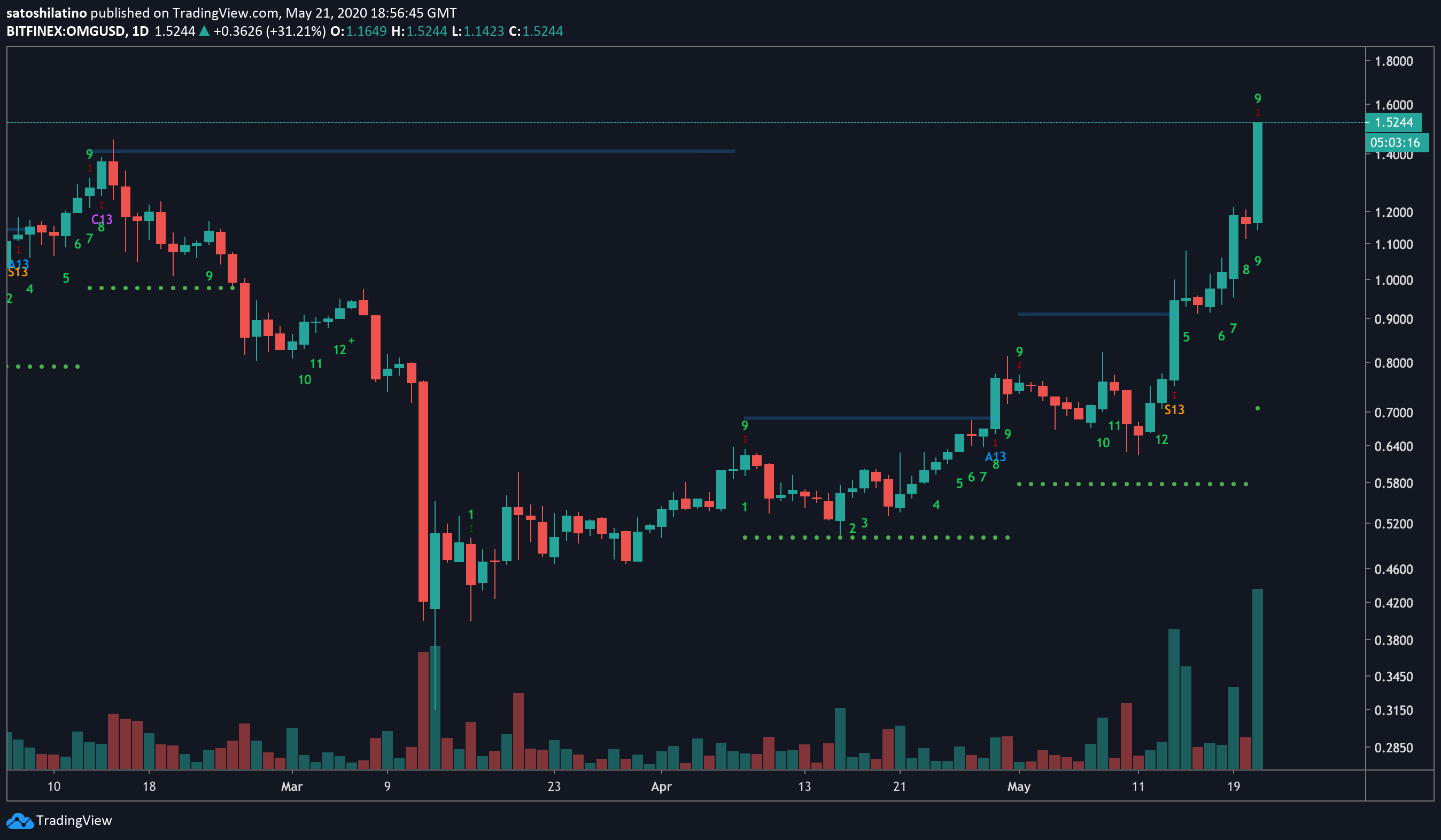 ---
Source