Back to the list
ENJ Technical Analysis: Immediate Support Level at $1.49, Expected to Bounce Back
cryptoknowmics.com
05 October 2021 10:22, UTC
Reading time: ~2 m
---
An ecosystem of interconnected, blockchain-based gaming products is what Enjin Coin is, which is a project of Enjin. Enjin's flagship product is the Enjin Network, a social gaming platform that allows users to create websites and clans, chat, and host virtual item stores. Let us look at the technical analysis of ENJ.
Past Performance
On September 28, 2021, ENJ opened at $1.26. On October 04, 2021, ENJ closed at $1.57. Thus, in the past week, the ENJ price has increased by approximately 24%. Whereas in the last 24 hours, ENJ has traded between $1.54-$1.66.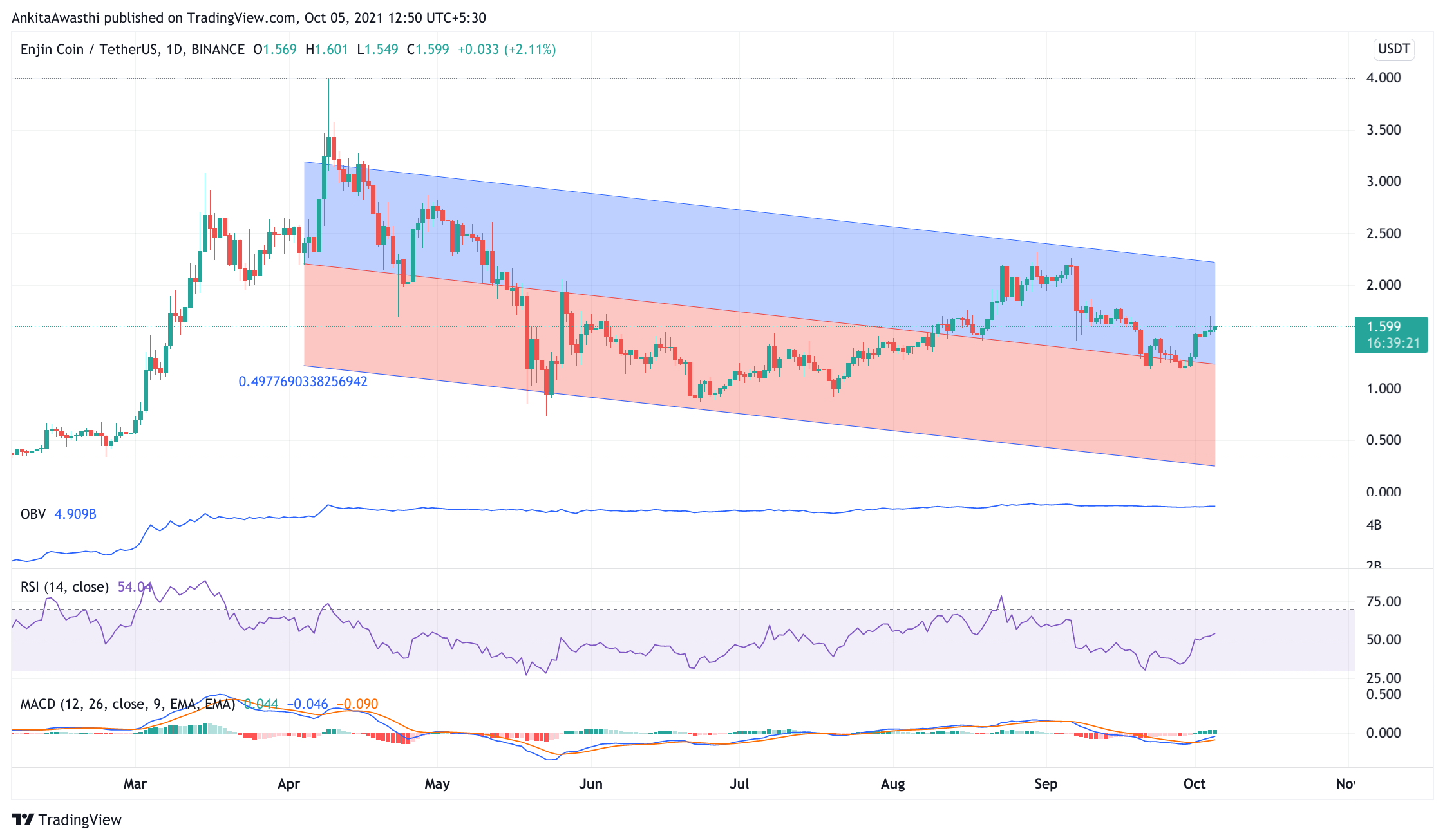 https://www.tradingview.com/x/QJgsCocx/
ENJ Technical Analysis
The MACD and signal lines are in the negative zone. However, a bullish crossover by the Signal line over the MACD line has occurred. Thus, the overall market momentum is turning bullish. Hence, the price may rise further. After forming support, we can expect the price to bounce back.
Currently, the RSI indicator is at 52%. It faced rejection from 36% and rose to this level. Thus, it seems like buying pressures are slowly mounting. We can expect the price to form support at the current levels.
The OBV indicator is upward sloping. Thus, buying volumes are higher than selling volumes.
In short, when we look at all three oscillators, we can say that the price may continue to rise. However, we cannot rule out the possibility of a trend reversal. We have to wait and watch if an intermittent price rise is a corrective action or the beginning of a positive trend.
Day-Ahead and Tomorrow
The immediate support level is $1.49. ENJ is expected to bounce from these levels. However, if the price breaks down from this level, we can expect it to touch the next support level of $1.19. Traders can take a short position accordingly.
On the other hand, if the buying pressure increases, it will try to break out from the immediate resistance level of $1.70. After breaking this level, it will highlight the next resistance level of $1.84. This opens up an opportunity for traders to go long.
---
Source
---
Back to the list