Back to the list
Crypto Market Forecast: Week of August 2nd 2021
bravenewcoin.com
02 August 2021 04:01, UTC
Reading time: ~4 m
---
The digital asset market enjoyed another week of strong price gains, this time led by its 2nd largest asset Ethereum (ETH) which ends the week up ~16%. The Bitcoin price is up ~13% over the week, and other large-cap assets that performed well include XRP (XRP), Uniswap (UNI), and Chainlink (LINK) which are up ~19%, ~21%, and ~33% respectively.
A factor in Ethereum's strong price performance is anticipation surrounding the London Hard Fork that should be implemented on the Ethereum mainnet this Wednesday, August 4th. The update is set to stabilize transaction fees during periods of network congestion and puts measures in place to ensure fewer transactions fail because of uncertainty about what is the right amount of gas to be paid.
The inability of Ethereum to scale effectively during busy periods is an ongoing challenge for the blockchain. Last week, the popularity of a single NFT sale caused gas fees to surge, created long queues for transactions, and led to the failures of millions of dollars worth of transactions because the right gas limit was not set when attempting to mint the NFTs. The sale was for 10,420 cat collectibles that will be attached to a new animated web series called Stoner Cats. Minting a cat also gave buyers access to the first episode of the series. The show was created by actress Mila Kunis and will have major names like Ashton Kutcher and Chris Rock as voice actors.
It is hoped that changes set to be implemented as part of London Hard Fork will help prevent incidents like the Stoner Cats sale debacle that occur consistently on the network. London also adds code that burns a portion of transaction fees that have always been fully paid to miners. This change will add to ETH's store of value proposition and grow perceptions that it is a 'hard' crypto asset.
Bitcoin markets received a boost over the weekend on speculation that Saudi Aramco, the third-largest company in the world, is set to begin Bitcoin mining. Investing.com first reported the interest citing comments made by Brazilian miner Ray Nasser. The website says that the company is interested in using excess gas created during oil production (flared gas) as an electricity source for mining digital assets. Aramco has not yet addressed the rumors. The price of BTC rose 10% between Saturday and Sunday, rising from ~US$38,790 to hit ~US$42,630.
Crypto news for the week ahead
__August 4th - London Hard Fork__
Ethereum's next major hard fork is set to be implemented this Wednesday. There were concerns that the fork may be delayed because of issues that arose when it was trialed on the Ropsten testnet. Crypto analytics platform BittsAnalytics reports a sharp positive pickup in social media sentiment since the 31st of July, suggesting investors are bullish about the fundamental prospects of the hard fork.
__August 3rd - Cartesi lists for trading on Kraken__
Cartesi (CTSI) is a multi-chain layer 2 project for building smart contracts using mainstream software tools. It aims to utilize tools like sidechains & optimistic rollups to speed up blockchain applications. The small-cap project has a market cap of ~US$157 million. The token is building partnerships with major international exchanges and is already tradeable on Binance and Coinbase. The price of CTSI is up 11% in the last week.
Top 10 Crypto Summary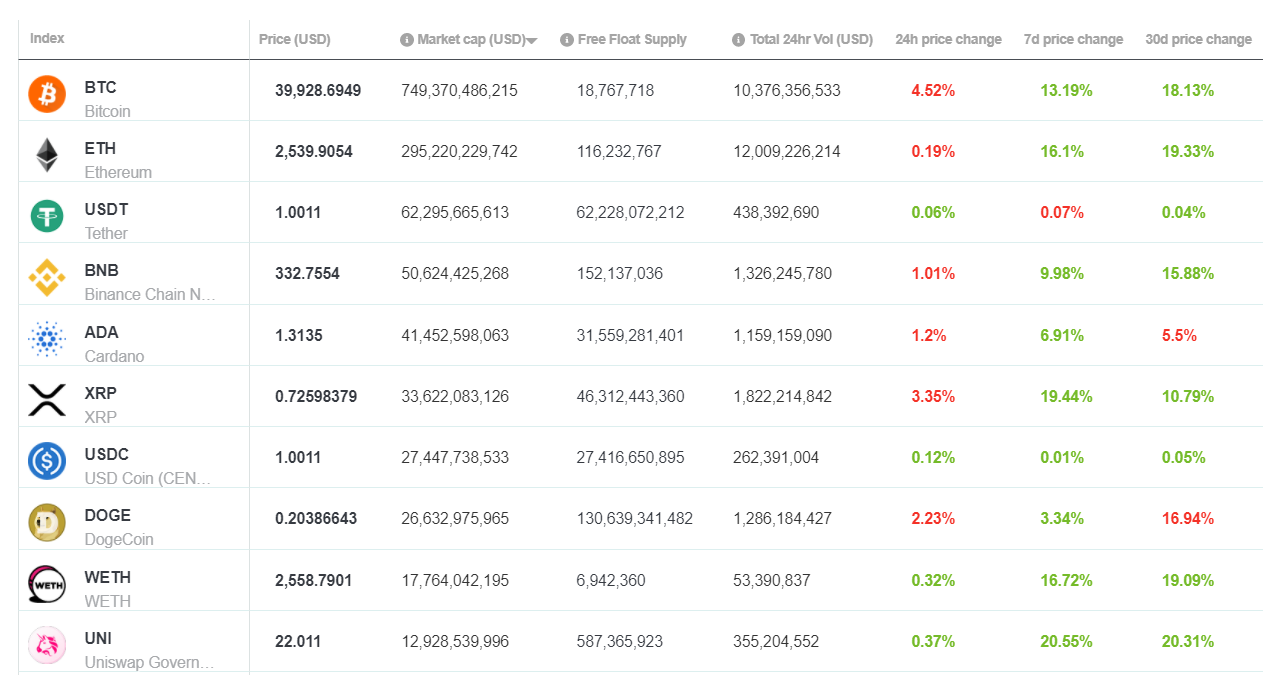 It was a strong week of trading for large-cap assets on the Brave New Coin market cap table with most assets enjoying double-digit growth. UNI was the best performer in the top 10. The exchange token shot up in value after Uniswap Labs head of growth, Ashleigh Schap, hinted at a possible partnership and technology-sharing deal between Uniswap and the recently IPOed Robinhood as well as other financial applications like PayPal & ETRADE during the ETHCC conference. The video of Schap making these claims has since been deleted from platforms like Youtube. Uniswap Labs COO Mary-Catherine Lader attempted to quash rumors soon after they started to spread stating that "Uniswap has no current relationship with Robinhood."
__Bitcoin Price Chart__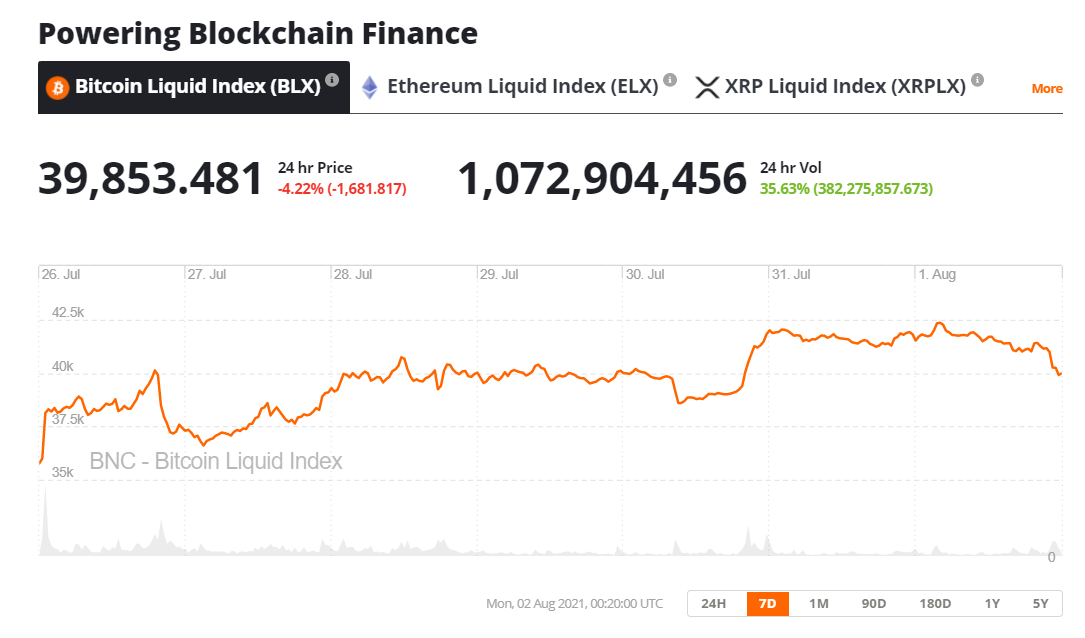 Bitcoin's recent price pickup was supported by bullish fundamental metrics. Glassnode reports that the total number of active entities (unique senders and recipients of transactions), is up 30% since touching July lows. This could potentially be a sign that users are returning to the network. Rises in active entities have historically been correlated with periods of bullish Bitcoin price activity.
---
Source
---
Back to the list