In new technical analysis, BitTorrent Token (BTT) is a utility token that drives decentralized apps like BitTorrent speed, BitTorrent file system, DLive, etc. It powers the largest decentralized open-source blockchain-based file-sharing protocol in the world. As per experts, BTT is likely to explode in 2021 and the bull run is expected to continue for the most part of the year.
Past Performance
On April 12, 2021, BTT started trading at $0.0084. As of April 18, 2021, the closing price of BTT was $0.008. Thus, in the past week, the BTT price has declined by approximately 5%. In the last 24 hours, BTT has traded between $0.0078-$0.0081.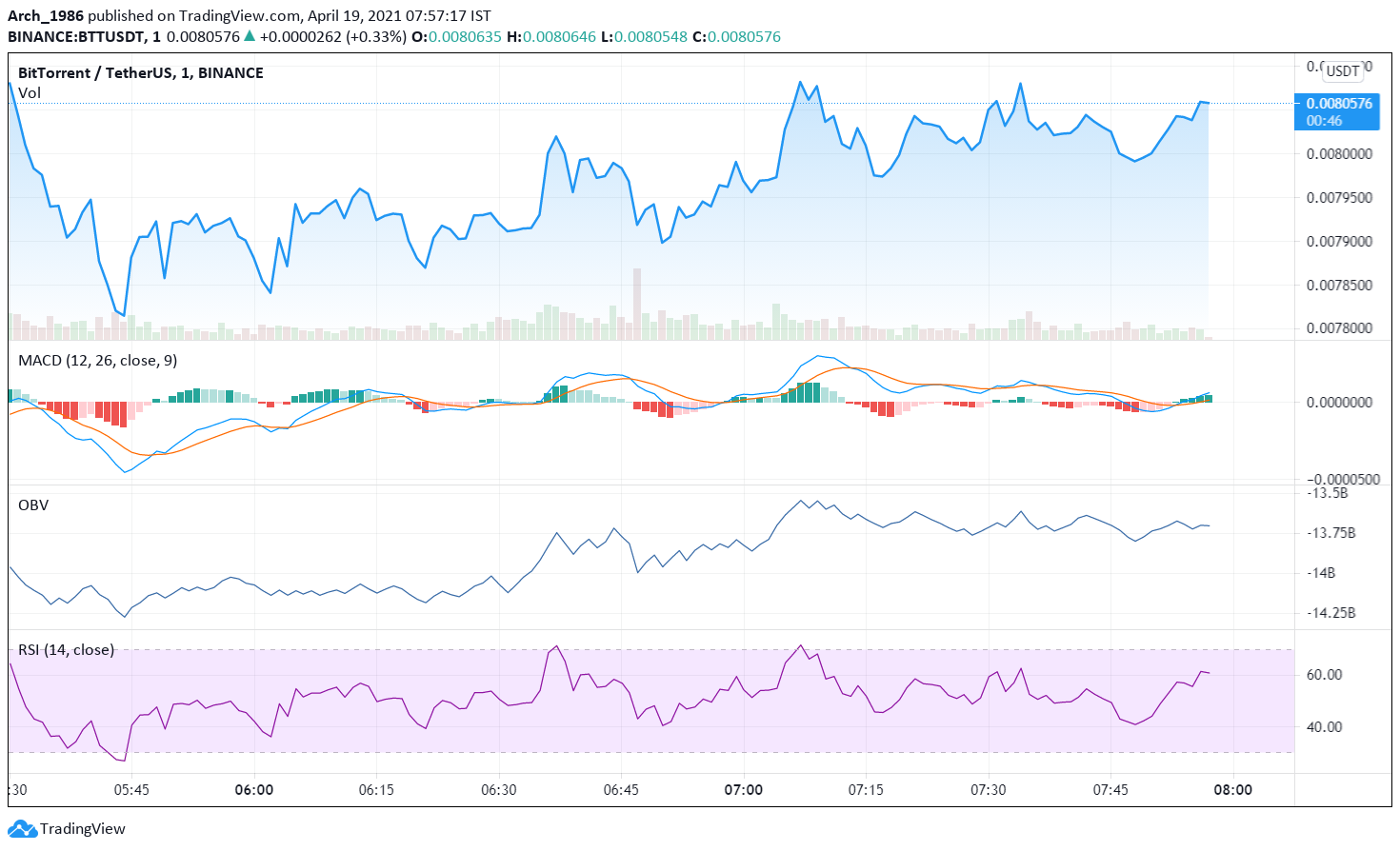 https://s3.tradingview.com/snapshots/v/VUjw1fxU.png
Day-Ahead and Tomorrow
Currently, BTT is trading at $0.008. The price hasn't increased much since morning. Thus, the market seems neutral.
The MACD and signal lines have just turned positive. Moreover, a bullish crossover by the MACD line over the signal line has occurred. Thus, the overall market momentum has turned bullish. Thus, we can expect the price to start rising.
The OBV indicator is upward sloping. This implies that buying activity is higher than selling activity in the BTT market. High buying volumes will exert upward pressure on the BTT price. Thus, the OBV indicator too is pointing towards an impending price rise.
Currently, the RSI indicator is at 48%. It faced rejection at 61% and fell to the current level. Thus, the RSI indicator is showing high selling pressures. Thus, in conjunction with the other oscillators, we can say that the BTT price is poised to go up but intermittent price pullbacks cannot be ruled out.
BTT Technical Analysis
As per technical analysis, currently, the price is above the Fibonacci pivot point of $0.008. It is expected to break out of the first resistance level of $0.0081 soon as the overall market seems positive. If the bulls continue to remain strong till day end, we can expect the BTT price to break out of the subsequent resistance levels of $0.0082 and $0.0083 respectively.
As most of the oscillators have given positive signals, we can expect the BTT price to break out of the 23.6% FIB extension level of $0.0082 in some time. As the price uptrend looks strong as of now, we can expect the price rise to continue tomorrow as well with intermittent price pullbacks as a part of the price correction process.