Back to the list
Popular Indian Youtube Channel Hacked to Promote Bitcoin Giveaway Scam
news.bitcoin.com
27 July 2020 01:00, UTC
Reading time: ~3 m
---
Popular Indian Youtube Channel Hacked to Promote Bitcoin Giveaway Scam
Following the massive Twitter breach that saw many high-profile accounts tweet about a bitcoin giveaway, a popular Indian Youtuber now claims that his Youtube channel was hacked for the same purpose. Hackers replaced some content in Carry Minati's videos to promote a bitcoin giveaway.
Popular Indian Youtube Channel Taken Over to Promote Bitcoin Giveaway Scam
Ajey Nagar, also known by his channel name Carry Minati, announced on social media Friday that his Youtube channel with 6.7 million subscribers was hacked. "My channel Carryislive has been hacked, need immediate assistance," Minati tweeted to Youtube India.
Besides the gaming channel Carryislive, Nagar also runs another channel on Youtube called "Carryminati," which has 24.1 million subscribers. Only the Carryislive channel appeared to have been hacked. Two videos promoting a bitcoin giveaway scam were reportedly posted on the channel, one of which was entitled "Charity Stream: Bitcoin, BTC, Ethereum, ETH." The videos had a bitcoin address and an ether address displayed over them. Moreover, about 36 minutes into the videos, the content abruptly turned into Spacex and Tesla CEO Elon Musk giving away bitcoin and ether.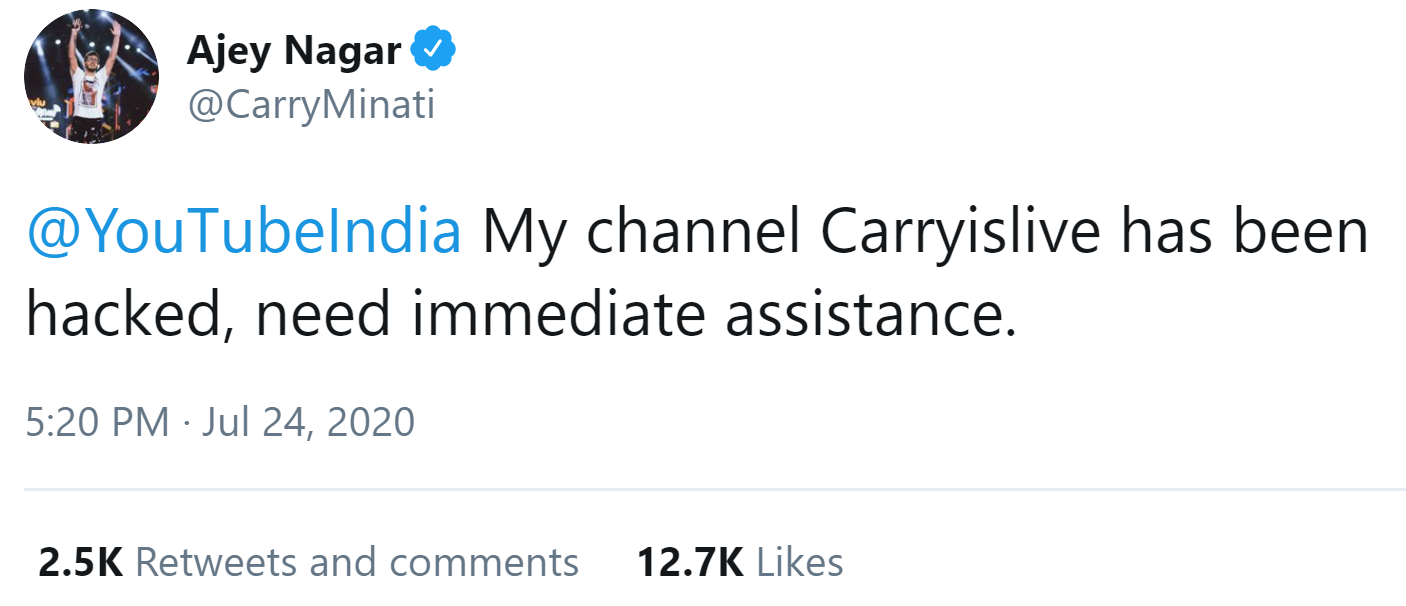 News.Bitcoin.com previously reported on Youtube bitcoin giveaway scams featuring Elon Musk giving away bitcoin which has raked in millions of dollars. The videos on the Carryislive channel promotes both a bitcoin giveaway and an ether giveaway where scammers promise to double your BTC or ETH sent to them.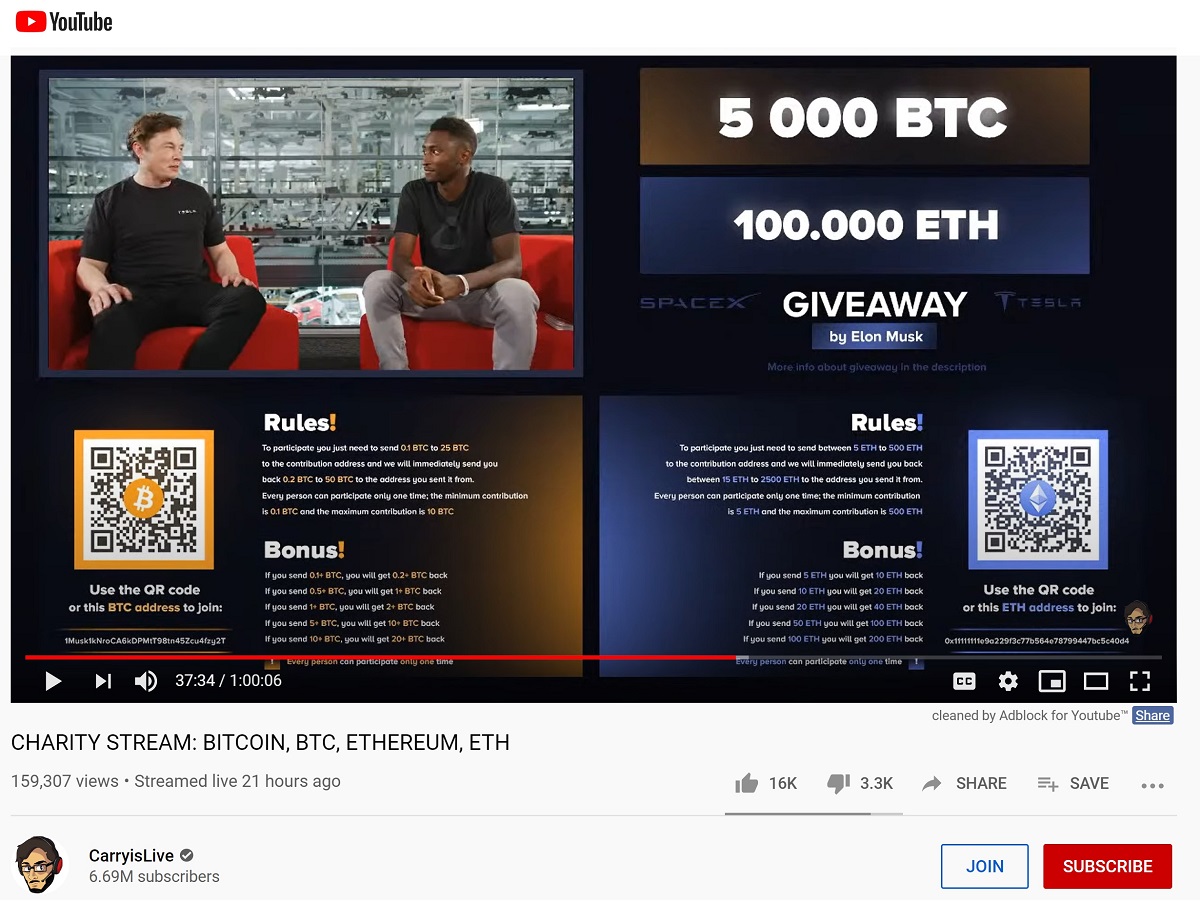 A screenshot of a hacked video posted on the Carryislive Youtube channel that features BTC and ETH giveaways.
At least two BTC addresses were posted on the Carryislive channel: one displayed on the video and another in the video description. According to the Bitcoin Abuse database, the first address has been reported as a scam address twice and has received 0.0273132 BTC at press time. The other has also been reported twice and has received 0.00017801 BTC.
Bitcoin giveaway scams have been on Youtube for months, featuring well-known people supposedly giving away bitcoin, such as Musk, Microsoft co-founder Bill Gates, Amazon CEO Jeff Bezos, Apple co-founder Steve Wozniak, and several people in the crypto space. However, in past BTC giveaway schemes, scammers used their own accounts to promote the scams, without hacking other Youtube channels.
The problem of scams being promoted on Youtube has gotten so out of hand that Wozniak and 17 others have sued the video-sharing platform and its parent company, Google, over a bitcoin giveaway scam. They allege that the two companies know about the scam but they not only allow these fraudulent videos to be posted, but they also promote and profit from them.
Meanwhile, the recent Twitter attack is being investigated by the FBI. During the hack, high-profile accounts tweeted about a similar scam bitcoin giveaway, including the official accounts of Apple, former U.S. president Barack Obama, Cash App, Google, Democratic presidential candidate Joe Biden, Kanye West, former New York City mayor Mike Bloomberg, and Berkshire Hathaway CEO Warren Buffett.
---
Source
---
Back to the list
Similar news