Back to the list
Ethereum Scammers and Impersonators Out in Full Force Ahead of The Merge
beincrypto.com
15 September 2022 02:46, UTC
Reading time: ~3 m
---
In the hours before The Ethereum Merge takes place, scammers have come out in full force, attempting to steal funds from users. Investors do not have to do anything with their ETH for The Merge, should not click on any suspicious links, or interact with fake accounts.
The Ethereum Merge has brought scammers and impersonators, with social media being flooded with bad actors trying to capitalize on the event. Several types of scams are taking place on Twitter and other channels, and users are being warned not to fall for them.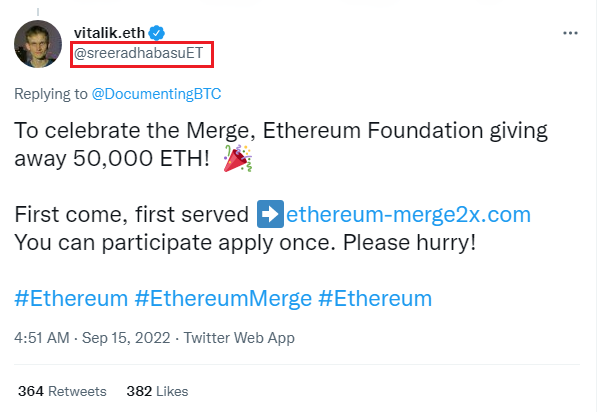 Vitalik's imposter account: Twitter
One of the most common types of scams, which has existed for many years, involves bad actors impersonating Vitalik Buterin and providing links under the guise of giving away free ETH. These links mislead individuals into giving access to their crypto wallets.
They go to the lengths of using Buterin's image as the profile picture — but looking at the Twitter handle itself, one can see that the names are different. Buterin has only one account on Twitter — @VitalikButerin — and users are advised to dismiss other accounts. The Ethereum co-founder himself has said on multiple occasions that there are no giveaways and asked users not to fall for scams.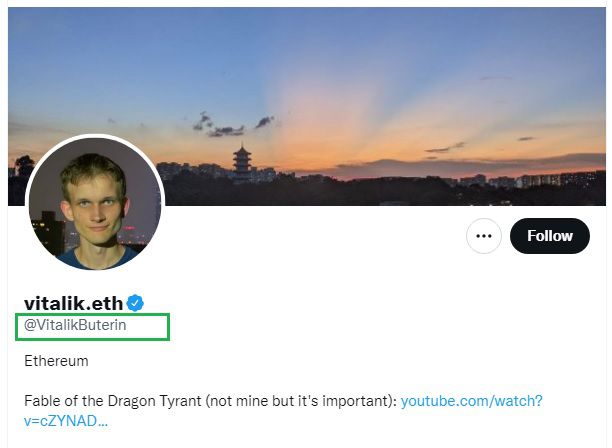 Vitalik's original Twitter handle: Twitter
Another popular type of scam is the phishing attempt. Many websites have popped up, targeting unwary users, and PeckShield has warned users of the websites and scams. The security company has also cautioned users not to fall for these phishing attempts.
Protecting yourself as scams populate social media
Bad actors have always existed in the crypto space, even as companies and projects try to clamp down on it. To protect yourself, there are several things you can do.
First and foremost, users are advised not to click spam links that are presented by the phishing accounts. As always, they should not share private keys with anyone. They may also receive messages from fake accounts on social media and other communication channels, and should simply ignore them.

ETH holders needn't do anything to prepare for The Merg: Ethereum
The Merge requires ETH holders to do nothing. The Ethereum documentation on the Merge explicitly states that users do not need to do anything to their funds as it takes place.
The Merge is just minutes away
All the events leading up to The Merge have so far gone off without a hitch. The Bellatrix upgrade, which is the first of two phases of The Merge, took place on Sept. 6. Now all that remains is for the network to reach a total terminal difficulty of 58750000000000000000000. Even Google has a countdown timer for The Merge, which is less than an hour away at the time of publishing.
After that total terminal difficulty, the network will produce those blocks via proof-of-stake. Analysts have discussed how it will affect the network, with one of the main talking points being the reduction in energy usage.
---
Source
---
Back to the list