Back to the list
Nigeria Cracks Down on Bitcoin Trading, Orders Bank Accounts Shuttered
decrypt.co
06 February 2021 10:00, UTC
Reading time: ~2 m
---
Nigeria has one of the most active peer-to-peer cryptocurrency trading markets in the world, and within the last year has emerged as a true "Bitcoin nation." But that could soon change.
The Central Bank of Nigeria today issued an open letter to all banks in the country, ordering them to immediately cancel their services to customers who buy, sell, or trade cryptocurrencies.
"The Bank hereby wishes to remind regulated institutions that dealing with crypto currencies [sic] or facilitating payments for cryptocurrency exchanges is prohibited," the central bank said.
The order doesn't prevent the users of peer-to-peer Bitcoin marketplaces such as Paxful or LocalBitcoins from buying and selling crypto through means other than a bank account, such as gift cards, which remain a popular option. 
But forcing traders to stop using bank transactions will likely reduce trading activity considerably, considering it is the most popular option on P2P markets.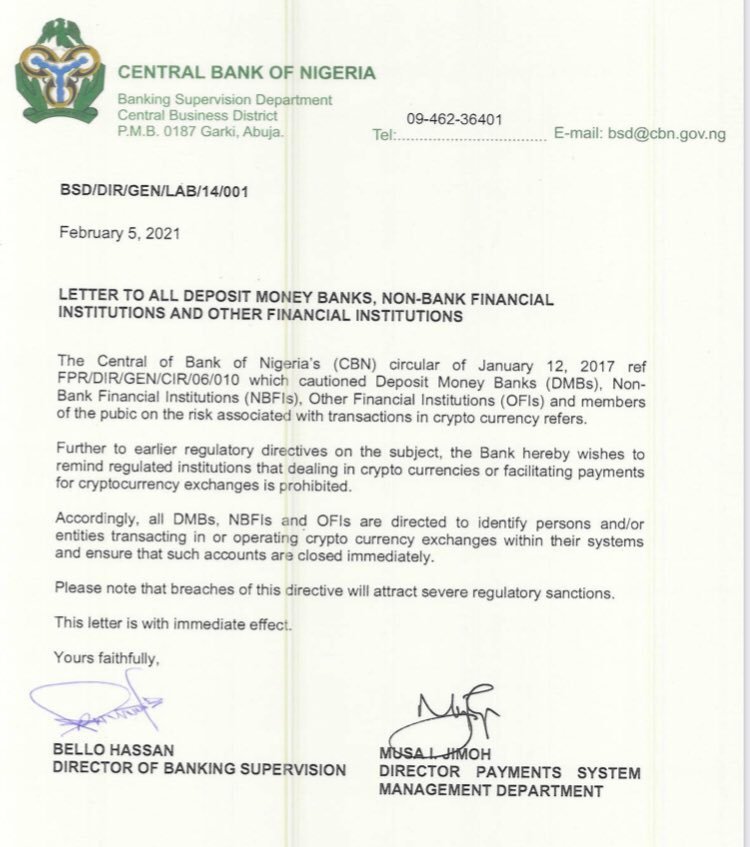 The legal status of cryptocurrencies in Nigeria is complex. While there is no law that expressly prohibits their use or classifies these assets as illegal, the country's Securities and Exchange Commission (SEC) released a statement in September that indicated it intends to treat all cryptocurrencies as securities until proven otherwise. That means that trading these unregistered assets through unregulated exchanges could be illegal.
Can Nigeria be both a Bitcoin hub and a terror risk?
If nothing else, shifting the burden of proof to issuers or custodians makes it much more difficult for cryptocurrency exchanges to operate normally.
It appears that the Central Bank of Nigeria has based itself on these guidelines from the country's SEC and is now looking to curb crypto activity in Nigeria on the basis of preventing potential securities fraud.
"All DMBs [deposit money banks], NBFIs [non-bank financial institutions] and OFIs [other financial institutions] are directed to identify persons and/or entities transacting in or operating crypto currency exchanges within their systems and ensure that such accounts are closed immediately," the bank's statement said.
Bitcoin trading in Nigeria had been skyrocketing. According to data compiled by Useful Tulips, trading volume in the country topped $6.5 million in the last week alone, making it the leading country in Africa and one of the world's top 10 countries in terms of peer-to-peer trading volume.
Paxful said Nigerians are paying more attention to Bitcoin because cryptocurrencies offered income-generating opportunities by opening retailers to the global markets. This, the company claims, helped them send and receive money faster and cheaper than traditional methods.
---
Source
---
Back to the list
Similar news