Back to the list
Joe Biden's Crypto Executive Order Is a Symbol
www.coindesk.com
15 March 2022 23:07, UTC
Reading time: ~4 m
---
The federal government is coordinating its approach to digital assets, with different agencies and departments tasked with writing reports.
You're reading State of Crypto, a CoinDesk newsletter looking at the intersection of cryptocurrency and government. Click here to sign up for future editions.
U.S. President Joe Biden announced a "whole-of-government" approach to regulating digital assets in a sweeping executive order directing various government agencies and departments to answer specific questions about cryptocurrencies and blockchain.
This was perhaps the biggest story in the U.S. cryptocurrency world last week. The White House ordered the government to get to work on understanding these magical internet beans. If last year's infrastructure bill wasn't enough evidence that crypto is no longer a niche area, last week's order should put any further doubts to rest.
President Biden unveiled his executive order on digital assets last Wednesday. Allow me to show you what my inbox looked like after:

Sandali again: "The latest draft of the European Union's (EU) proposed legislative framework for governing virtual currencies, Markets in Crypto Assets (MiCA), still contains a provision that could limit the use of proof-of-work cryptocurrencies."
Different drafts of the MiCA legislation included different provisions to limit the impact proof-of-work cryptocurrencies would have on the bloc's energy usage.
Now, to be clear, the energy concerns have been and continue to be pretty real. Europe in particular is probably grappling with questions around how it might be able to source energy should the EU or U.S. try and implement sanctions on Russian oil, a key source of oil and gas across Europe.
Blocking cryptocurrencies deemed to be "wasting" energy is pretty low-hanging fruit as far as Things They Can Do go.
Sandali reported the vote was too close to call on Sunday, and on Monday the provision was struck from the bill.
The legislation will now go to other EU groups for further negotiations and debate.
U.S. President Joe Biden signed a $1.5 trillion omnibus spending bill including, among other things, additional support for Ukraine.
Buried in the legislation were two interesting provisions. One would require companies to report crypto ransomware payments. This stems from last year's prominent ransomware attacks, which impacted several critical services, including oil pipelines and meat processors.
Another provision apparently orders the Director of National Intelligence (DNI) to brief Congress on cryptocurrencies and blockchain.
According to text of the bill:
(a) BRIEFING.—Not later than 90 days after the date of the enactment of this Act, the Director of National Intelligence shall provide to the congressional intelligence committees a briefing on the feasibility and benefits of providing training described in subsection (b).
(b) TRAINING DESCRIBED.—Training described in this subsection is training that meets the following criteria:
(1) The training is on cryptocurrency, blockchain technology, or both subjects.
(2) The training may be provided through partnerships with universities or private sector entities.
As far as I can tell, this is the version of the bill signed by the president. So we should see this training happen sometime in June. I have no other details at this time – including who included this provision – but I'll keep an eye on it.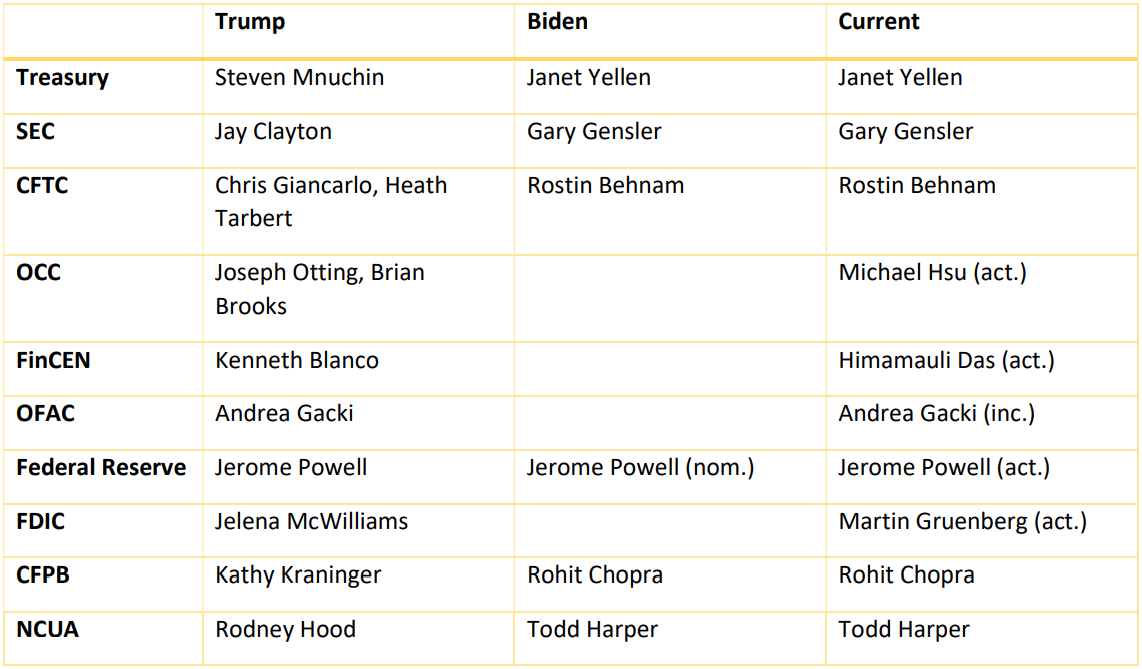 Key: (nom.) = nominee, (rum.) = rumored, (act.) = acting, (inc.) = incumbent (no replacement anticipated)
Securities and Exchange Commission Commissioner Allison Herren Lee will depart the securities regulator once her successor is confirmed. Her term expires this year but she can keep serving until the Senate votes to approve her replacement. The New York Times' DealBook first reported the departure.
Sarah Bloom Raskin, one of U.S. President Joe Biden's nominees to the Federal Reserve board, withdrew her name from consideration earlier today. The Senate Banking Committee's GOP members had been blocking a vote to advance all of the Fed nominees due to Bloom Raskin's role with Reserve Trust and/or her climate views, depending on whom you ask. Finally sinking her nomination, Joe Manchin (D-W.V.) - not a committee member - said he would not vote in her favor for the latter reason.
---
Source
---
Back to the list
Similar news