Back to the list
This Week on Crypto Twitter: Bitcoin Whales Buy the Dip, Nic Carter Defends an Investment, SBF Memed as Atlas
decrypt.co
03 July 2022 20:42, UTC
Reading time: ~6 m
---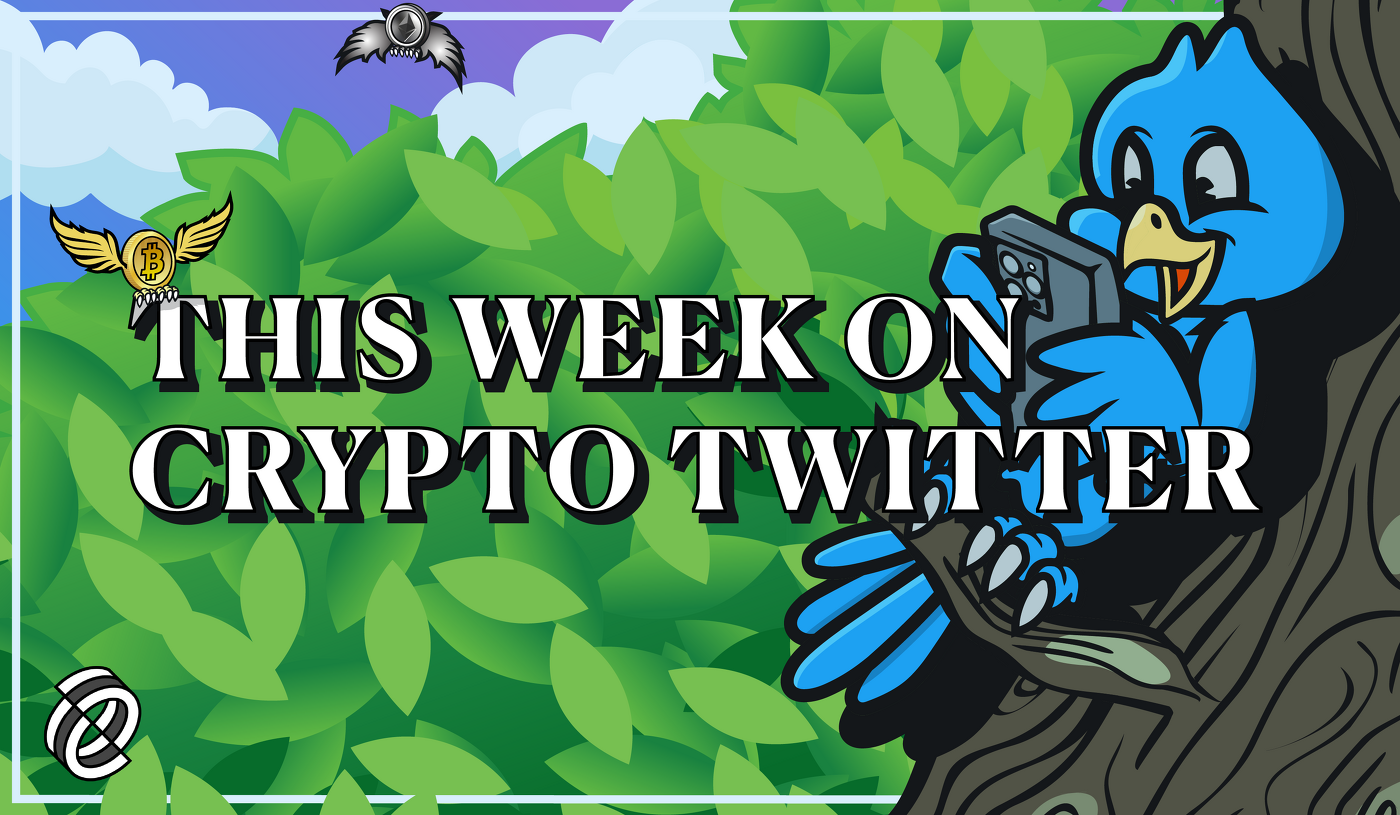 Illustration by Mitchell Preffer for Decrypt
Bitcoin has been struggling for three weeks to stay above $20,000, and this week was no exception—the world's favorite cryptocurrency, as of this writing, was hovering just above $19,000. Many Bitcoin maximalists didn't appear too concerned. And others have been buying the dip.
Microstrategy CEO and whale-sized Bitcoin HODLer Michael Saylor announced another large BTC purchase, although that didn't seem to impress pro-gold economist Peter Schiff.
Increasing your stake by less than .004% seems more like an attempt to influence the market by demonstrating your conviction to other investors. But if you're so sure #Bitcoin is cheap, why not buy $100 million? You must think there's still a lot of downside left in this move.

— Peter Schiff (@PeterSchiff) June 29, 2022
El Salvador's authoritarian president, Nayib Bukele, also bought more BTC, which should be no surprise to regular column readers.
El Salvador bought today 80 #BTC at $19,000 each!#Bitcoin is the future!

Thank you for selling cheap 😉 pic.twitter.com/ZHwr0Ln1Ze

— Nayib Bukele (@nayibbukele) July 1, 2022
But Saylor and Bukele, in a bit of a twist, weren't the center of attention during the week. Venture capitalist Nic Carter, himself a Bitcoin fan, stoked the wrath of the laser-eyed masses with one simple tweet on Tuesday, announcing his decision to invest in an Ethereum- and Solana-friendly wallet-based authentication tool called Dynamic.
Excited to be backing @dynamic_xyz!https://t.co/JbRRpmC8si

— nic carter (@nic__carter) June 28, 2022
The pain suffered by puritanical Bitcoiners when they learned that Carter also invests in other things perhaps was best exemplified by a tweet from Mission Bitcoin.
Nic Carter selling out wasn't on my 2022 #bitcoin bingo card

— Mission Bitcoin (@mission_bitcoin) June 29, 2022
Carter responded by roasting the roasters.
All I ever wanted was Samson's approval 😭 https://t.co/giQuOGDDQ7

— nic carter (@nic__carter) June 28, 2022
He added: "I couldn't care less about the laser eye crew."
I'm gonna make it easy for you- go to this page, find an investment you disagree with, and unfollow. I couldn't care less about the laser eye crew ✌️https://t.co/cuMsjwcIpX

— nic carter (@nic__carter) June 28, 2022
Dan Held, director of growth marketing at Kraken, was among Carter's defenders.
The definition of a Bitcoiner is explified by @nic__carter who has ceaselessly fought to defend Bitcoin against detractors.

Trying to cancel him bc of an entirely arbitrary purity test is dumb.

— Dan Held (@danheld) June 28, 2022
$47 million
Crypto exchange CoinFLEX last month announced it had frozen withdrawals because of "continued uncertainty involving a counterparty." This week, CEO Mark Lamb outed said counterparty as one Roger Ver, aka "Bitcoin Jesus," a former Bitcoin evangelist who now shills Bitcoin Cash.
Roger Ver owes CoinFLEX $47 Million USDC. We have a written contract with him obligating him to personally guarantee any negative equity on his CoinFLEX account and top up margin regularly. He has been in default of this agreement and we have served a notice of default.

— Mark Lamb 💪 (@MarkDavidLamb) June 28, 2022
Shortly before Lamb's tweet, Ver dismissed the idea as "some rumors" while also alleging CoinFLEX was actually in debt ... to him!
Recently some rumors have been
spreading that I have defaulted on a
debt to a counter-party. These rumors
are false. Not only do I not have a debt
to this counter-party, but this counter-
party owes me a substantial sum of
money, and I am currently seeking the
return of my funds.

— Roger Ver (@rogerkver) June 28, 2022
Lamb called Ver's denial "tactics" and reconfirmed that, yes, Ver definitely owes CoinFLEX, not the other way around.
CoinFLEX also categorically denies that we have any debts owing to him. His statement is blatantly false. It is unfortunate that Roger Ver needs to resort to such tactics in order to deflect from his liabilities and responsibilities.

— Mark Lamb 💪 (@MarkDavidLamb) June 28, 2022
BlockFinalized
FTX CEO Sam Bankman-Fried announced in June he was providing a $250 million credit injection to crypto lender BlockFi after the company announced it was slashing its workforce by "roughly 20%," citing a "dramatic shift in macroeconomic conditions."
In an interview with NPR last month, Bankman-Fried said his exchange has a responsibility to bail out ailing crypto companies in times of crisis. True to his word, the BlockFi deal was just finalized.
Finance and investing news account @Stocktwits memed SBF as Atlas.
FTX close to acquiring BlockFi at a 99% discount 🤯 pic.twitter.com/H0Lb2KG2h6

— Stocktwits (@Stocktwits) June 30, 2022
Axios business editor Dan Primack did not love the deal.
It's official: FTX has a deal with BlockFi.

$240 million is high end of price range (as we reported earlier, all the deals include earnouts).

No word on the low end, which may well be that $25m.

No matter what, a huge loss for the investors.

— Dan Primack (@danprimack) July 1, 2022
Elsewhere
Newly surfaced reports revealed that some hedge funds allegedly borrowed "hundreds of millions" to short Tether after the collapse of Terra. Leon Marshall, head of institutional sales at Genesis Global Trading, confirmed to a British financial news outlet that his hedge fund had executed short sales worth "hundreds of millions of dollars."
Tether CEO Paulo Ardoino responded to the reports in a lengthy thread, writing that that short-selling was just one dimension in a multi-pronged attack on Tether's credibility that also relies on "FUD" and "troll armies."
1/
I have been open about the attempts from some hedge funds that were trying to cause further panic on the market after TERRA/LUNA collapse.
It really seemed from the beginning a coordinated attack, with a new wave of FUD, troll armies, clowns etc. https://t.co/hhcsgHV1Ow

— Paolo Ardoino (@paoloardoino) June 27, 2022
Ardoino also said Tether has endured many accusations that its USDT stablecoin is not backed 1:1 by cash reserves. He stressed that Tether is fully backed by attested reserves and plays ball with regulators, sharing some impressive stats on the number of redemptions Tether has handled.
7/
In more than one month Tether processed 16B in redemptions (~19% of our total reserves), again proving that our operations, portfolio, banking infrastructure and team are solid and battle tested.

— Paolo Ardoino (@paoloardoino) June 27, 2022
On Wednesday, the United States Securities and Exchange Commission rejected digital asset manager Grayscale's application for a Bitcoin spot ETF, saying the firm had not done enough to protect investors from "fraudulent and manipulative acts and practices." The next day, Grayscale CEO Michael Sonnenshein tweeted that his company is suing the agency.
We've filed a lawsuit against the SEC. $GBTC

— Sonnenshein (@Sonnenshein) June 30, 2022
Finally, blockchain game Axie Infinity is no longer a profitable enterprise, according to a chart shared by Ryan Selkis, who founded crypto market intelligence provider Messari.
Chart of the week. pic.twitter.com/8x2IDJS07l

— Ryan Selkis 📖 🖊🔑 (@twobitidiot) June 27, 2022
Gamers have been abandoning the play-to-earn title en masse.
---
Source
---
Back to the list