Back to the list
A bizarre ransom was just resolved in the metaverse
decrypt.co
15 May 2020 06:20, UTC
Reading time: ~3 m
---
Two neighbours were recently locked in an ethical battle over a digital wall in a virtual reality world. Thankfully it has been resolved, but is this the first of many?
Cryptovoxels is a virtual realm hosted on the Ethereum blockchain, which can be launched from a web browser, and allows users to purchase "land parcels." These parcels of digital land can be redesigned, built upon and decorated, and are frequently turned into homes, art galleries and virtual shops.
This is pretty funny - metaverse drama. https://t.co/3m50GujqNJ

— Brian Armstrong (@brian_armstrong) May 13, 2020
Sven Venzke-Caprarese dropped into the virtual world on May 11 only to find a wall blocking the sea-front view of his apartment (yes really). The wall contained a ransom note which read: "0.1 ETH/day and I'll remove the wall."
"Today in cryptovoxels drama: this person blocked their neighbors view & are asking 0.1 ETH/day to remove the wall," tweeted Steve Klebanoff, software engineer at decentralized exchange aggregator 0x.
Bitcoin hashrate is tanking. Nobody panic
"This is pretty funny - metaverse drama," commented Brian Armstrong, CEO of crypto exchange Coinbase, on Twitter.
On the same day the image of the wall was posted to social media, the person who constructed it explained why. Digital crypto artist, Ness Nissla, divulged that he had built the wall, and that it was a response to an intrusive billboard which his neighbour had erected previously.
Nissla wrote, "When my neighbour puts up a billboard in his own parcel (left side of the screenshot) to earn money with it but blocks his own view ... is he willing to share his profits to get the view back through my parcel?"
He revealed that it was all done in good humor—and to elicit a response from his neighbour.
Nissla wrote, "This is my wall and I've hoped that @svc_hb (Sven) would have humor and writes (sic) me (since we have no beef) and this was just fun and not serious."
The wall is down. I just had to answer with a popup gallery feat. an artwork by Greg Fiut and some self build voxels. @grgfiut @steveklbnf @brian_armstrong #cryptoart #metaverse https://t.co/TH2TSEsA83 pic.twitter.com/nfyXIWD48w

— Sven Venzke-Caprarese (@svc_hb) May 13, 2020
To resolve the situation Nissla created a wall with some curated art pieces on his side. On May 12, he posted the following screenshot to his Twitter page, showing that the wall had been taken down.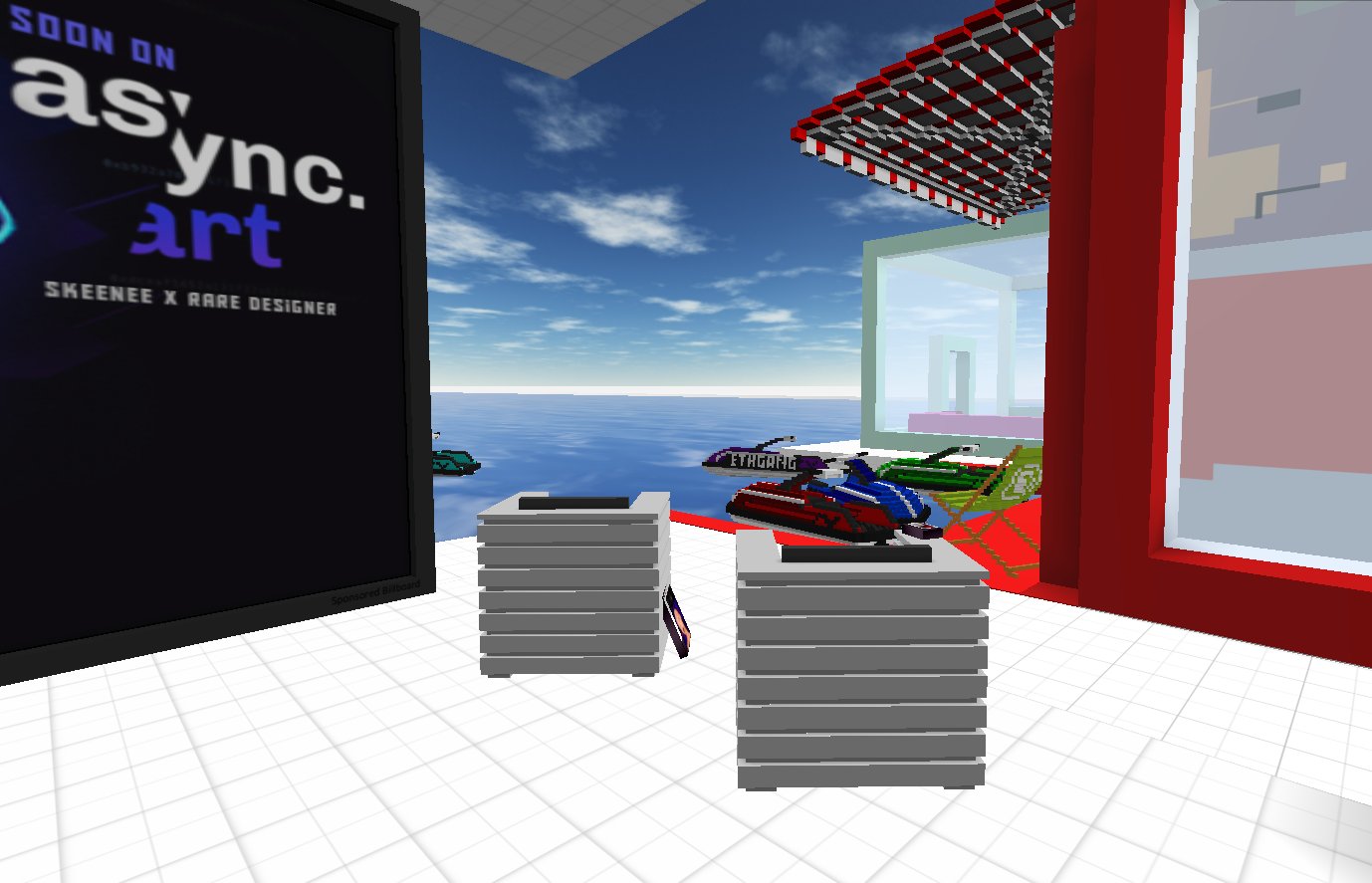 Nissla wrote, "I've already placed my sun chair next to @svc_hb's (Sven's) lounge chairs so we can both enjoy the view and chat about cryptoart, cryptostamps and plan our next jokes."
Luckily this dispute was amicable, but what happens when a heated dispute crops up over a million dollar piece of land—is it time for virtual reality courts?
---
Source
---
Back to the list