After the Republican House of Representatives speaker, Kevin McCarthy, directed the House to open an impeachment inquiry into Joe Biden, bettors on the cryptocurrency-powered Polymarket platform have started placing bets on whether Biden will be impeached by two specific dates. Currently, bettors are wagering against impeachment on or before two specific dates: September 30, 2023, and December 31, 2023.
Polymarket Bettors Predict Slim Odds for Biden's Impeachment
In both traditional and decentralized betting circles, gamblers are placing bets on whether Joe Biden will be impeached after House speaker Kevin McCarthy initiated an inquiry into Biden on September 12, 2023. McCarthy and other GOP House members contend that U.S. president Biden may have misled Americans regarding his son Hunter Biden's overseas business dealings. Specifically, Biden is accused by McCarthy and others of alleged "abuse of power, obstruction and corruption."
"I am directing our House committees to open a formal impeachment inquiry into president Joe Biden," McCarthy said. "Over the past several months, House Republicans have uncovered serious and credible allegations into president Biden's conduct—a culture of corruption."
One particular claim suggests the president might have received funds from a Ukrainian energy firm, Burisma, during his tenure as vice president under Barack Obama. Hunter Biden, the president's son, had significant ties with Burisma then. In March 2023, House Oversight Committee chairman James Comer further stated that State Energy HK Limited, connected to the Chinese Communist Party-backed energy behemoth CEFC China Energy, transferred $3 million to a Biden family associate.
With McCarthy's proposed inquiry into Biden, the public speculates on its likelihood. Congress can impeach a sitting president for "treason, bribery or other high crimes and misdemeanors." Yet, no U.S. president has ever been ousted due to impeachment. Gamblers, however, are now placing bets on Biden's potential impeachment on both traditional betting venues and decentralized prediction markets like Polymarket.
One specific bet on Polymarket focuses on whether Biden will be impeached by September 30, 2023, or December 31, 2023. The likelihood of impeachment by September 30 is very low, with a 99.4% chance against it. For the latter date, the probability stands at 96% against. "Neither trial nor conviction by the Senate, nor removal from office, is necessary to resolve this market to 'Yes,'" notes the Polymarket impeachment page.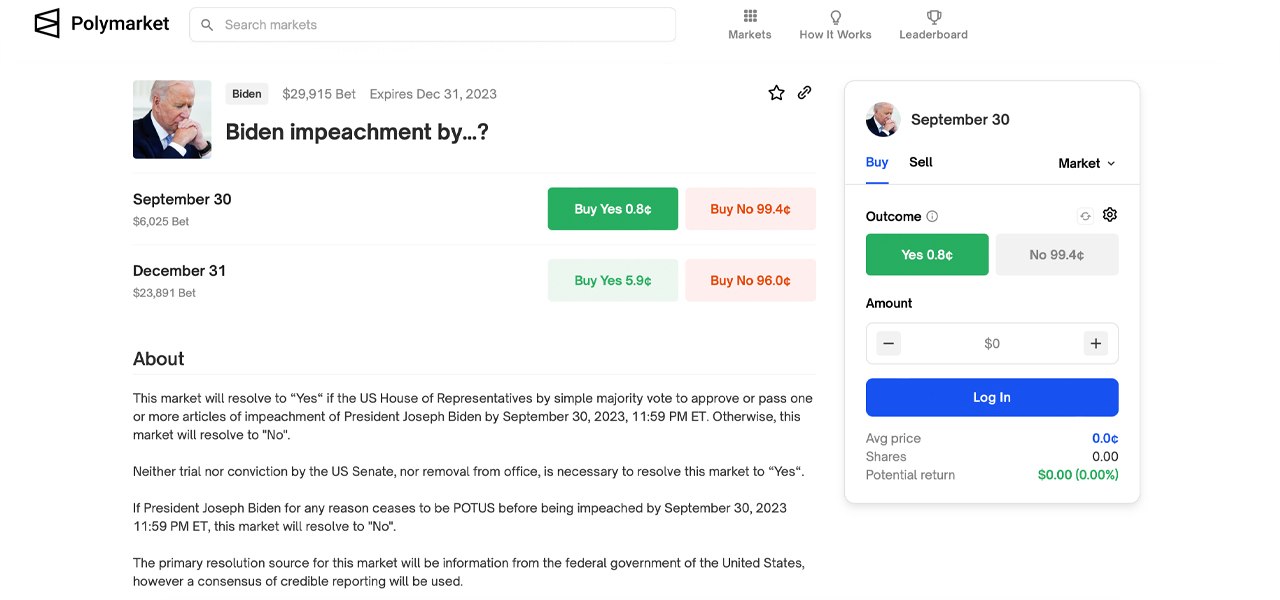 Polymarket betting odds as of September 17, 2023.
Prediction markets and gambling sites can reflect public opinion on upcoming events. For example, the odds of impeachment were also low on February 1, 2023, per presidentialelectionodds.net. Then, the question "Will Joe Biden be impeached by June 30, 2023?" had odds of -390 for "no" and +270 for "yes." Gambling.com's stats from September 11, 2023, indicate that "according to the bookies, Biden has a 36.4% chance of winning the next election, at odds of 7/4."
In late August, after the first Republican debate, bettors on Polymarket placed bets that former president Donald Trump would secure the Republican nomination. Currently, that specific bet on Polymarket remains active, and Trump continues to lead among the Republican contenders.
What do you think about the betting markets for whether or not Biden will be impeached? Share your thoughts and opinions about this subject in the comments section below.