Back to the list
Bitcoin maximalist Poilievre becomes leader of Canada's Conservative Party; USDT integrated with NEAR Protocol
cryptoslate.com
12 September 2022 23:41, UTC
Reading time: ~5 m
---
CryptoSlate Top Stories
Bitcoin maxis bullish on new leader of Canada's Conservative Party
Bitcoin maximalist Pierre Poilievre was elected as the new leader of the Canadian Conservative Party. Poilievre captured the spotlight in early 2022 and polished his image with a pro-crypto doctrine afterward.
Give people back control of their money. Keep crypto legal and let it thrive.

Become a party member, so you can vote for me as leader, and let's make Canada the blockchain capital of the world: https://t.co/d9I1ky9w2t pic.twitter.com/S1IcVETmZF

— Pierre Poilievre (@PierrePoilievre) March 29, 2022
His embracing attitude towards Bitcoin has helped him a great deal in winning the elections. He seems like he'll leverage the Bitcoin card even more since he stated that he wants to make Canada "the blockchain capital of the world" if elected as prime minister.
Tether USDT launches on NEAR as protocol launches $100M Web3 fund
Tether has successfully integrated USDT into the NEAR Protocol. With the new integration, NEAR became Tether's eleventh partner.
Tether stated that the new integration will bring more stability to NEAR ecosystem and reduce volatility.
At the same time, Tether also inked a new $100 million partnership with Caerus Ventures to fund creators in the Web3 space. Caerus Ventures is an already active investment firm that supports creators in the blockchain space. Tether decided to back Caerus up with another $100 million to support more creators.
Huobi delists seven privacy tokens, citing compliance policies
Huobi is delisting Monero, Dash, Decred, Firo, Verge, ZCash, ZenCash as of Sept. 12.
The exchange said that it is canceling these privacy tokens because they're not compliant with some regions' financial regulations.
South Korea sentences metaverse sexual abuser to 4 years imprisonment
A 30-year-old unnamed man got sentenced to 4 years in prison for sexually assaulting underaged individuals on the metaverse.
Local news sources reported that the man met minors in a South Korean Metaverse and induced tried to convince them to send videos and images in exchange for virtual gifts.
Long awaited Hodlonaut vs Craig Wright trial starts
The legal dispute between Australian computer scientist Craig Wright and Twitter influencer Hodlonaut that started in 2019 is finally ready to settle. The dispute arose when Hodlonaut called Wright a liar and a scam when he claimed to be Satoshi Nakamoto.
The trial between the two parties started on Sept. 12 to decide if Hodlonaut's tweets damaged Wright's reputation.
Starbucks launches NFT loyalty program on Polygon
Coffee chain Starbucks announced its NFT-based rewards program called "Starbucks Odyssey."
The new loyalty program will be working on Ethereum's Layer-2 Polygon network and is expected to launch later this year. It will allow coffee lovers to earn and buy NFTs, giving them exclusive rewards.
Pumping Parrots NFTs see 753% increase in sales volume with pyramid scheme model
A new NFT collection, Pumping Parrots, markets itself as a pump-and-dump project.
The NFT line claims its utility to make money through pump-and-dump and says it offers a chance to make fast money before the Ethereum merge.
Gotta love a good Pyramid Scheme that's at least explicit about it. pic.twitter.com/Q9VtYNlhKe

— NFTStatistics.eth (@punk9059) September 11, 2022
The unorthodox approach seems like it worked, as the project recorded around 467 sales and a 753% increase in volume in the last 24 hours. Various projects that copy Pumping Parrot's strategy also appeared in the market.
Research Highlight
Research: Ethereum gas usage by stablecoins, DeFi, NFTs, and ERC -20 contracts
CryptoSlate analysis compared the Ethereum gas usage for stablecoins, DeFi, NFTs, and ERC-20 during the bear market to discover that all categories' gas usage has been declining except for the ERC-20 contracts.
The current average gas price on Ethereum is $13.28, which is significantly low since May 1, when it was around $474.57. While the first three categories' gas prices have also diminished significantly, the ERC-20 gas prices seem to bottomed in June 2022.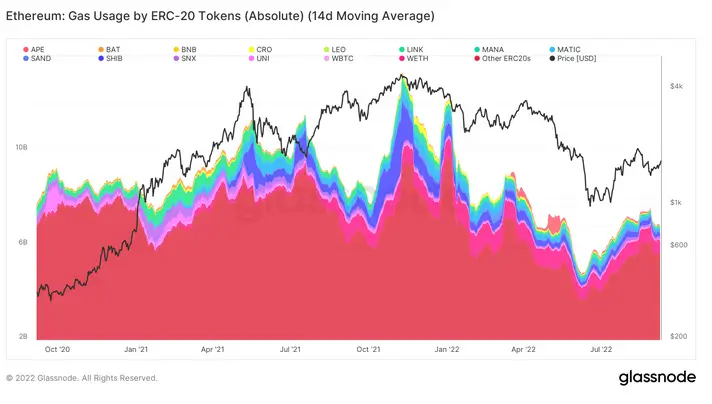 As the chart above also demonstrates, the gas prices for ERC-20 transfers have been following an upwards trend since June 2022.
Weekly MacroSlate: Bitcoin facing first global recession as currency collapses, energy crisis becomes reality for Europe
The macro overview of this week's MacroSlate shows that the U.K. economy is in peril partly due to the sterling at a 37-year low and soaring payments on index-linked gifts, while Europe is also struggling following the ECB's latest 75 bps interest rate hike.
On the other hand, almost a quarter of all U.S. businesses are "zombie companies." The term refers to companies that have near-zero interest rates and don't generate cash to pay interest on their debts.
In the meantime, Bitcoin's correlation with the S&P 500 remains strong.
Centralization, sell-offs, and network stability: What's troubling Ethereum ahead of the Merge?
Nansen's latest report evaluated the risks for Ethereum after the merge and said while most concerns of the community are unwarranted, the merge will not damage Ethereum's core doctrine.
The report showed that the PoS network might introduce some level of centralization to the ecosystem, there are no significant sell-off or destabilization risks after the merge.
News from around the Cryptoverse
Florida government listed 5 signals for identifying crypto scams
The Florida Department of Agriculture and Consumer Services (FDACS) issued a warning regarding the increasing number of crypto scams and listed five red flags that can help investors identify them, CoinTelegraph reported.
These red flags were: requesting immediate action, false claims, being an imposter, requesting personal information, and being asked to pay with a gift card or crypto.
Crypto Market
Bitcoin continues its uptrend with a 3.26% increase in the last 24 hours, reaching up to $22,370. Ethereum, on the other hand, fell by 2.27% to be traded at $1.722.
Biggest Gainers (24h)
Ravencoin (RVN) : +38.19%
Golem (GLM): +26.72%
Hedera (HBAR): +12.62%
Biggest Losers (24h)
Terra (LUNA): -24.33%
Terra Classic (LUNC): -18.96%
TerraUSD (USTC): -12.4%
---
Source
---
Back to the list