Back to the list
What Bear Market? Canada's Largest Blockchain Conference Beamed With Bullish Energy
www.coindesk.com
12 August 2022 20:50, UTC
Reading time: ~7 m
---
Bears be damned — The bulls are gearing up as the crypto world descended with thousands of participants in Toronto this week for ETHToronto and Blockchain Futurist Conference.
Billed as Canada's largest blockchain conference, the three-day event was held at two of Toronto's most prominent night clubs - Rebel and Cabana - which are known to be frequented by many A-list celebrities.
The conference had a hackathon, panels, several fun activities, afterparties and a keynote by Ethereum co-founder Vitalik Buterin, where he poked fun at monkey JPEGs. To top it all off, Cosmos (ATOM) co-founder Ethan Buchman rapped about interoperability and use cases for the ecosystem.
Read more: 'Hey, Look, It's a Monkey!' Ethereum's Vitalik Buterin Pokes Fun at Ape NFTs, Expresses Optimism About the Merge
Maybe it was the party atmosphere of the clubs or maybe it was the beautiful summer days of Toronto but judging by the mood of the participants, it seemed like the audience felt that the crypto rout has bottomed out and it's all uphill from here.
Of course it also helped that Ethereum network's native token ether (ETH) hit the highest price since June during the conference, ahead of the network overhaul known as the Merge, which looks likely to happen next month.
"For the first time in a long time, people were inspired again," said Greg Gopman, chief marketing officer of crypto infrastructure provider Ankr, who was at the event. "Maybe it was Vitalik showing up. Maybe it's news of the Merge nearing reality. Or maybe it was just the beautiful indoor/outdoor venue during two perfect Toronto summer days - but for the first time in a while, things felt bullish again," he said.
Full-house at Day-1 of Blockchain Futurist Conference in Toronto (Aoyon Ashraf/CoinDesk)
The main focus of the conference, aside from the obvious discussions on the Merge and decentralized finance (DeFi) included privacy and regulations, real world applications of blockchain, interest from traditional finance (TradFi) into crypto, new technologies as well as a rare feat in crypto - female empowerment.
Between many bars at the conference and plenty of schmoozing at side events, the conference was buzzing with the excitement of the upcoming Merge, which will see Ethereum move from its proof-of-work protocol to proof-of-stake, as well as the improvements to the network that will be made beyond just the upgrade to a more energy efficient system.
While Vitalik Buterin was upbeat about the Merge, Anthony Di Lorio, another co-founder of Ethereum told the audience about the whitelist opening of Andiami, an upcoming global tech project designed to add value to leading decentralized networks, which will be launched on Nov. 3 of this year, about 10 years to the day of the first bitcoin meeting he hosted in Toronto.
Fun fact, Vitalik Buterin is Canadian and a lot of people consider Canada as the birthplace of Ethereum.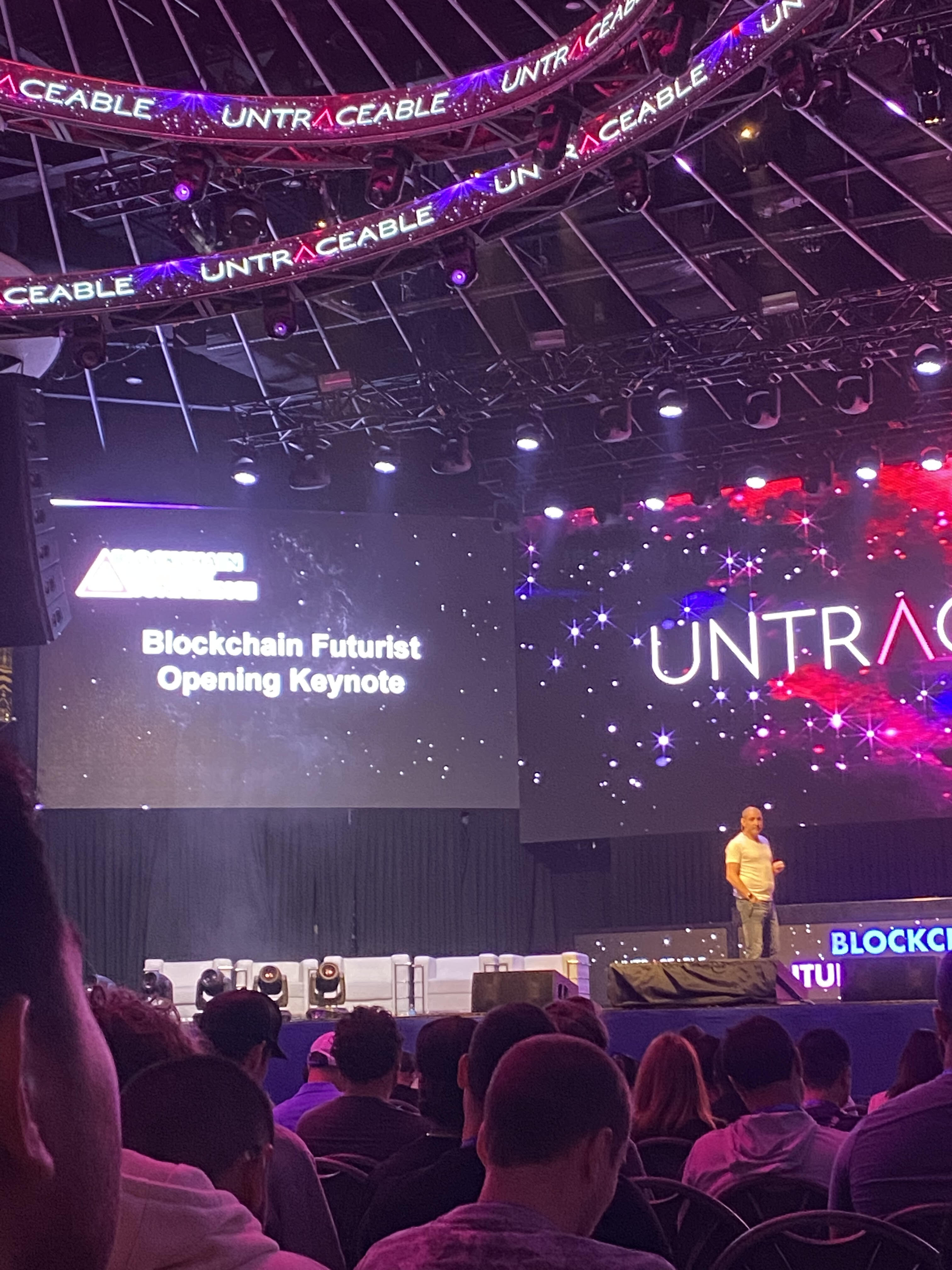 Anthony Di Lorio at Futurist Blockchain Conference introducing Andiami. (Margaux Nijkerk /CoinDesk)
Di Lorio left the audience with excitement, not because of his new project, but because he was in a rush to the hospital to welcome his new-born.
Aside from talks about Ethereum, other layer 2 representation also made its way around the conference.
"There was a very optimistic crowd present in Toronto with Layer 2s and the Merge at the forefront of discussion. It was great to see the level of collaboration between the variety ecosystems and projects that were present, said Zack Gall, VP of communications at EOS Foundation.
A layer 1 network is the base layer, or the underlying infrastructure of a blockchain. Layer 2 refers to a set of off-chain systems or separate blockchains built on top of layer 1s.
Metis, an Ethereum Layer 2 roll-up platform, also shared that participants in the conference seemed enthusiastic about layer 2 products, especially in a post-Merge world.
Kevin Liu, the CPO and co-founder of Metis, mentioned that there was "a lot of hype over Ethereum. We spoke about so many projects and we were excited to speak with everyone about Reputation Power on Matrix [Metis' web3 identity system] which will help drive mass adoptions of web2 to web3."
Meanwhile, interoperability among the blockchains was a big topic of discussion. In fact, Cosmos co-founder, Ethan Buchman, rapped about the "interoperability and sovereignty," after his keynote speech. Cosmos - described as the "'Internet of Blockchains", a network of blockchains able to communicate with each other in a decentralized way - was pitched by him as one of the solutions of interoperability.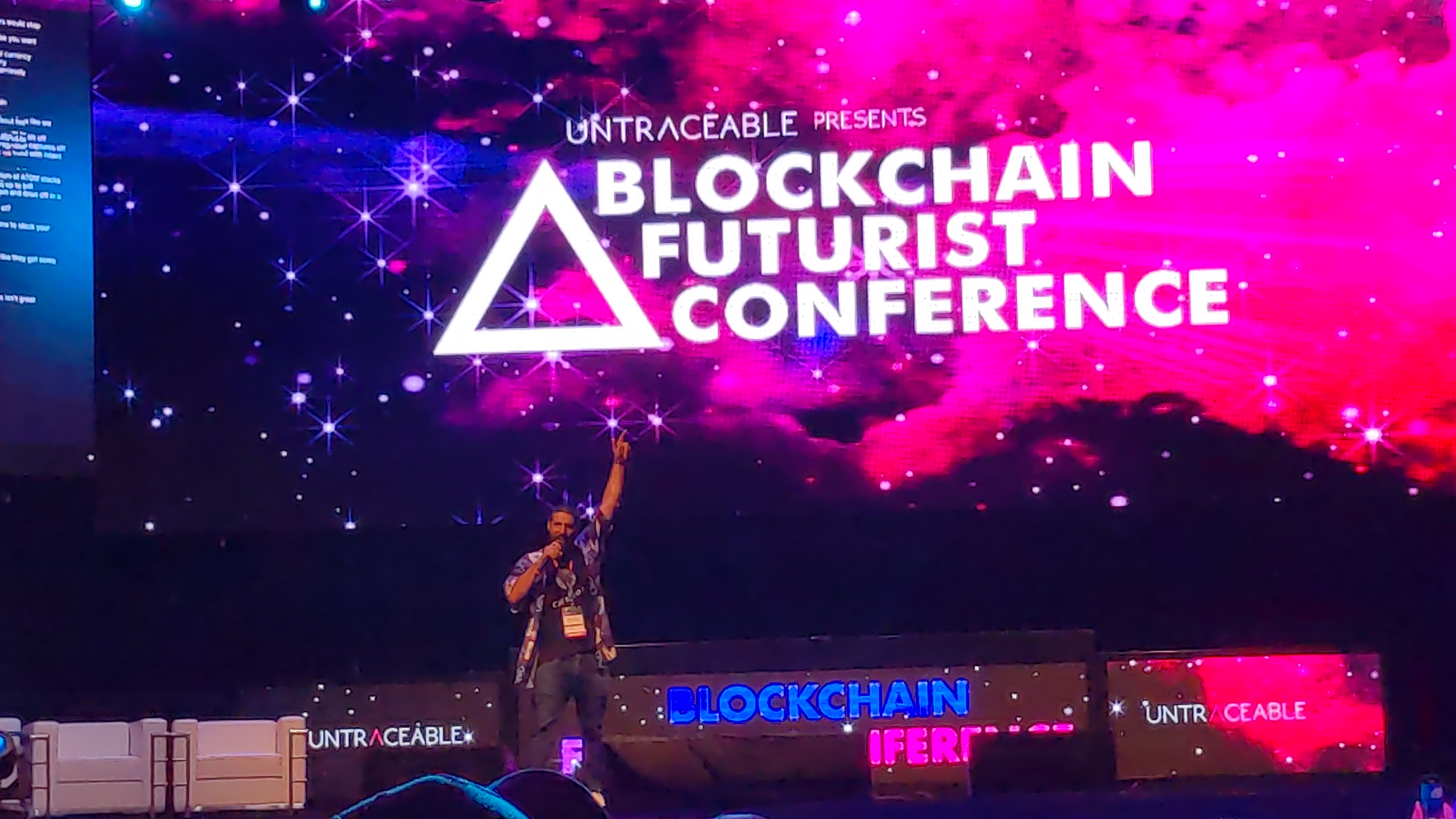 Cosmos co-founder Ethan Buchman spitting fire at the Blockchain Futurist Conference in Toronto (Aoyon Ashraf/CoinDesk)
"An interoperable, multi-chain ecosystem will be crucial to unlock growth for the crypto and blockchain industry," said Viveik Vivekananthan, CEO of Swing, a Web3 liquidity infrastructure provider company.
What's a blockchain conference without debate on privacy? There were plenty of discussions on the topic at the conference.
During a panel discussion on privacy, Warren Paul Andersen of Discreet Labs, a blockchain research and development company building out Findora & other privacy protocols, said that there's been a real push in the industry to put everything on the chain, because it protects "the ethos of decentralization". But what is missing in the privacy space is trust.
Andersen believes that Zero-Knowledge (ZK) proofs, which ensures that data can be shared without releasing personal information, will be a technology that will be able to solve this problem. This will be the next phase of innovation around privacy issues in blockchain.
Read more: The Sudden Rise of EVM-Compatible ZK Rollups
Andersen's comment came as the sanctioning of Tornado Cash happened right before the conference, which made the need for privacy and regulations a much debated topic. "Given the recent sanctioning of Tornado Cash, privacy seemed to be a hot topic of conversation at the Blockchain Futurist Conference this year," he told CoinDesk.
On the more educational-side, the opportunities to interact with blockchain and crypto in real life were endless at the conference.
From participating in dead-hangs in order to win $1,000 in bitcoin, to using cryptos via Flexa, a crypto payments app, to pay for food, to arriving by helicopter at the venue using payments in crypto, participants had ample possibilities to participate in activities that could use crypto for "mainstream activities."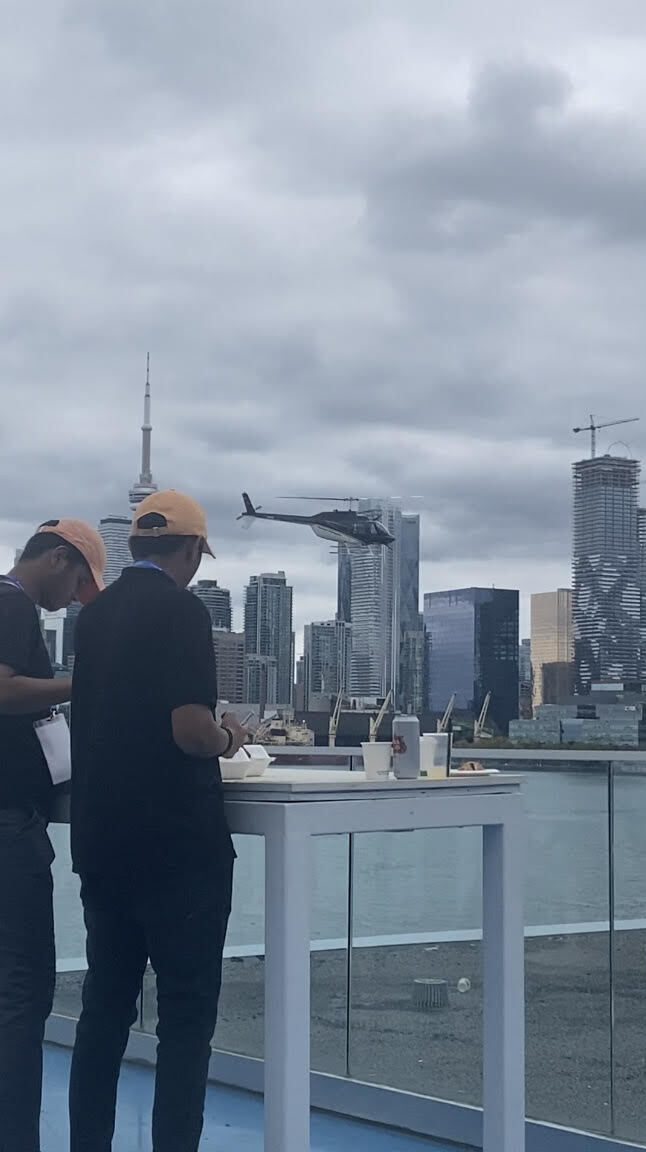 Participant arriving at ETHToronto by helicopter. (Margaux Nijkerk/CoinDesk)
Tracy Leparulo, the main organizer of ETHToronto and the Blockchain Futurist Conference, spoke to CoinDesk about the conference's launch of a real-life engagement token, allowing "to bring people close to real life and drive actions on site."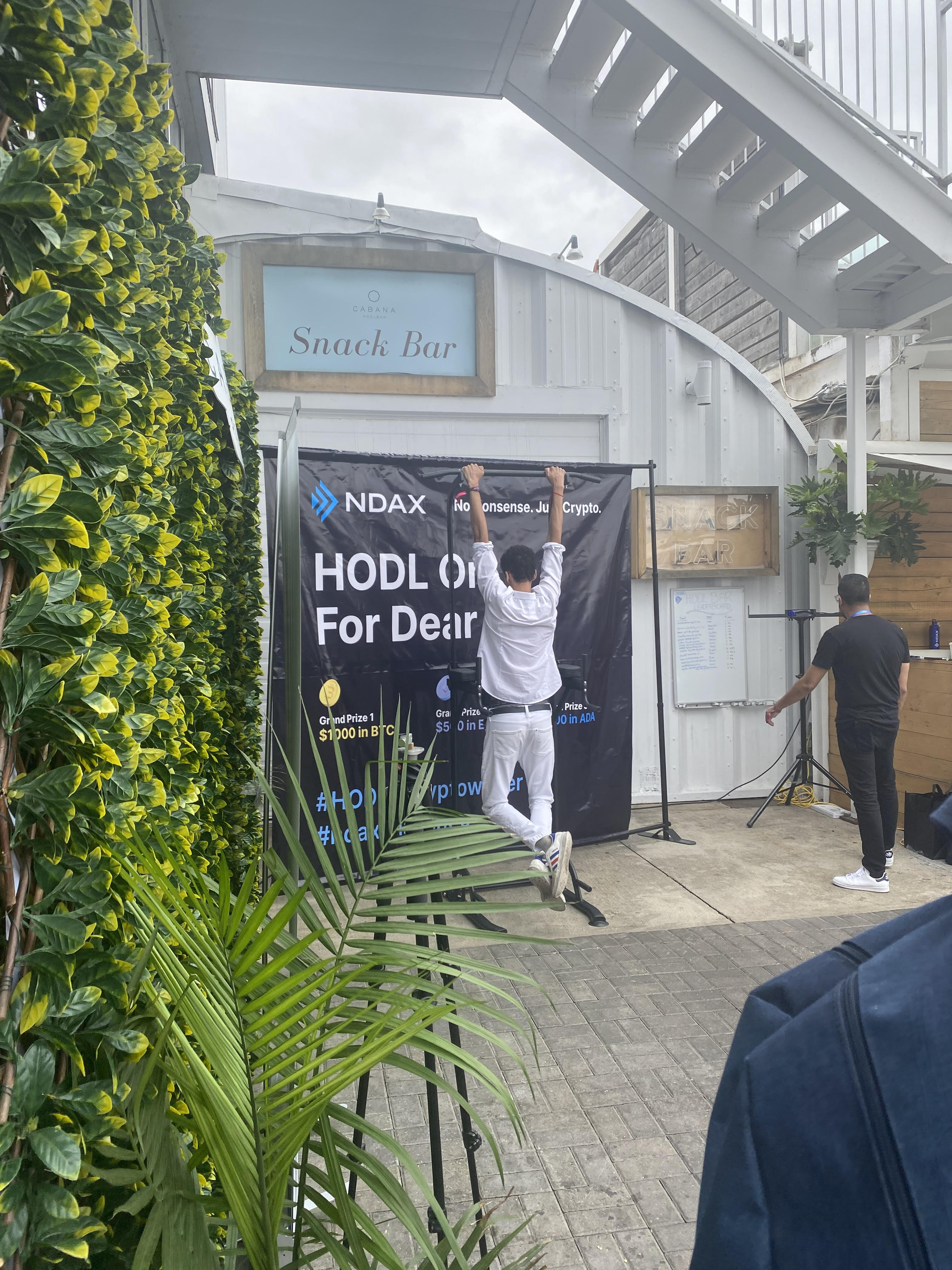 A participant attempting the dead hang for an opportunity to win $1,000 in bitcoin. (Margaux Nijkerk/CoinDesk)
Meanwhile, TradFi interest in crypto was very prominent at the conference.
Lepurlo said that she has been running the conference since 2013, and the before, TradFi crowd wouldn't even "be caught dead" coming to a crypto conference - a complete opposite of the participants at this year's conference.
"The largest audience of this event this year is people within traditional capital markets," she said, adding that there were people from investment groups and stock exchanges at the conference - showing a total shift in mindset about the crypto industry.
Although it's not surprising to see the intersection of TradFi and crypto as recently there has been a continued push from the institutional investors to expand into the industry. Most recently, BlackRock, the world's biggest asset manager, has formed a partnership with publicly traded crypto exchange Coinbase (COIN) to make crypto directly available to institutional investors.
In a more surprising twist, the conference had a lot more female representation, not just crypto-bros.
Maybe because the organizers were led by some of the prominent women in crypto.
"The most inspiring part is that we had the largest submission to CryptoChicks bounty for the hackathon, a total of 13 projects led by women were submitted," CEO of Metis & Cryptochicks, Elena Sinelnikova, told CoinDesk.
"We at Metis are so grateful that we were able to help organize this conference with Untraceable and CryptoChicks." she added.
Leparulo also mentioned that there was a really big female turnout in Canada. She encouraged if "you're a female in this [blockchain] space, come to Futurist. It's a great inclusive area, I'm about to be eight months pregnant, I can do this. So if you're female in space, get on board and get into crypto. Anyone can do it."
Perhaps a sign that not just the sentiment that was turning at this conference, may be the social-scene as well.
---
Source
---
Back to the list