Trading volume for blue-chip non-fungible token collection CryptoPunks is surging after generating more than $211 million in sales volumes during the last 30 days, according to data from Dune Analytics.

That result has put CryptoPunks ahead of the Bored Ape Yacht Club collection, the long-standing leading NFT brand, which has about $75 million in trading volume over the same period, Dune data also shows.

The hot-selling CryptoPunks are technically a modified version of the original collection which first went on sale in 2017. These CryptoPunks are considered "wrapped," as they are each tied to an Ethereum token which makes it possible to sell the NFTs on top marketplaces like OpenSea and Blur. This has boosted the collection's overall liquidity, said The Block research analyst Brad Kay.

CryptoPunks trading volume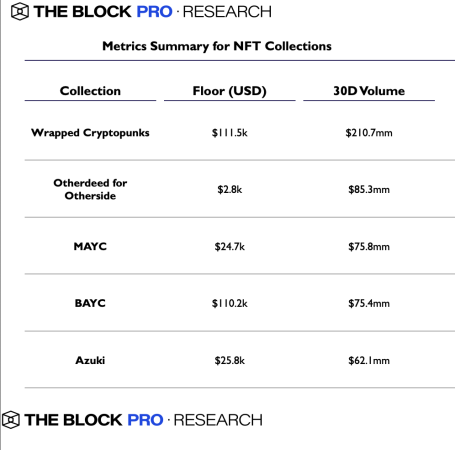 Running 30-day trading volume totals for blue-chip NFT collections.

Previously, CryptoPunks holders could only sell through collection creator Larva Labs' own website. Trading volume for the "wrapped" CryptoPunks hit $133 million in March, the best performance by any collection in ten months, according to Dune.

Although the wrapped CryptoPunks can be sold on both OpenSea and Blur, it is the latter of the two that is scooping up all the business. Blur recently overtook OpenSea as the top marketplace by volume when it introduced an incentive plan that combines not charging fees with rewarding traders for using its portal by handing out its native token as a bonus.

The higher the value of the transaction, the more tokens awarded.

"Recently a bunch of big CryptoPunks holders started wrapping their punks," said Kay, adding that the new, modified way of selling CryptoPunks appears to be motivating many holders to unload their NFTs. On Tuesday at one point, 16 CryptoPunks had sold for more than $100,000 each on Blur within an hour's time, according to Kay.