Back to the list
60% of NFT Consumers Have Never Heard of 'NFT Utility,' Says Report
beincrypto.com
15 February 2023 18:13, UTC
Reading time: ~2 m
---
According to a report by DappRadar and Alsomine, the industry needs to shout louder about 'Utility NFTs.'
The NFT boom of late 2020 to early 2021 was characterized by headline-grabbing sales with little utility. Since then, the industry has tried to put utility at the forefront of its products.
A Utility NFT is a non-fungible token that is useful for more than trading, collecting, or earning a profit. These "Utility NFTs" have been touted as the future of digital assets.
According to a report released on Wednesday, the message isn't reaching enough people. Findings from DappRadar and Alsomine show that 60% of NFT consumers haven't heard of Utility NFTs. 13% had only heard "something about it."
6% of consumers had purchased one or more Utility NFTs. Only 10% had purchased a Utility NFT and used it for more than trading.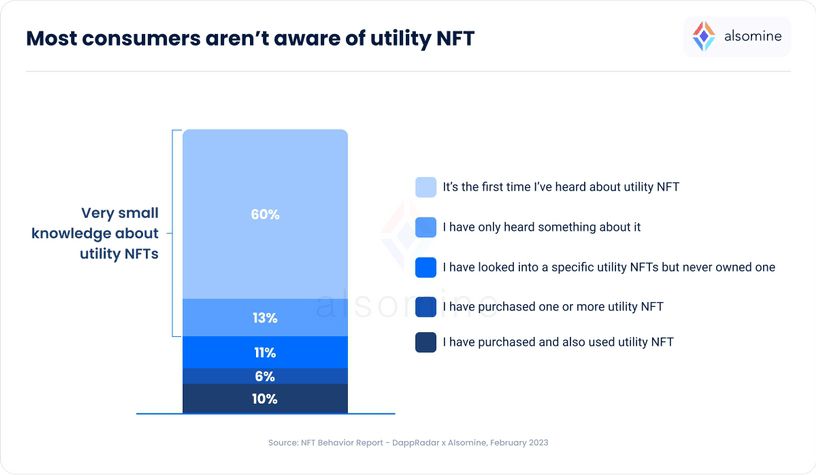 Only 60% of consumers are aware of Utility NFTs. Source: DappRadar
'Earnings & Savings' Are Considered Most Important
Another area of the survey sheds light on why this is. According to the research, the most important benefit of owning an NFT was making a profit or increasing their savings (31%). Asset Ownership was the second most important at 22%.
Only 13% of respondents said the most important benefit of NFTs was ticketing. However, this was also the option with the highest representation of new users, suggesting that the ticketing use case is helping NFTs become mainstream.
The accessibility of the NFT market could be a large barrier to its growth. For people purchasing NFTs, the ability to use a credit card ranks as the second most important factor. 30% of respondents rated this their top priority in the study.
"As the NFT industry continues to grow and evolve, it's crucial for consumers to understand the full potential of these unique digital assets. The industry can build credibility and trust with a broader audience by educating consumers on these more comprehensive use cases and demonstrating how NFTs can enrich their lives," said Wes Levitt, Head of Strategy at Theta Labs.
A key to helping consumers understand the benefits of NFTs is to showcase the utility before even using the term, says John Burris, COO at MetaJuice. "New projects launching in the space need to first ask themselves, 'What will this project allow owners to do?"
---
Source
---
Back to the list