Back to the list
Crypto Twitter Reacts to Official 'Game of Thrones' NFTs: 'Worst Thing I've Ever Seen'
decrypt.co
11 January 2023 14:40, UTC
Reading time: ~3 m
---
The "Game of Thrones" official NFT collection, dubbed "Build Your Realm," has completely sold out just seven hours after its release yesterday on Nifty's NFT marketplace.
The high demand for these collectibles might have been easy to predict due to the popularity of the show (and its new spinoff series "House of the Dragon"). But many are now comparing the quality of the collection's art to the eighth season of the HBO series: a major let-down.
The first series of the collection, first announced in November, is a collaboration between Nifty and Daz 3D, a digital production company that designed and developed the non-fungible tokens (NFTs). Each NFT, minted on the Palm blockchain—an Ethereum-compatible sidechain developed specifically for NFTs—features various elements from the "Game of Thrones" universe, allowing collectors to create their own unique realms and avatars. Distribution of the NFTs came via a presale of 3,450 Hero Boxes and then a public sale of 1,500 Hero Boxes four hours later. Each Hero Box cost $150 (~0.11 ETH) and includes one Hero Avatar, three Story Cards, and nine Resource Cards.
The controversy surrounding the NFT launch has been twofold: issues with the mint and mocking of the comically poor avatar designs.
Minting delays and mocked art
Nifty's announced that it had "paused the queue temporarily" due to congestion, assuring buyers that they'd see their purchase appear shortly or would be refunded.
Update on Build Your Realm Public Sale:

We've paused the queue temporarily to work through current transactions. Processed payments that did not result in NFTs appearing in your wallet will be reversed or refunded.

If any Hero Boxes remain, we'll resume the sale shortly.

— Nifty's (@Niftys) January 10, 2023
One user on Twitter claims to have waited an hour just to hear that they would have to wait another 2.5 hours before minting. Another alleged that by the time they received their NFTs, the floor price had already dropped. A collection's floor price refers to the lowest price for an NFT within the collection that can be bought immediately.
While issues related to minting and delivery can be common during a project's launch, the more notable criticism relates to the visual look of the avatars—specifically the surreal hands.
GOT NFTs over here lookin like Salad Fingers

— Bryan Brinkman (@bryanbrinkman) January 10, 2023
"This Game of Thrones NFT collection is just like the last season of the show," wrote Justin Taylor. "No creative vision and terrible."
Pseudonymous co-founder of Web3 game project Treeverse Loopify said the collection was "the worst thing I've ever seen," sharing one particularly wonky-handed avatar.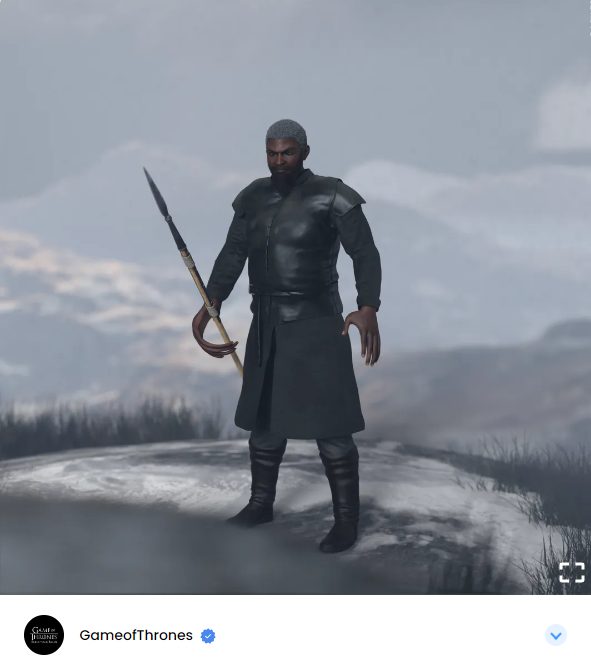 The North #54. Source:
Nifty
Despite the criticism, others have noted that the roasting may be potentially bullish for collectors. (See: Kevin from Pixelmon.) Nifty and Daz did not immediately respond to Decrypt's request for comment.
Are NFT collections making a comeback?
The NFT collection for HBO's massively successful fantasy series is just the latest example of NFTs entering the mainstream.
Most Impressive NFT Projects of 2022
Last month, former President Donald Trump released a collection of 44,000 NFTs, which sold out within 24 hours. However, after the initial excitement, those who invested in President Trump's foray into digital collectibles have seen the floor price of their NFTs plummet.
The wider NFT market has seen an uptick over the past month, with many of the top 10 collections seeing double-digit increases in 30-day trading volume, such as Bored Ape Yacht Club, Bored Ape Kennel Club, Azuki, and CryptoPunks.
However, zooming out and looking at the NFT market over the last few years, trading volume is still a fraction of its highs in late 2021 and early 2022.
---
Source
---
Back to the list