Back to the list
Top 5 NFT Marketplaces by Sales Volume on DappRadar
coinedition.com
30 November 2022 15:32, UTC
Reading time: ~3 m
---
DappRadar has compiled a list of the Top 5 NFT Marketplaces by Sales Volume. In this list, OpenSea grabs the first spot, while Magic Eden, X2Y2, LooksRare, and ImmutableX follow.
1. OpenSea
According to DappRadar, OpenSea is the world's first and largest NFT marketplace, founded by Devin Finzer and Alex Atallah in 2017. OpenSea holds first place in sales volume with $51.93M, and it is up 6,605.41% in the last seven days. Shown below in the chart is the activity of OpenSea during the past seven days.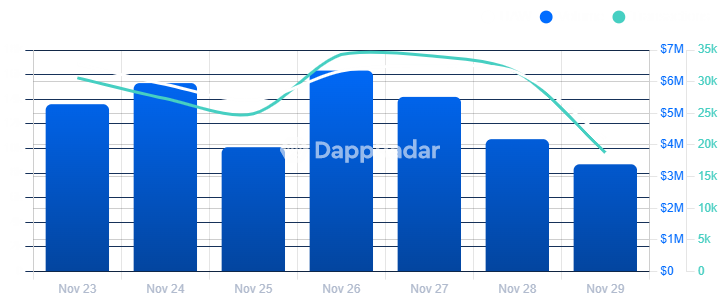 Seven-day OpenSea activity Source: DappRadar
Notably, OpenSea didn't charge royalty fees from creators during the early stages when it was launched, as it intended to onboard more creators. However, OpenSea tweeted that it will charge royalty fees for existing collections, effective from November 9.
Meanwhile, the company reinforced its platform against fraudulent activities by scaling copy mint detection and removal system, which removes copymints in minutes. Moreover, Opensea beefed up its guard against phishing websites that promise free mints and other benefits. As such, OpenSea introduced a system that could detect malicious sites.
2. Magic Eden
Magic Eden, a leading Solana NFT marketplace, was founded by four friends Sidney Zhang, Jack Lu, Zhuoxun Yin, and Zhuojie Zhou, after they found the potential in NFTs. Zhang is the Chief Technology Officer, Lu is the Chief Executive Officer, Yin is the, Chief Operating Officer, while Zhou is the Chief Engineer. Magic Eden, which is second only to OpenSea, has a sales volume of $30.73M and is up 120.12% in the last seven days.
As per the website, Magic Eden has more than 22 million unique monthly visitors to its site. Moreover, the platform holds more than 8000 collections with 100,000+ daily wallet connections with a secondary trading volume of $1.9 billion.
Last week, Magic Eden introduced Polygon as their third supported chain on their platform. Additionally, Magic Eden partnered with Star Atlas, a next-gen metaverse game centred around intergalactic travel and spaceships — complete with a robust economy that operates 24/7, with cinematic-level graphics that has AAA quality.
3. X2Y2
X2Y2, an Ethereum marketplace, which ranked third in sales volume for the past seven days has a sales volume of $9.02M, and the platform is up 12.03%. As shown in the seven-day sales volume chart below, there seems to be a significant reduction in sales volume yesterday. Its sales volume of $1.17 million fell to 404K the very next day. It recorded its highest sales volume of $2.44 million last Wednesday.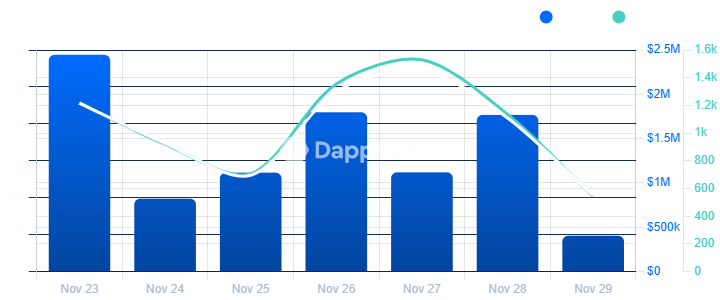 Seven-day X2Y2 activity Source: DappRadar
4. LooksRare
LooksRare is another Ethereum-based NFT marketplace, which captures the fourth place with a sales volume of $5.47M, up 42.94%. The platform recorded 1,793 traders within the last seven days and with an increase of 13.91%. Moreover, it recorded an average price of $2.57k after an increase of 63.59%.
LooksRare's technical architecture (contracts, database, API, front end, search) has been engineered from the floor up for scalability, speed, and security using the latest and greatest tech.
5. Immutable X Marketplace
ImmutableX, an industry-leading NFT minting and trading platform, Immutable Studios, and an NFT game development studio was founded by James Ferguson, Robbie Ferguson, and Alex Connolly in 2018. Immutable X marketplace captured the fifth place with a sales volume of $4.07 million and is down by 8.61%. Additionally, the seven day trading chart recorded 11,929 traders after a decrease of 5.36%.
Disclaimer: The views and opinions, as well as all the information shared in this analysis, are published in good faith. Readers must do their own research and due diligence. Any action taken by the reader is strictly at their own risk. Coin Edition and its affiliates will not be held liable for any direct or indirect damage or loss.
---
Source
---
Back to the list