Back to the list
OpenSea Hits $3B in Monthly Volume on Mutant Ape NFT Drop
cryptobriefing.com
30 August 2021 12:09, UTC
Reading time: ~3 m
---
OpenSea has reached $3 billion in volume traded this month, with the recent Mutant Ape Yacht Club launch helping the NFT marketplace hit the milestone. 
Mutant Apes Make History
The summer may be coming to an end, but NFT mania is showing no sign of slowing. 
The leading marketplace for the crypto niche, OpenSea, hit $3 billion in monthly volume Monday, outstripping the volume for July by over 800%.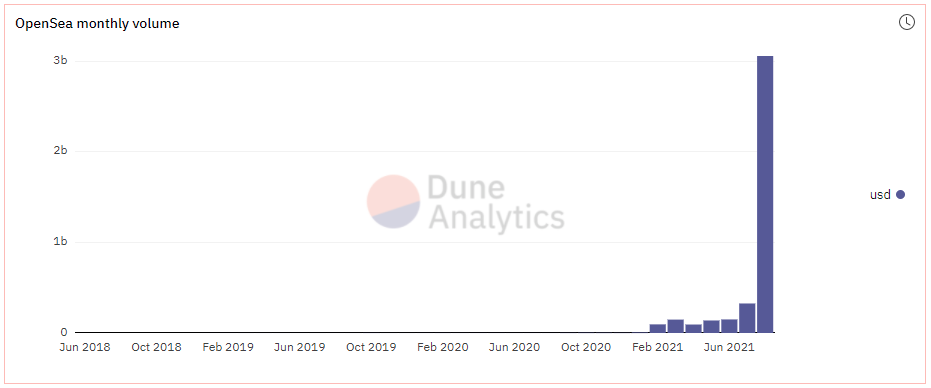 The meteoric rise saw a boost from Bored Ape Yacht Club spin-off Mutant Ape Yacht Club, which launched Saturday evening. The launch consisted of an airdrop of mutant serums to all existing Bored Ape holders, allowing them to mint mutant versions of their apes for free. Additionally, 10,000 original Mutant Apes were released in a Dutch auction with bidding starting at 3 ETH, or roughly $10,000. In total, the drop raised $96 million for Mutant Ape creators Yuga Labs. 
how it started how it's going pic.twitter.com/lTEqvknmoL

— medved (@mattmedved) August 29, 2021
Since the drop, the secondary market for Mutant Apes has gone wild. The floor price for the cheapest Mutants is already more than double the mint price, something that may not come as a surprise to NFT followers considering the enormous success of the original Bored Apes. 
Following the launch, OpenSea registered its highest daily trading volume at $322 million, largely thanks to the increased trading of Mutant Apes. As of Monday morning, the trading volume for Mutant Apes has surpassed the volume for the original Bored Apes, making them the third most traded collection on OpenSea. 
Launched in April, Bored Ape Yacht Club consists of 10,000 programmatically generated apes, sporting various quirky accessories such as sailor hats and 3D glasses. Bored Apes could be minted for 0.08 ETH at launch, or a little under $200. Now, the cheapest Apes cost an eye-watering $80,000, thanks in part to the thriving community that has developed around the project. Apes are increasingly being seen as status symbols both in and out of the crypto space, with professional basketball player Stephen Curry buying one last weekend for $180,000. 
Mutant Ape Yacht Club is the third collection from Yuga Labs so far. In June, Yuga Labs released the Bored Ape Kennel Club, allowing Bored Ape holders to adopt a pet dog NFT for free. A 2.5% royalty fee from Kennel Club sales was donated to animal charity Wright-Way Rescue for the first six weeks after launch. 
Yuga Labs has more planned for the Bored Ape franchise in the future. Shortly after the Mutant Ape launch, the Bored Ape team posted an update to the project's roadmap on Discord. The team announced that in the coming months, all Bored Ape and Mutant Ape holders would receive a fully rendered and rigged 3D model of their ape to use in the Metaverse.
Disclaimer: At the time of writing this feature, the author owned BTC and ETH. 
---
Source
---
Back to the list
Similar news