Non-fungible tokens, better known simply as NFTs, are a type of digital token on the blockchain that's used to create unique digital objects. NFTs can be tied to various pieces of media, such as pictures, videos or audio. However, their potential use also extends beyond media, as NFTs can be used to represent things like event tickets, physical objects, video game items, or even real estate.
NFTs exploded in popularity in 2021 thanks to PFP (profile picture) NFT projects like CryptoPunks and Bored Ape Yacht Club. These types of NFTs allow users to own a visually unique avatar to represent their identity on the web.
NFTs are traded on a variety of NFT marketplaces. The most popular option at the moment is OpenSea, although the competition is certainly not sleeping. Cryptocurrency exchanges have recognized that the demand for NFTs is substantial and users now have a wide variety of NFT trading platforms to choose from.
Binance, the world's most popular cryptocurrency exchange, entered the NFT world in a big way with the launch of the Binance NFT marketplace in June 2021. Since launch, the platform has seen a slew of improvements, making it one of the most convenient places for users to mint, buy and sell NFTs.
Trade NFTs on Binance NFT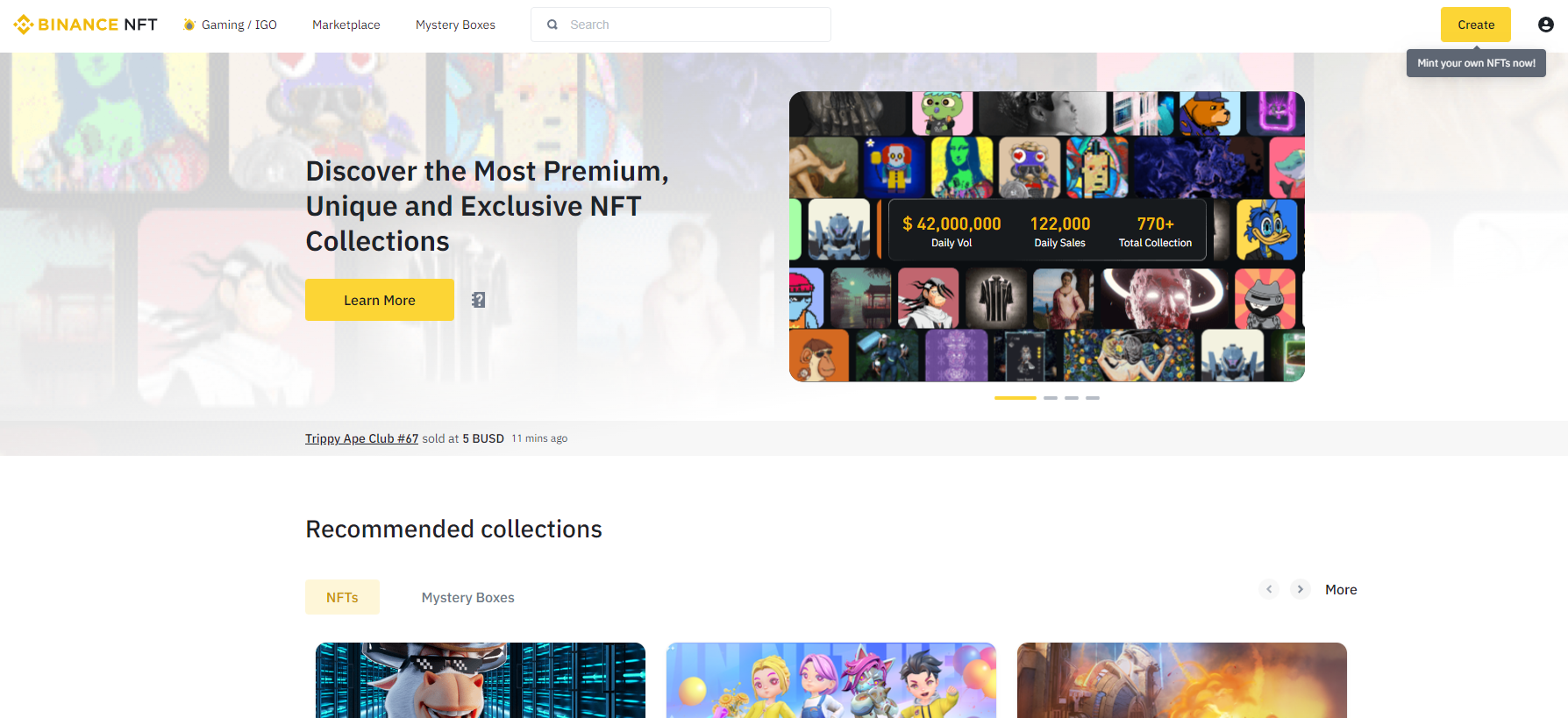 Why use Binance NFT for trading NFTs?
With so many NFT marketplaces available at the moment, it's hard to decide which one to go with. Realistically, one of the main reasons to choose a particular platform is the blockchain platform(s) that it supports. Some marketplaces are focused on a single blockchain, while others can be used to trade NFTs on multiple blockchains.
Binance NFT does well here because it supports NFTs on both the Ethereum and BNB Chain platforms. This selection covers a lot of ground, as they are two of the most popular blockchains out there.
A key aspect to consider when choosing an NFT marketplace is the user experience. Ideally, the platform should make it easy to find specific NFTs you're interested in, or explore NFT collections that you might not be familiar with.
This simplicity should also extend to payments, as the process of buying and selling should be quick and simple with convenient payment options. Binance NFT supports payments in ETH, BNB and the BUSD stablecoin. Selling an NFT on Binance NFT comes with a 1% fee, which is a competitive fee rate.
Another advantage of using Binance NFT is that the exchange offers 24/7 customer support-this isn't something that you can expect from most other NFT marketplaces.
Now that we're familiar with some of the basics, let's take a closer look at the Binance NFT marketplace and what it offers to NFT collectors and traders. We'll also show you how to buy an NFT on Binance. Before getting started, we'll have to create an account on Binance. Please note that you have to complete an identity verification process if you want to use Binance's services.
If you want to buy an NFT, you'll have to top up your funding wallet with some crypto. Currently, you can top up the wallet with either ETH, BNB or BUSD. You don't have to worry about this right now, as you will be given the option to top up your wallet when you try to buy an NFT (if you don't have sufficient funds in your funding wallet).
Finding the right NFT
Of course, the first step is to actually find a cool NFT that you would like to buy. Thankfully, the Binance NFT platform makes it very easy to sort between all of the NFTs available on the marketplace and find the right one for you. Let's head on over to the "Marketplace" section using the navigation bar.

On the left side of the user interface, you'll see a wealth of options for filtering between different NFTs. The first choice to make is "Asset Type". This will allow you to choose if you only want to see regular NFTs, or if you also want to view mystery boxes.
Mystery boxes are a digital product that contain a random NFT from the associated collection. The upside is that you have a chance of opening an NFT of a higher rarity, but the downside is that you don't know exactly what you're going to get. We will be sticking to regular NFTs for now, but the choice is up to you.
If you know exactly which NFT collection you're interested in, use the "Collections" section. You can also scroll this menu to view a list of the different NFT collections offered on the marketplace. Just as an example, let's say that we want to see NFTs from the TUD NFT collection.

Since TUD NFT is an example of a Premier Collection, this is a good time to explain Binance NFT's system of categorizing NFT collections as either Premium Collections or Standard Collections.
Premier Collections
Binance NFT categorizes some NFT collections as Premier Collections based on various factors. According to Binance, this can include factors like trading volume, sales volume, as well as the number of followers the collection has on Binance NFT and other social media platforms.
You can easily identify Premier Collections by the orange tick that is displayed next to the collection's name.

This categorization can help you more easily identify popular and high-quality NFT collections, although it shouldn't be seen as a strict rule. In other words, just because a collection is categorized as a Premier Collection is not a guarantee that it will go up in value or have long-term appeal.
Standard Collections
Simply put, all collections on Binance NFT that aren't Premier Collections are categorized as Standard Collections. For example, if you were to launch an NFT collection through Binance NFT right now, it would be categorized as a Standard Collection at first.
The Standard Collection designation by itself does not imply that the collection is low quality. However, you might want to be a bit more careful and do some extra research before buying an NFT from a Standard Collection.
The platform will display a risk reminder whenever you're viewing an NFT from a Standard Collection.

Other filtering options
You can also filter NFTs by a number of other parameters. Let's take a quick look at some examples.
Sale types: Filter NFTs according to how they're being sold. You can choose between "Fixed Price" and "Live Auction" sales. You can also choose to only view NFTs that already have buy offers.
Network: Choose between NFTs on the Ethereum blockchain or the BNB Chain blockchain.
Currencies: Choose between NTs depending on which cryptocurrency they're being sold for. You can choose between ETH, BNB and BUSD.
Categories: Choose between different categories of NFTs (entertainment, esports, art, and so forth).
File Types: Filter through NFTs depending on the media type - image, video or audio.
Buying an NFT
Once you find an NFT you're interested in, you can go ahead and purchase it. There are two ways that NFTs are being sold on Binance NFT.
Fixed price
An NFT owner can decide to list their NFT for sale at a fixed price. If you find the price to be fair and want to purchase the NFT, simply click the "Buy Now" button.

If you think it's possible to get a better deal, click the "Make Offer" button to make your offer. The NFT in our example is being listed at a fixed price of 440 BUSD. Here's how you would go about making an offer for 400 BUSD.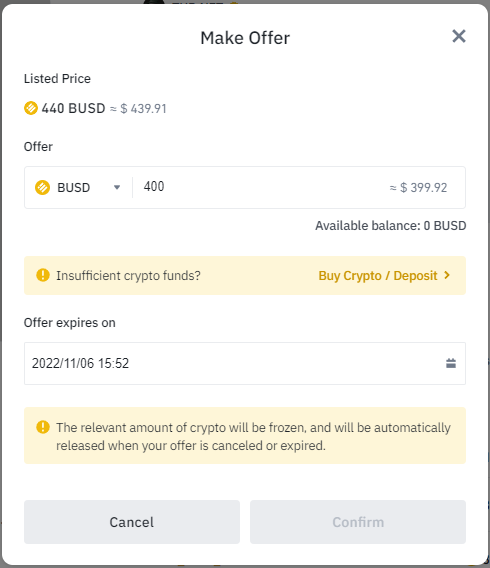 After making an offer, the funds will be frozen until the offer expires or is canceled. If the offer is accepted, the funds will be automatically moved to the seller and you will receive the NFT.
Auctions
Some sellers decide to put their NFTs up for auction instead of listing them at a fixed price. You can make a bid by offering more than the current highest bid. Each auction has a minimum markup - for example, if the current highest bid is 300 BUSD and the minimum markup is 1 BUSD, you have to bid at least 301 BUSD.

After placing a bid on an NFT auction, your funds will be frozen until someone else places a higher bid, or until the auction ends (if you have the highest bid).
The bottom line - Binance NFT is a solid NFT marketplace for BNB Chain and Ethereum
Binance has successfully created an NFT marketplace that's user-friendly both in terms of convenience and costs. With Binance NFT, it's easy to find exactly the NFT you like among the sea of digital collectibles that are available. The platform's multi-chain support as well as the fact that you can use BNB, BUSD or ETH make it suitable for almost any crypto enthusiast.
Binance caters a lot to the BNB Chain ecosystem, and has many features that make life easier for BNB Chain users. From my experience, the Binance NFT marketplace seems best suited for BNB Chain NFT collections, although you can definitely also find some interesting Ethereum-based NFTs on the platform.