Back to the list
Bitcoin Mining Difficulty Hits New All-Time High After 21.5% Increase
decrypt.co
13 May 2021 11:08, UTC
Reading time: ~2 m
---
Bitcoin mining difficulty has just hit a new all-time high above 25 trillion, according to data provided by BTC.com.
The new all-time high of 25.05 trillion represents a 21.53% increase since the last readjustment on May 1, when the difficulty fell by 12.6%, recording the Bitcoin network's largest downward correction since the start of the year.
#Bitcoin mining difficulty has increased by 21.5% today.

It is the largest positive difficulty adjustment in almost 7 years.

Chart: https://t.co/VSa6oGAPZF pic.twitter.com/ynFPBBDBKh

— glassnode (@glassnode) May 13, 2021
Bitcoin mining difficulty is a relative measure of the amount of computational resources required to produce new coins. This value either increases or decreases after every 2016 blocks, or roughly every 14 days, depending on how quickly the previous 2016 blocks were found.
Normally, the average block production interval is intended to be 10 minutes. However, since the last readjustment it has been substantially faster—somewhere about just 8.25 minutes. This means there's growing competition among miners as more hash rate—or the combined computational power used to mine and process transactions—is being sent to the network.
Earlier this week, the Bitcoin network's hash rate hit a new all-time high above 178 TH/s, before dipping slightly in the last few days.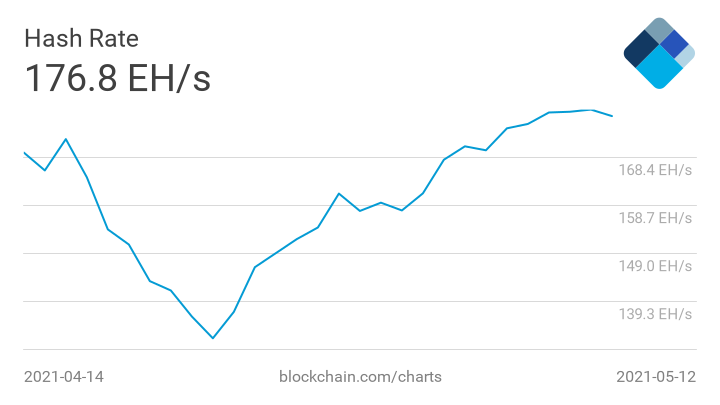 Coupled with more fierce competition and the latest drop in Bitcoin's price below $50,000, the increase in mining difficulty is likely to affect miners' revenues.
However, there's good news for average users: the faster block production interval has already helped to clear out the mempool. This means that your stuck transactions won't have to wait long before being confirmed.
---
Source
---
Back to the list