According to data recorded on July 9, 2023, Bitcoin's next difficulty adjustment is estimated to rise between 4.74% and 7.7%, erasing the 3.26% reduction that occurred on June 28. Moreover, the total network hashrate achieved a 24-hour all-time high on July 8, reaching 538 exahash per second (EH/s) at block height 797,733.
Record-Breaking Bitcoin Difficulty Increase Imminent, Total Hashrate Taps a 24-Hour Record at 538 EH/s
Statistics recorded on July 9, 2023, indicate that the next Bitcoin mining difficulty adjustment is scheduled for July 12, 2023. In the previous difficulty change, Bitcoin's mining difficulty experienced a 3.26% reduction, lowering the total to 50.65 trillion. Estimates suggest that the difficulty is expected to increase by 4.74% to 7.7% due to block intervals being consistently shorter than the ten-minute average.
Currently, the average block time on July 9 ranges from 8 minutes and 2 seconds to 9 minutes and 18 seconds per block. Additionally, the total hashrate on Sunday maintains a steady level at 440.72 EH/s after reaching a 24-hour record high the previous day. On July 8, at block height 797,733, records indicate that the hashrate peaked at 538.05 EH/s. The increase in hashrate has accelerated the speed of block intervals, resulting in a higher probability of mining 2,016 blocks faster than the typical two weeks.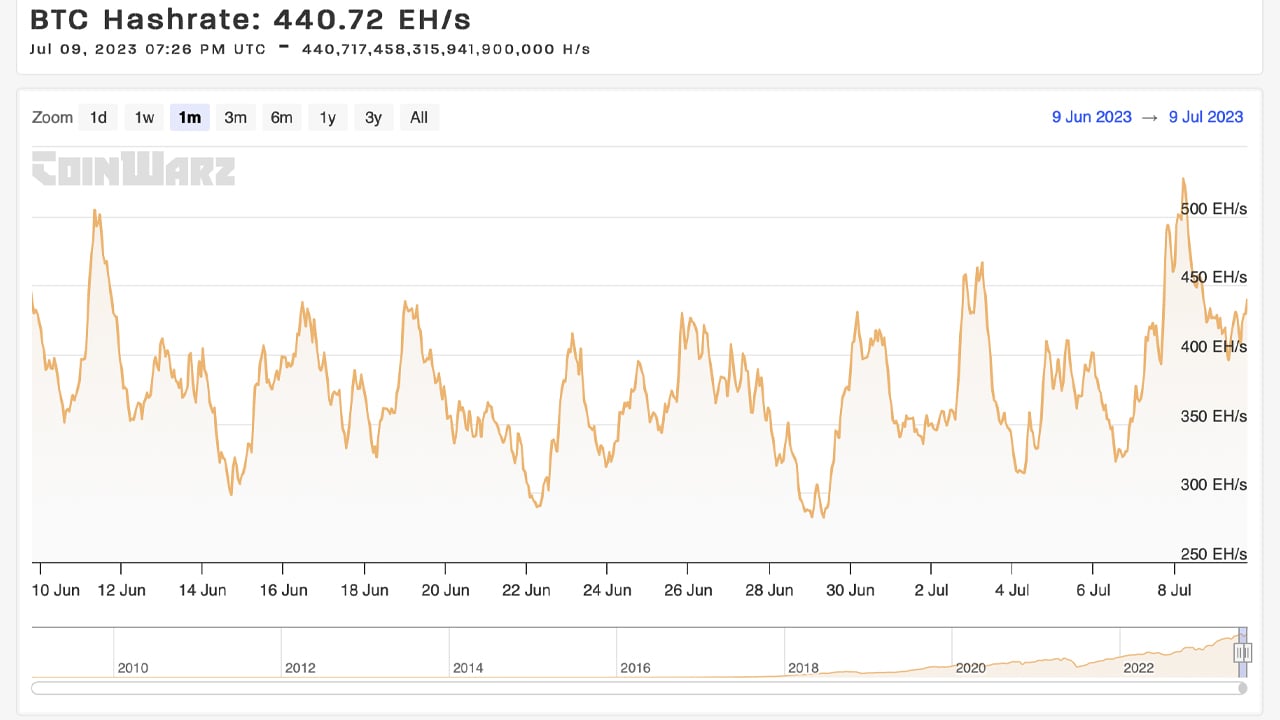 An increase ranging from 4.74% to 7.7% will eliminate the decline recorded on June 28 and push the overall network difficulty to another record-setting high. On the lower end of the range, a 4.74% increase would raise the difficulty from the current 50.65 trillion to 53.04 trillion. As a result, it will become the most challenging period in history for miners to uncover BTC blocks. Despite the difficulty reaching historically high levels, several factors have contributed to the rise in hashrate.
One factor is that BTC has increased by 80% against the U.S. dollar during the first half of 2023, making it more lucrative to mine BTC. Additionally, manufacturers have introduced next-generation application-specific integrated circuit (ASIC) mining rigs that offer significantly higher hashrate and improved efficiency. Lastly, mining operations that survived the 'Crypto Winter' of 2022 have significantly expanded their activities by acquiring new facilities and deploying thousands of BTC miners.