Ukraine's State Bureau of Investigation says it has uncovered an illegal crypto mining farm in a state-owned enterprise in the Western region of Lviv.
In an official post, the bureau (SBI) said that the farm was being run by managers of a branch of the state-owned company Forests of Ukraine in Rava-Ruske.
The town is in the Lviv Oblast (region), and is located near the Polish border.
Officers said the farm had mined over $108,000 for its masterminds, and had consumed some $41,000 worth of government resources, including electricity from the public grid.
The SBI said that the branch's "former director," who "now heads another branch," had set up the farm, along with the current director – who served as a deputy to the former chief.
The branch's chief accountant and "other responsible individuals" were also instrumental in setting up the farm, the agency said.
The SBI said the individuals set the farm up "over a year ago," and "stored" the coins they mined in "specially created personal crypto wallets."
The enterprise's accounts "paid the electricity bills," officers claimed.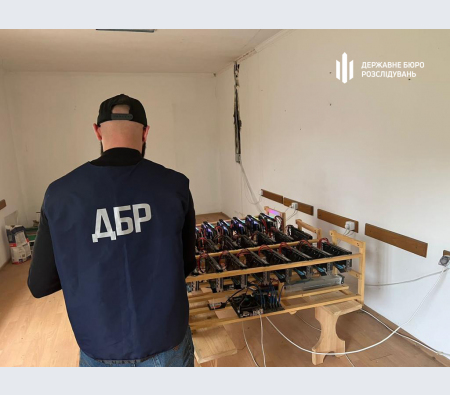 An SBI agent investigates. (Source: State Bureau of Investigation of Ukraine)
How Was 'Illegal Ukrainian Crypto Mining Farm Discovered?
Local authorities began to suspect something was wrong when they noticed "systematic overloading" on regional power networks, as well as "blackouts and large-scale interruptions in power supply to residential facilities and local infrastructure."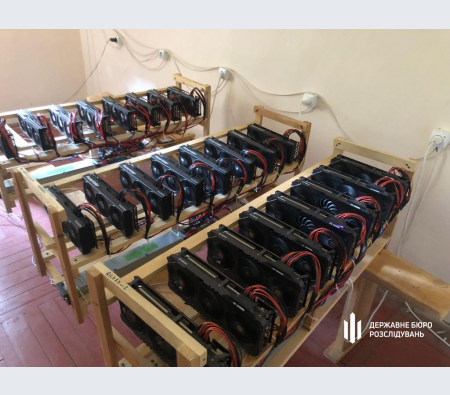 Crypto mining rigs seized during the raid. (Source: State Bureau of Investigation of Ukraine)
Officers raided the property and confiscated flash drives, computers, laptops, mobile phones, video cards, power equipment, motherboards, processors, hard drives, cooling equipment and servers.
They claimed that the "estimated value of the equipment" was "more than $81,000."
The alleged masterminds have been arrested and charged with embezzlement of state property.
Their cases have been handed to the Ternopil Regional Prosecutor's Office.
If convicted, the alleged organizers could be jailed for up to 8 years.
Police said they were investigating a number of other individuals they think may have been involved.
Last month, the Ukrainian anti-corruption bureau unveiled a new plan to fight a rise in "crypto corruption."
The nation is also hoping to roll out EU-inspired crypto regulations and new tax rules for traders.