Back to the list
Marketing: 44% of Marketers Plan to Run Campaigns in the Metaverse
beincrypto.com
16 May 2022 02:03, UTC
Reading time: ~2 m
---
Marketing in the metaverse: Advertising in digital worlds is definitely on the radar for many marketers in 2022. Here's why.
In a survey conducted by analytics automation company Unsupervised, results have shown that times are changing, and marketing people need to change with them.
The survey, of 843 marketers of varying experience levels, aimed to discover how marketing experts are adapting to new trends.
Social Media and Content
The go-to space for marketing opportunities in 2022 was still social media and content marketing. This was across all levels of age and experience in marketers.
But there's a new space in town: The Metaverse. In 2022, 61% of all marketers wanted to get a brand presence in the metaverse.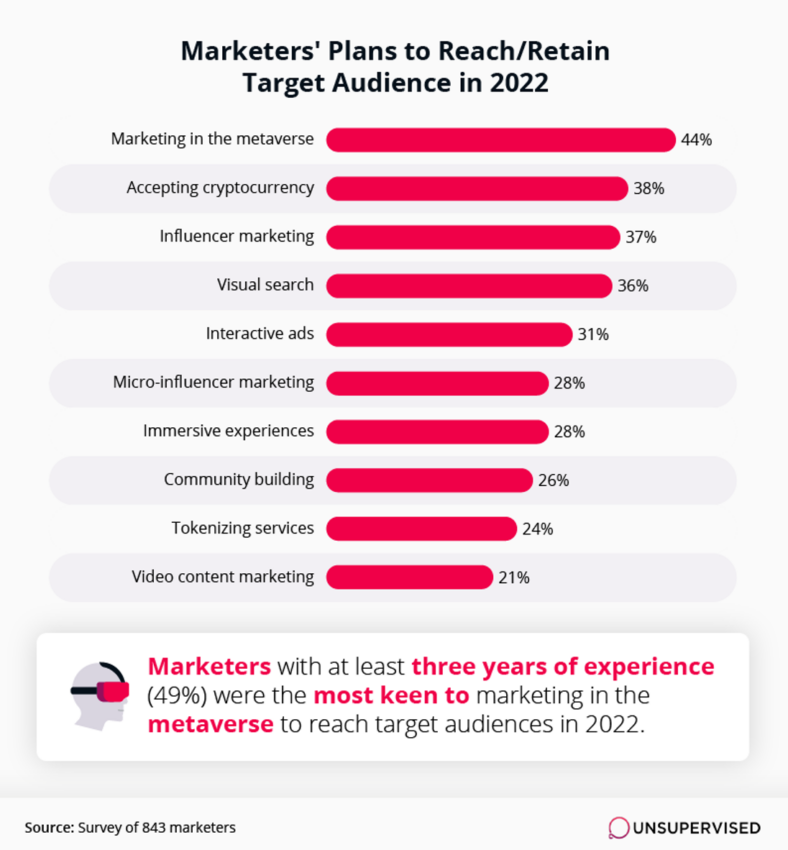 Marketers with 6+ years of experience were way more likely (64%) to encourage a brand's existence in the metaverse, compared to those with less experience (53%).
The cryptospace has also caught marketers' imaginations. 57% of marketers of all levels of experience said that ideally leveraging cryptocurrency will be a part of their marketing plans this year.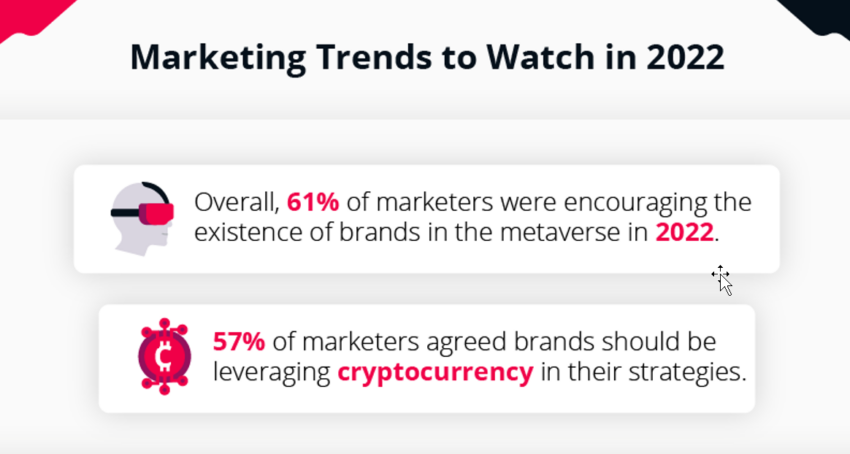 One in 4 marketers saw opportunity in NFTs. Non-fungible tokens burst on the scene in the last year. Among newer marketers, they are the fourth most popular trend.
Marketing in the Metaverse
The company who conducted the survey, Unsupervised, say that many marketers saw potential in the metaverse space.
"The acceptance of cryptocurrency, which has continued to grow in popularity this year, was favored by 38% of marketers, signaling possible future growth in the industry and further underscoring the importance of metaverse adoption in future strategies."
"Remaining flexible and being able to adapt to change is paramount in marketing. If you take your finger off the pulse of the industry, you could find yourself not even understanding the marketing space, much less managing the content effectively. Many marketers have taken these changes in stride and have embraced new spaces, like the metaverse, as places with seemingly endless possibilities."
---
Source
---
Back to the list