Back to the list
Is Binance's BCH SV listing putting its customers at risk?
www.chepicap.com
26 November 2018 23:00, UTC
Reading time: ~2 m
---
Binance has listed BCH SV as a trading pair with BTC, but has yet to allow full deposits and withdrawals. BCH SV has also seen a hugejump in trading volume. Is all of this market manipulation enabled by Binance, and is it putting customers at risk?
As previously reported, Binance has listed both chains for trading, but not for withdrawal or deposit. As crypto commentators Su Zhu and Hasu have detailed today, this may be contributing to market distortion or at worst enabling manipulative trading.
The issue lies in the fact that while Binance has listed BSV for trading, they have disabled its withdrawal or deposit, citing concerns over the chain's stability . This means that all of the BSV on Binance comes from traders who had BCH prior to the split, and that this supply is effectively capped. Hasu and Zhu contend that this creates a situation where a small number of traders own the supply of BSV, enabling them to artificially build up the trading volume through wash trading, as evidenced by BSV's spike in volume in last few days, which has led to BSV's value rising accordingly.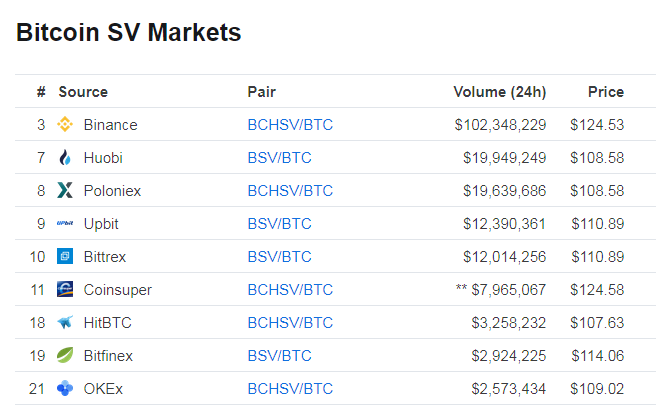 Even if there is no 'inside trading' going on among Binance's BSV holders, this still creates a scenario which could motivate these holders to further disrupt the BSV chain to keep it from being fully enabled on Binance, the largest exchange, which can dictate the price of BSV on other chains. Currently Binance's SV listing is about 14% higher than average, and once Binance enables withdrawal and deposit of the token, the writers argue that ordinary supply and demand will resume and current SV holders will sell off to retail investors at a premium, getting profits while BSV normalizes down.
The writers contend that Binance should either entirely disable trading of BSV, or enable withdrawals and deposits, though Binance likely should be concerned about the stability of a cryptocurrency whose blockchain is still being fought over.
---
Source
---
Back to the list