Back to the list
PancakeSwap DEX Now Doing More Volume Than Kucoin and FTX Combined
beincrypto.com
12 April 2021 21:09, UTC
Reading time: ~2 m
---
Popular decentralized exchange (DEX) PancakeSwap has surpassed the daily trading volume of several top ten centralized exchanges, over the last 24 hours.
The popular Binance Smart Chain (BSC) DEX has seen a surge in volume following a continued rise in gas fees on the Ethereum (ETH) network. 
PancakeSwap is appealing to traders for its cheaper and faster transactions according to its website. The recent rally behind Binance Coin (BNB) has likely also seen more attention aimed towards the Binance DEX. 
PancakeSwap rivalling centralized exchanges 
PancakeSwap is currently ranked second in terms of decentralized exchanges. The DEX has surpassed popular ethereum DEX, Uniswap.
The BSC native DEX saw a massive $3.21 billion in trading volume, over the last 24 hours. The surge in volume is nearly three times the amount currently traded on Uniswap, which totaled $1.14 billion.

Not only has PancakeSwap exceeded the trading volume of Uniswap, but it also saw more visits on the day. Beating out Uniswap by over 300,000 visits. 
PancakeSwap has also seen its trading volume surpass the trading volume of several top ten centralized exchanges. PancakeSwap is now trading more volume that both Kucoin and FTX combined, while seeing the same amount of visitors as OKEx.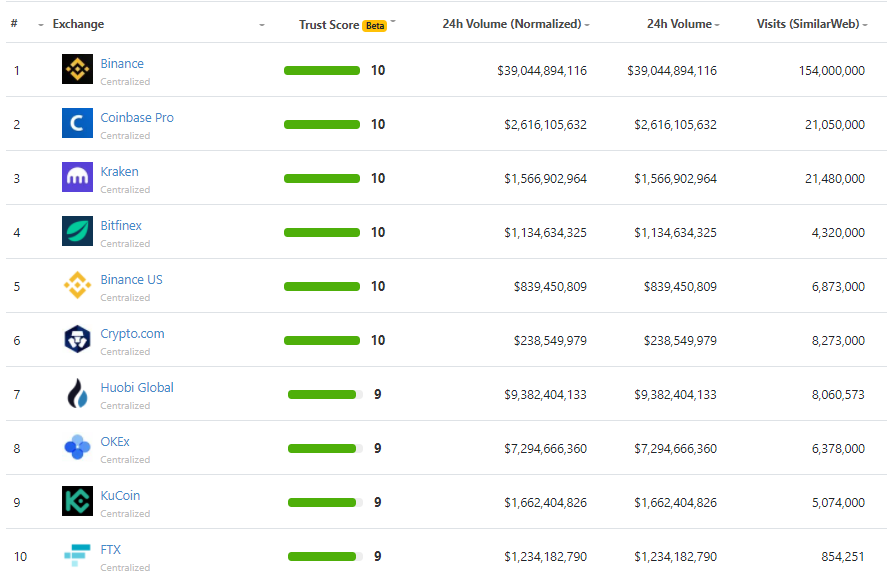 DEX popularity growing 
Decentralized exchanges continue to grow in popularity as PancakeSwap shows. The rise in ethereum transaction costs has halted the progress of exchanges such as Uniswap and SushiSwap. The low gas fees on BSC has seen the popularity of PancakeSwap soar in recent weeks. 
Following one of the biggest trading days for the DEX. PancakeSwap also announced a massive token burn of 4.8 million CAKE tokens. The total amount of tokens burned equals $119 million. 
BNB price climbing due to DEX popularity
PancakeSwap looks set to become a major challenger in the DEX space as ethereum exchanges battle the high costs of transactions. The success of PancakeSwap could be linked to the steep rise in BNB, over the last week. Both BNB and PancakeSwap have surged in the last week, with BNB reaching a new all-time high of $638. 
---
Source
---
Back to the list