PeckShieldAlert recently reported a concerning development on the BNBChain. Stake drainers have transferred approximately 59.5K BNB (equivalent to around $12.5M) to an intermediary address, 0x2bbc…2cde, within the last 4 days.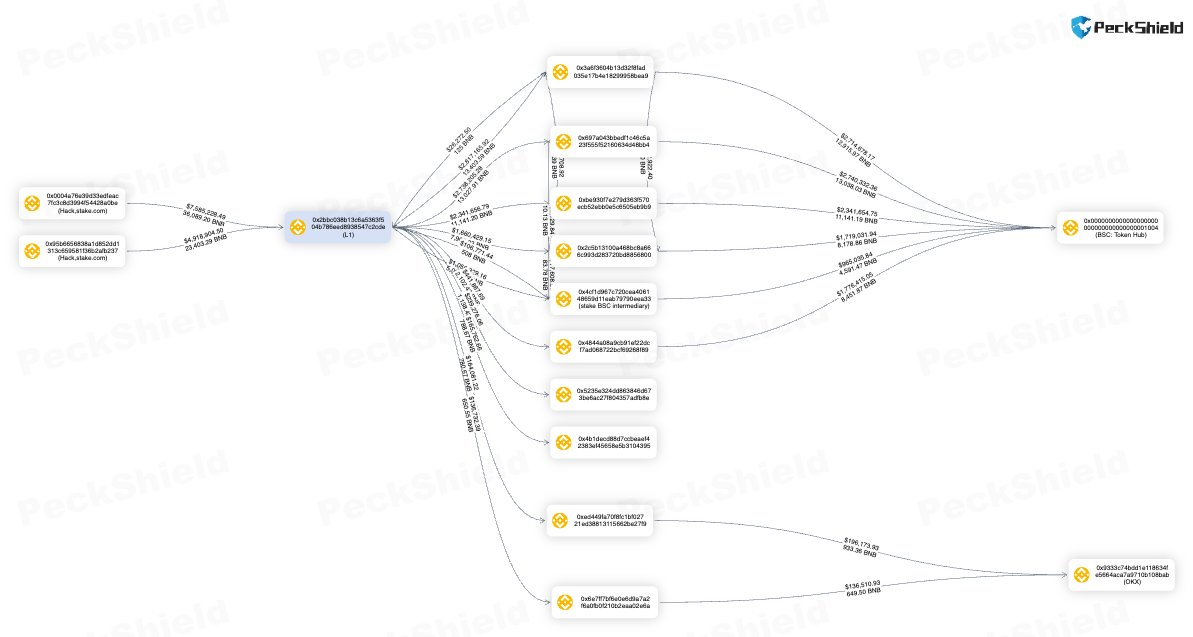 58.3K BNB (worth approximately $12.46M) has been reportedly moved to the BSC Token Hub, while the remaining stolen funds have either been laundered through TornadoCash (33 $BNB) or sent to various cryptocurrency exchanges, including Okx, ChangeNow, and Binance.
On the same day, PeckShieldAlert also reported a drain on the Ethereum network. According to their findings, a stake drainer moved 2,227.3 ETH (valued at approximately $3.6M) to two intermediary addresses: 0x30b6…4235 and 0xdd5f…3571.
#PeckShieldAlert Stake drainer on #Ethereum sent 2,227.3 $ETH (valued at ~$3.6M) to 2 intermediary addresses: 0x30b6…4235 and 0xdd5f…3571.

Most of the transferred $ETH has already been swapped for at least 80 $BTC (worth ~$2.16M) and then bridged to #Bitcoin via #Thorchain.… pic.twitter.com/LUSl5Pht41

— PeckShieldAlert (@PeckShieldAlert) September 19, 2023
Furthermore, a significant portion of the transferred ETH has already been exchanged for at least 80 BTC (worth around $2.16M) and then transferred to Bitcoin via Thorchain. The intermediary address also had interactions with Swft Blockchain and Binance. At present, the address 0xdd5f…3571 is in the process of transferring the stolen funds to BTC.
DISCLAIMER: The Information on this website is provided as general market commentary and does not constitute investment advice. We encourage you to do your own research before investing.