Key points:
According to Nansen data, the total currently committed Ethereum is 18,168,583, the circulating supply of Ethereum is 120,437,016, and the total commit rate is 15.09%. The average price for staking Ethereum is $2,083.

Source: Nansen
Among entities that are withdrawing from Ethereum, Huobi is temporarily at the top with 28.3% (39,776 tokens), and asset allocation manager PieDAO and crypto exchange Kraken are third and fourth respectively. According to people familiar with the matter, Huobi's large number of ETH staked withdrawals are mainly related to the handover of new and old shareholders. After the withdrawal is opened, Li Lin needs to make a handover, and some ETH may be withdrawn and then deposited again.

Source: Nansen
In addition, according to the Token Unlock data, since the completion of the Ethereum upgrade in Shanghai, the net withdrawal (de-staking) has reached 33,000 ETH, and the new deposit deposited into the commit is 1,920 ETH.
Currently, 407,800 ETH are waiting for withdrawal, worth about $565 million. There are a total of 260,000 verifiers in the network, of which 3,450 verifiers have fully withdrawn, and the rest are partially withdrawn.
Ethereum's long-awaited Shanghai upgrade has been launched, and the blockchain's native cryptocurrency, ether (ETH), is essentially unchanged after the epic event.
Ether is trading around $1,910, roughly where it was right before the upgrade, as validator staking tokens have been locked up since Ethereum switched to zero shares last year. ETH is up 2.4% over the previous 24 hours.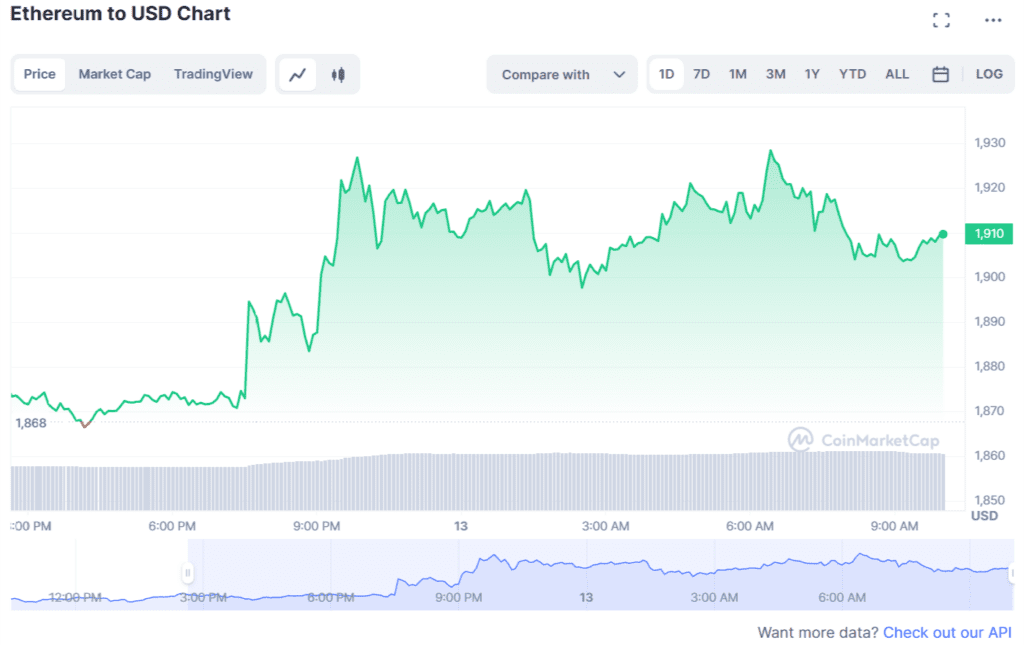 24h ETH price chart. Source: CoinMarketCap
Analysts have been divided on potential price action ahead of the upgrade, with many predicting that fresh supply will increase selling pressure. In contrast, others suggest it could turn into a mind battle management where traders punish oversold trading.
DISCLAIMER: The Information on this website is provided as general market commentary and does not constitute investment advice. We encourage you to do your own research before investing.