Decentralized exchange Uniswap flips trading volume of Coinbase in March. Is it due to the crypto clampdown by the US government?
According to data from DefiLlama, Uniswap crossed over $70 billion in trading volume in March. As seen in the chart below, the volume on Uniswap has been rising month-on-month since Dec. 2022.
The trading volume on Uniswap has seen these levels for the first time since Jan. 2022.

Source: DefiLlama
Uniswap Flips Coinbase Trading Volume
Coinbase witnessed a 23% higher trading volume in Mar. compared to February. According to The Block, last month's trading volume was $49.4 billion, whereas, in Feb., it was $40 billion.
Despite Coinbase's progress in March, Uniswap has surpassed the trading volume by over 45%.

Source: Coinbase
Users Flocking to Decentralized Exchanges?
After the FTX collapse in Nov. 2022, investors' sentiment turned negative for centralized exchanges. Hence the users flocked towards self-custody solutions and decentralized exchanges.
Apart from investors' sentiment, the failure of FTX also triggered a strict clampdown on crypto businesses from the US government in 2023. Firstly, the US Securities and Exchange Commission (SEC) fined Kraken exchange $30 million for offering staking services in Feb.
Then on Mar. 23, the SEC served Coinbase with a Wells Notice. And the Commodity Futures Trading Commission (CFTC) sued Binance for breaking trading and derivative rules, resulting in withdrawals of $1.6 billion.
Lastly, the SEC shut down the crypto exchange Beaxy's operations on Mar. 29 with immediate effect.
Due to the regulators' actions against centralized exchanges, the users are heading towards decentralized platforms. According to a Dune dashboard, decentralized exchanges hit 1 million users in 2023 Q1.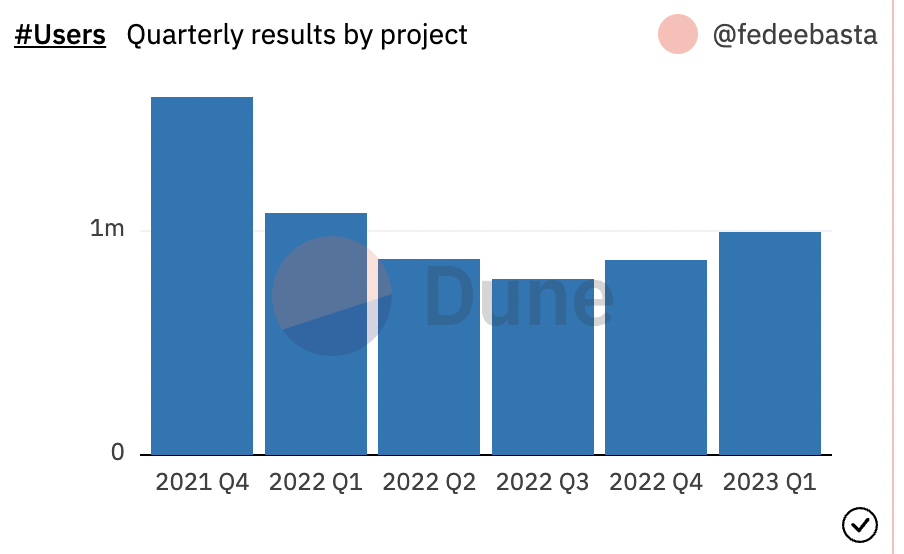 Source: Dune
Got something to say about Uniswap, decentralized exchanges, or anything else? Write to us or join the discussion on our Telegram channel. You can also catch us on Tik Tok, Facebook, or Twitter.
For BeInCrypto's latest Bitcoin (BTC) analysis, click here.