Back to the list
Cryptocurrency Exchanges and fake volume: Report finds link between VC backing, employee count and registration
ambcrypto.com
16 June 2019 18:00, UTC
Reading time: ~3 m
---
With the growing need to scrutinize cryptocurrency exchanges on more than just reported volume, several key players are looking at a host of indicators. The health of an exchange can be ascertained by more than just the amount of coins moving back-and-forth with web-traffic, orderbook data and more being touted as effective symptoms of sick exchange.
A recent report by cryptocurrency market aggregator CryptoCompare has listed several key factors that should be looked at prior to judging the quality of exchange. Under their "Macros Findings" section, the report dwelled into the aspects of big-name funding, manpower count, licenses and rating, and inflation score.
This list of indicators comes at a key time for the industry as several reports have emerged deeming an overwhelming number of exchanges touting "fake volume." The premier report was by Bitwise Asset Management which stated that 95 percent of exchange report volume that is "fake or non-economic" in nature.
For this analysis, CryptoCompare graded exchanges from AA, on the positive end to an F on the negative, with the basis of the same being geography, regulatory quality, investment, team quality, market quality, data provision, and trade surveillance.

Source: CryptoCompare
In terms of funding, the dominance of a major venture capitalist or notable financier results in the exchange's volume being legitimate. The report contended,
"Being funded by a well recognised VC is a great indicator for the high quality of an exchange, with acquisition and crowd sourced funding being good signs too."
All exchanges with the "AA" grade have received external funding, while over 50 percent of "F" and "E" graded exchanges have seen private funding, considering most external backers do not want to be associated with exchanges that engage in "wash trading," to build up their volume.

Source: CryptoCompare
In terms of registration as a Money Service Business [MSB], all the exchanges in the "AA" category have obtained the same, according to the report. Under 50 percent of the exchanges in the "A" category have an MSB license, while none of the "F" graded exchanges have obtained the same.
"Only 5.6% of total trading volume happens on licensed exchanges, and 7% of volume on exchanges registered as MSB."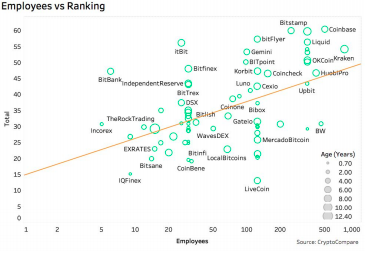 Source: CryptoCompare
Employee count and the budget for the same also shows a link with exchanges that account for more trustworthy volume numbers. According to the report, exchanges that have more employees are better ranked on the basis of the CryptoCompare metric, citing a log relationship between the two parameters.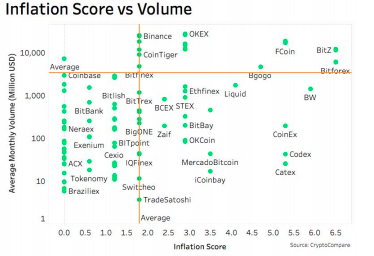 Source: CryptoCompare
Inflation Score with reference to the use of incentive driving trading, competitions, and airdrops also shows an indication of the trading volume being fudged. Several exchanges like FCoin, BitZ, BitForex, CoinEx, BW and OKEx show high average monthly trading volume and a high inflation score.
Prominent cryptocurrency exchanges like Binance, Bitfinex, and Bittrex present an average standard line between the monthly volume and inflation metric.
---
Source
---
Back to the list