Back to the list
Cryptopia's non-verified customers reportedly may not get funds back; Chaincreator offers to acquire platform
ambcrypto.com
31 May 2019 09:30, UTC
Reading time: ~2 m
---
Cryptopia, the New Zealand exchange that closed its business because of hack that led to a loss of millions of dollars, would reportedly not be giving funds back to its unverified users, according to a Steemit report by Gary Johnston.
The exchange, that is currently in the liquidation process, carried out by executives from Grant Thornton, hit a block in its investigation after its service provider, Phoenix NAP, blocked the exchange's access to the customers' data that was stored on its servers. Due to this, the liquidators announced that regaining control over this data, and then distributing the funds to customers would take months.
The new twist with the Cryptopia liquidation process would probably not be good news for those customers who did not complete the Know-Your-Customers process on the exchange. This is because the lawyers are reportedly planning on drawing a rift between verified customers and unverified customers. This update was first posted on Bulwark Discord channel by its community manager, Stu_Cat.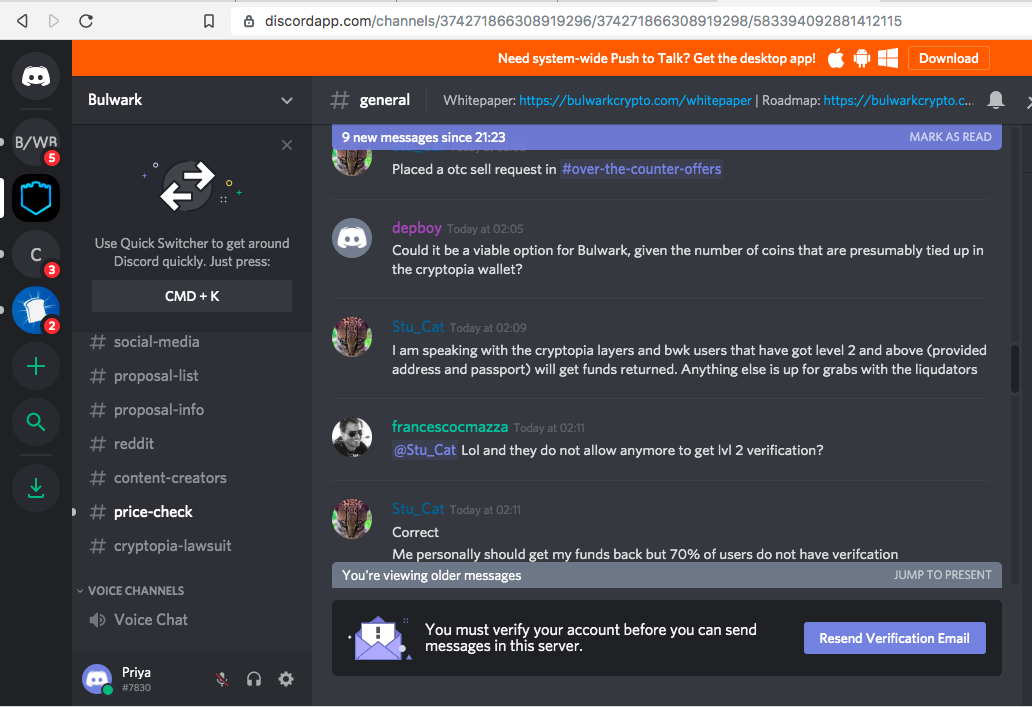 Source: Discord
Totallynonpulsed, a Reddit user said,
"Cryptopia: nice coins you have there.. shame if we had to take them for ourselves. Customers: wait .. what?!"
Martinkarolev, another Reddit user said,
"It's a whole new level of utopia if anyone expects to get any funds back from this shit exchange.."
This aside, CHAINCREATOR, a multi-national crypto-investment firm, made an announcement with regards to the now defunct cryptocurrency exchange. The firm announced on Twitter,
"CHAINCREATOR have sent official correspondence to the liquidators of Cryptopia which has recently been put into liquidation."
In a blog post, the firm stated that they want to turn the exchange platform into a Decentralized Autonomous Organization [DAO], and "return it back to the community as a fully decentralized platform via a voting system." The main aim behind this action is to return "as many of the assets" back to the customers, stated the firm. The blog post further stated,
"With the recent increase in exit scams having a negative impact on the industry, CHAINCREATOR believes that this next step will pull the crypto community and industry back together."
---
Source
---
Back to the list
Similar news