Back to the list
HitBTC is insolvent, claim customers facing trouble withdrawing funds for several weeks
ambcrypto.com
20 May 2019 07:10, UTC
Reading time: ~3 m
---
In the midst of the Bitcoin [BTC] bull-run, with the industry on a collective high, another exchange debacle has surfaced. HitBTC, the Hong Kong-based cryptocurrency exchange is rumored to be insolvent, with customers facing several obstacles in withdrawing their funds.
According to a series of tweets by CryptoMedication, from Zerononcense, cryptocurrency analytics and research firm, the exchange is "insolvent". The Twitter handler exclaimed his surprise that the exchange was "still in operation" as they had only 350,000 BTCs after their liquidation.
CryptoMedication added that users on crypto-specific social media sites like Telegram and Reddit had admitted to facing "trouble" while withdrawing their virtual currencies "for some weeks now". Based on the pictures added by the Twitter handle, one user "crispynougat nougat" stated:
"my brother is sick, I need funds to help him. please understand my problem"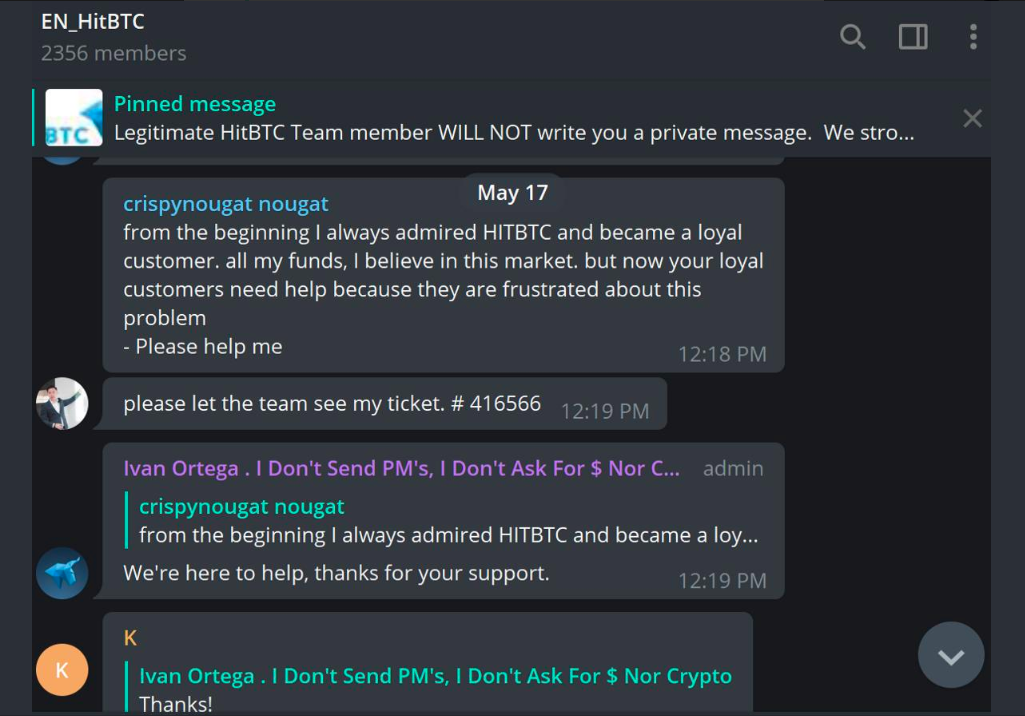 A notable event in the HitBTC saga came a few months ago when prominent Bitcoin developer Luke Dash stated that the exchange had been "stealing balances of users", including himself, and labeled them as "scammers". He stated back in March:
With several HitBTC users adding on to Dash's comments, revealing their own grievances with the exchange, HitBTC responded a day later stating that the "full functionality of Luke's account has been restored", which was confirmed by the developer. However, the quick response to Dash's request was not replicated with other users.
CryptoMedication added a screenshot of the "main wallet collection" of HitBTC. The picture indicated that around 720,143 Bitcoins were received while 720,114 were sent; the handler added that there were only "minimal funds on the exchange".
He further accused the exchange of helping "launcher a significant amount of funds" as 288 Bitcoins or 40 percent of the funds came from a Coingaming.io, which is a gambling outfit, according to CryptoMedication. Furthermore, Coingaming.io owns bitcasiono.io and sportsbet.io, which are allegedly scams.
The threat mentioned five addresses or a "cluster" which received 480,000 Bitcoins and they were:
"3JjPf13Rd8g6WAyvg8yiPnrsdjJt1NP4FC
378p3u4RN1HTEWFkiTK27zuBWbx6eLSX6p
3HMS9df28gpPkRggoGJuQ6sJ1GtKxeDMCb
3DLRBj8bqGMgB6vcKgWeQLqSV4eDUMvDGw
1N4LpcJrWgdW1iGjQstNGPLN1FZEj1bMsq"
Allegedly, the funds in the second cluster "all went to other exchanges" with CryptoMedication questioning the likelihood of the exchanges knowing about this inflow. The second cluster address had over 166 Bitcoins, while the third one received 110,000 Bitcoins from HitBTC, but received none since June of 2018.
Lastly, the researcher stated that, given the cluster leakages mentioned above, the exchange has only 356 Bitcoins remaining. The valuation of the same in USD equivalent is $2.56 million. CryptoMedication concluded:
But seeing the liquidation pattern, it seems that at least *some* funds belonging to legitimate customers have been liquidated."
HitBTC, at the time of writing, has not responded to these claims of being liquidated, nor have they acknowledged the claim that they have less than 360 Bitcoins left with them.
---
Source
---
Back to the list
Similar news