Back to the list
QuickSwap Announces Syrup, Giving Away Millions to Stakers
btcmanager.com
20 August 2021 15:55, UTC
Reading time: ~2 m
---
Dragons never rest, and QuickSwap  – Polygon's biggest DEX – is on a tear to rival the volume of BSC's PancakeSwap. Immediately following the epic news that QuickSwap is now offering limit orders, Polygon's leading DEX announces the upcoming launch of "Dragon's Syrup". 
Dragon's Syrup: What is it, and why should I get some? 
The "Dragon's Syrup" program will allow $QUICK stakers to earn extra rewards by staking their $dQUICK (QUICK's staked representative) to earn tokens that are traded on the DEX. In the first round of farming, participants will earn their share of $3 million in added rewards, all without compromising the prized APY that QUICK stakers are already generating. With this advance, Polygon further cements its position as the leading layer 2 scaling solution for Ethereum.
Earlier this summer, celeb trader and crypto enthusiast Bart Baker tweeted about Polygon's rising dominance in the layer 2 space. Since then, the sentiment has only grown with renowned billionaire, TV personality, and investor on ABC's Shark Tank – Mark Cuban tweeting about Polygon's growing momentum. The added utility and bonus rewards with no added risk is sure to attract more users to QuickSwap's rapidly growing global user base.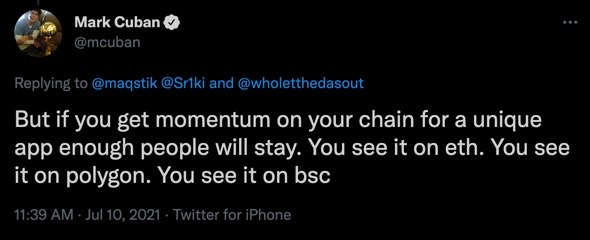 QuickSwap: A DeFi Behemoth in the Making
With newly-launched limit orders, an IDO launchpad, and several listings on major centralized exchanges including Binance, and Coinbase, QuickSwap is quickly becoming a force to be reckoned with. And if previous expansions are any indication of what the future might hold, QuickSwap may soon see unprecedented growth. But will an added $3 million of rewards for stakers be enough to drive new users to buy and stake the token and thrust its value toward the moon? We can't say for sure, but I will certainly continue to follow. 
---
Source
---
Back to the list