Back to the list
Litecoin briefly trades at $100k on Binance, new investors market buying?
www.chepicap.com
14 May 2019 15:30, UTC
Reading time: ~2 m
---
Following last weeks news that saw a new investor on Binance market buy 40 LINK tokens for $400,000, in a transaction that should have cost just over $20, it appears someone else has gone and done the same thing once again, this time on Litecoin. 
What can only be described as a mistake by a probable new investor, it appears someone has market bought a large sum of Litecoin on the LTC/PAX pair. 
The stable coin Paxos is one of the less traded stable coins on Binance, with the ever popular USDT making up majority of stable coin pairings volume. It appears that someone with a substantial amount of money, has decided to market buy Litecoin on the Paxos pair, triggering buy orders all the way up to $99,997.99 per Litecoin.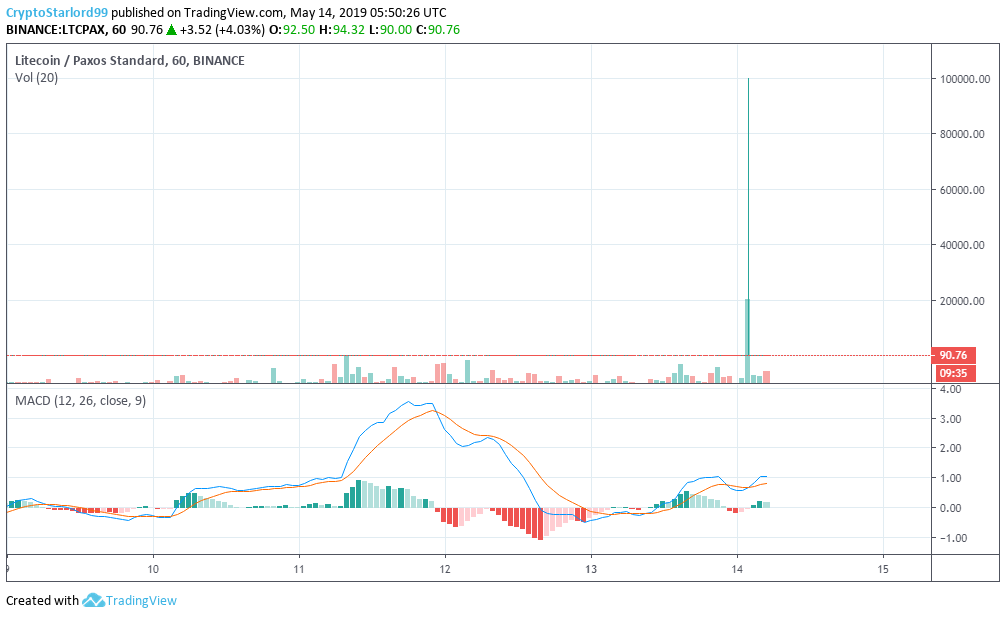 LTC/PAX Chart provided by Tradingview
The latest overpriced purchase of a digital asset against the PAXOS pair comes a week after a user paid $10,000 per LINK token, costing the new investor roughly $399,970 in losses. 
Users appear to be making use of PAXOS stable coin instead of Tether following the recent news surrounding Tether, and then deciding to market buy coins on the Paxos pair which currently only has $2 million in trading volume on the LTC pair, where as Tether has $72 million.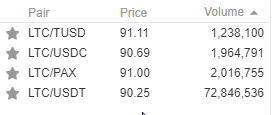 Someone just paid $100k per $LTC on Binance vs PAX (USD).

Guys, chill. pic.twitter.com/3TQhnEzgGY

— Su Zhu (@zhusu) May 14, 2019
---
Source
---
Back to the list
Similar news