Back to the list
Nvidia Faces Class Action Lawsuit Over Its Statements on Crypto Mining Influence Its Business
www.cryptoglobe.com
29 December 2018 12:02, UTC
Reading time: ~2 m
---
The California-based developer of high-end GPUs Nvidia has recently been hit with a class action lawsuit over its statements on the influencing cryptocurrency mining had on its business this year.
Schall Law, a US-based shareholder rights litigation firm, has announced the filing of the class action lawsuit, as according to them Nvidia violated the Securities Exchange Act of 1934. The firm is currently asking investors who lost over $100,000 after investing in Nvidia's stock between August 10, 2017 and November 15 of this year, to contact them before February 19 of next year.
Per the complaint, Nvidia "made false and misleading statements to the market." The document explains:
NVIDIA touted its ability to monitor the cryptocurrency market and make rapid changes to its business as necessary. The Company claimed to be "masters at managing our channel, and we understand the channel very well." NVIDIA also claimed to the market that any drop off in demand for its GPUs amongst cryptocurrency miners would not negatively impact the Company's business because of strong demand for GPUs from the gaming market.
Taking this into account, it adds, Nvidia's statements "were false and materially misleading throughout the class period." When the market "learned the truth," it concludes, investors suffered losses.
decline in demand for GPUs from cryptocurrency miners. The decline in demand led to a significantly lower amount of sales, which saw Nvidia miss its Q3 $3.24 billion revenue expectation, as it stayed at $3.18 billion.
Reacting to Nvidia's results, investors sold the stock, which saw its price plummet. At press time, according to Yahoo Finance data, they're at $133.6, after falling from a $286 high.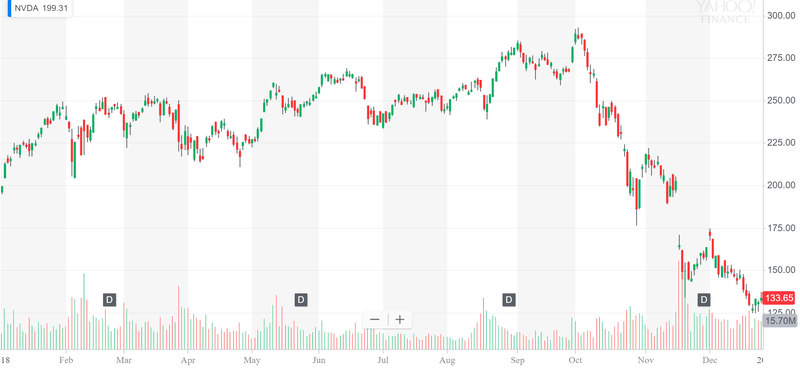 The decline in cryptocurrency miner-related GPU demand can be attributed to the cryptocurrency ecosystem's year-long bear market, which has seen the price of most top cryptocurrencies drop between 80% and 90%. This has made it unprofitable for some miners, which subsequently saw the hashrate of various cryptos plummet, including that of bitcoin.
The crypto market's decline has also affected Nvidia's competition. As covered, AMD has revealed in July it was expecting "near zero" revenue from GPU sales to cryptocurrency miners.
---
Source
---
Back to the list