Back to the list
Bitfinex Dismisses Tether's Bitcoin Price Manipulation Lawsuit: Baseless Conspiracy Theory
cryptopotato.com
05 June 2020 20:30, UTC
Reading time: ~3 m
---
Bitfinex has responded to the latest amendments in the ongoing class-action lawsuit leveled against Bitfinex and Tether, calling the entire case, "baseless."
Bitfinex/Tether Denounce "Baseless" Lawsuit
General Counsel for Bitfinex, Stuart Hoegner, labeled the lawsuit an "unproven conspiracy theory." He said in an official company announcement on June 4:
"The plaintiffs' allegations remain untethered to either the facts or the law. They conflate perceived correlation with causation in an effort to prop up theories that are untrue and unsupportable."
Bitfinex and Tether have been accused by five US citizens of manipulating the price of Bitcoin between 2016 and 2017. The plaintiffs allege that the shared executive management of Tether and Bitfinex colluded to print billions of unbacked USDT, which it then used to purchase – and inflate – the price of Bitcoin.
Poloniex, Bittrex Added to List of Defendants
The latest amendments to the court filing made on June 4 added two US cryptocurrency exchanges to the list of defendants – Bittrex and Poloniex. The amended filing refers to the role of the two named exchanges in the affair, stating:
"With the willing assistance of Bittrex, Inc. ("Bittrex") and Poloniex LLC ("Poloniex"), two other crypto exchanges, Bitfinex and Tether used fraudulently issued USDT to make strategically timed, massive purchases of crypto commodities just when the price of those commodities was falling."
The Bitfinex announcement states that the only consistency present in the plaintiff's allegations is a lack of evidence. Bitfinex claims the plaintiffs – named as Matthew Script, Benjamin Leibowitz, Jason Leibowitz, Aaron Leibowitz, and Pinchas Goldshtein – have confused causation and correlation.
Hoegner said, "If you see a group of people opening umbrellas, that doesn't mean that they caused it to rain."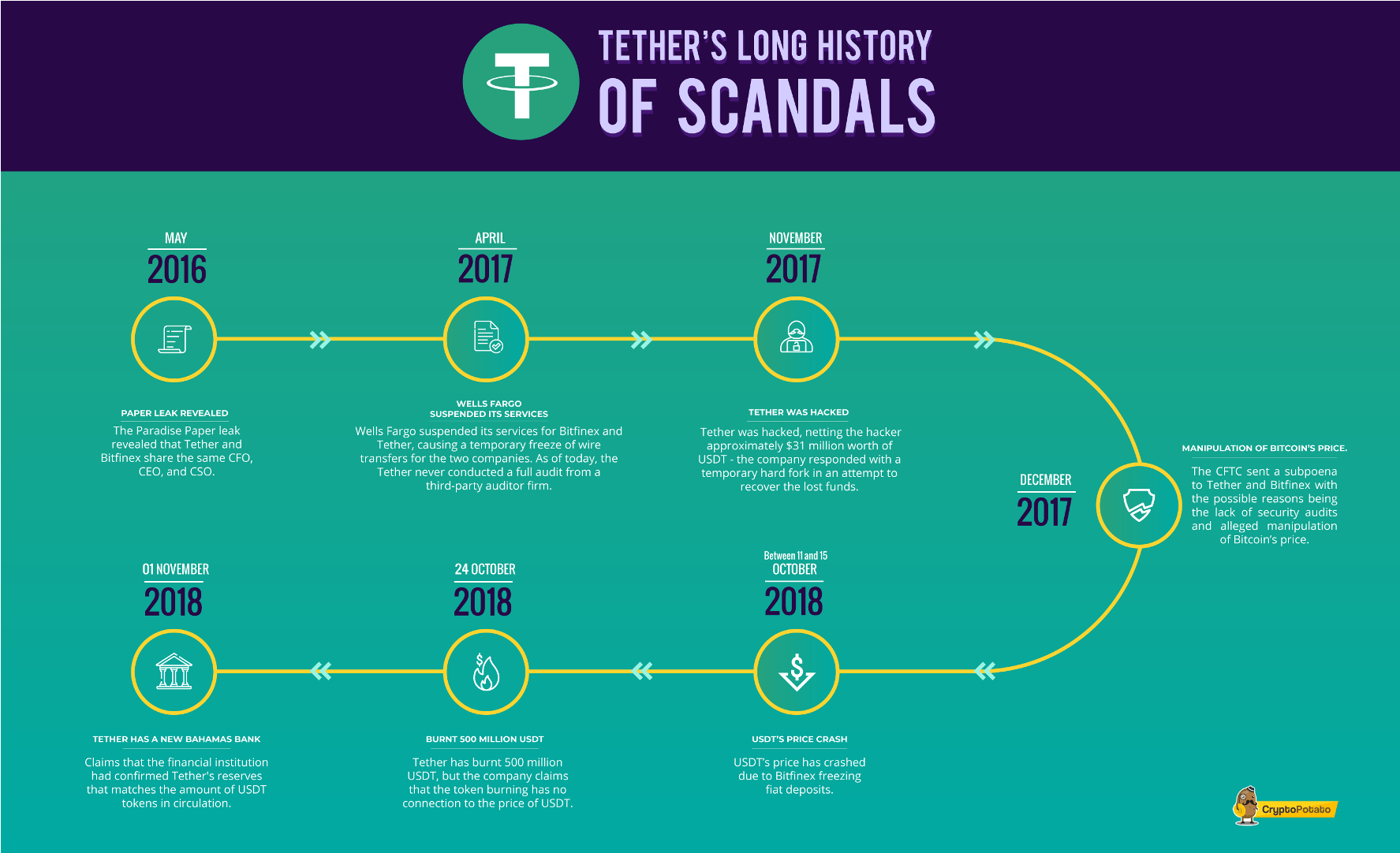 Tether Backing
The announcement maintains that each issuance of the USDT stablecoin is fully backed on a 1:1 ratio with the US dollar, and cites publicly available evidence to counter the theory that USDT was ever used to manipulate Bitcoin.
However, as reported by Bloomberg in 2019, Tether once admitted that only 74% of its issuances were actually backed by cash or short-term securities. And contrary evidence, also publicly available, can be found, which suggests Tether was used to inflate the price of Bitcoin. The matter remains inconclusive.
"Tether is proud to play a critical role in the digital token ecosystem. This meritless lawsuit is an insult to the ingenuity of Tether's customers, as well as the success and innovation of the industry and all who play a role in it," the announcement states.
At the time of writing, Tether (USDT) is the third-largest digital currency by market cap, with over $9.2 billion tokens in circulation, third only to Bitcoin and Ethereum.
---
---
Source
---
Back to the list
Similar news