Back to the list
Brazil Is for Blockchain but Against Crypto
www.cryptoglobe.com
31 May 2020 06:00, UTC
Reading time: ~9 m
---
Brazil, or the Federative Republic of Brazil, is a Portuguese-speaking state in South America with more than 200 million inhabitants. It is in fifth place among all countries of the world in terms of area and sixth in terms of population.
The Brazilian economy ranks ninth in the world in terms of nominal GDP and seventh in purchasing power parity. The country is a member of the UN, G20, WTO, Mercosur and the Union of South American Nations, and is also one of the BRICS countries.
Despite the active development of IT in the country and massive investments in this industry, large investors and financial institutions have preferred to stay out of cryptocurrencies. Brazil has tightened crypto control: investment funds are now banned from buying cryptocurrencies, and banks have demonstrated unfriendly attitudes by blocking the accounts of cryptocurrency companies and crypto owners.
Nevertheless, Brazil is actively integrating blockchain technology into its infrastructure and economy and even launching its own instant payment system. More on that in the article written by Solomon Brown, Head of PR for Freewallet, a cryptocurrency wallet developer.
Cryptocurrency Regulation in Brazil
Interest in the crypto industry is growing in Brazil, and regulation is slowly catching up. The main managerial authority that currently deals with crypto companies is CADE - Council for Economic Protection of Brazil. Regulators have still not taken decisive action. They first showed their willingness to do so in November 2018, submitting for consideration a bill on the taxation of crypto assets.
On May 31, 2019, the chairman of the Brazilian Chamber of Deputies ordered the creation of a commission to consider cryptocurrency regulation in the country. The commission is tasked with overseeing the digital asset industry. Also, the Brazilian Federal Revenue Office (RFB) has issued new rules requiring cryptocurrency exchanges to inform the regulator of user transactions in order to detect tax fraud, local news outlet Livecoins reported.
The guideline states that cryptocurrency trading platforms in Brazil have to inform the agency about the movement of user funds in cryptocurrencies and comply with the requirements of standard 1.888 / 2019, published last May, "whenever the monthly volume of operations exceeds 30,000.00 Brazilian reals ($5.140)." In addition to the transaction volume, operators must also provide additional data including the citizenship of the owner of the digital currency, his place of residence, registration number and a description of the crypto assets used in the transaction.
At the moment, there are no other specific laws regarding holders: those who store crypto without transferring their assets to fiat don't have to pay income tax. Some investors have to report to the tax service — there is a provision requiring you to pay a 15% income tax on earnings of more than 35,000 reals per month, which is approximately $6,000.
Meanwhile, the four largest financial agencies in Brazil have teamed up to create a regulatory sandbox and develop regulation for new technologies, including blockchain. The Ministry of Finance, the Central Bank, the Securities Commission and the Superintendent for Private Insurance of Brazil announced their intention to put together a set of rules for fintech and cryptocurrency businesses.
Regulators said the new rules will affect Brazil's securities, finance and capital markets. In addition, institutions will create a normative sandbox to facilitate new developments in technology.
A new regulatory initiative came soon after the announcement of plans to establish a Cryptocurrency Regulatory Commission in Brazil. Although new regulatory efforts are defining the boundaries of using cryptocurrency and blockchain technologies in business, many cryptocurrency sellers are still not classified in the financial market.
The Minister of Finance has hailed the benefits that DLT technology has brought to Brazil's financial markets, also mentioning cryptocurrencies and ICOs in the field of finance. Brazil currently has the largest number of cryptocurrency users in Latin America and ranks fifth in the world in this respect. According to experts, at the end of 2019, 8% of the Brazilian population owned some form of crypto asset. But with all that red tape, a basic question arises: How do locals buy cryptocurrencies?
Cryptocurrencies in Brazil: Where to Buy and How to Spend
Local Bitcoin Exchanges
Despite the government's bearishness, Brazilian cryptocurrency exchanges and exchangers still exist and are operating, but not actively enough, compared to the countries that are more friendly to the crypto industry. Here is a summary of the volume data of Bitcoin buy and sell transactions collected from 40 local exchanges, such as BitBlue and Braziliex.
According to Cointrader Monitor, a local website monitoring cryptocurrency quotations in Brazilian brokerages, exchanges reported having handled 395,209.48 Bitcoins from January 1, 2019 to March 31, 2020. The highest volume exchange was demonstrated by MercadoBitcoin with 120.889.34 Bitcoins traded, corresponding to 30.58% of the national market.
The day that registered the biggest Bitcoin movement in the period was June 26, 2019, with 5,070.38 BTC. And the day with the least movement was January 1, 2020 with 64.90 BTC. Analysts suggested that the downtrend might be a consequence of cryptocurrency companies having lost credibility due to litigation with their clients.
Talking about the BTC trading volume, it is interesting to note that the 2020 numbers are encouraging, compared to the figures from the first quarter of 2019.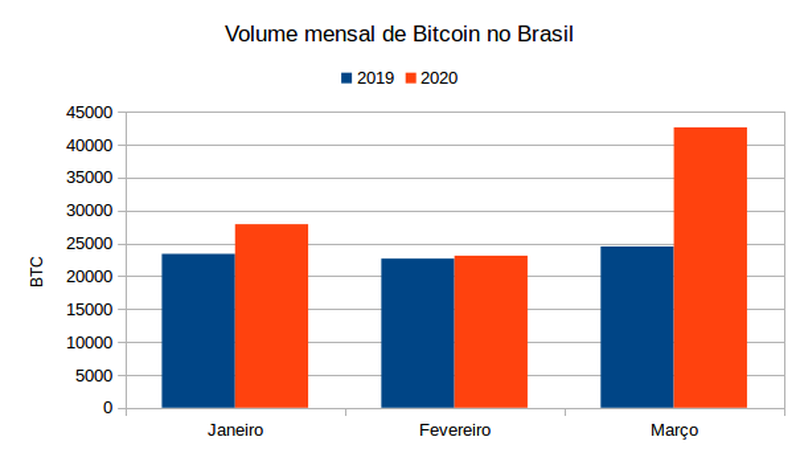 Source: CointraderMonitor
From January to March 2019-2020, the national Bitcoin market saw a 32.64% increase. Thus, if the trend continues, we can expect a volume of more than 480,000 Bitcoins traded in Brazil in 2020.
These figures prove a considerable number of Brazilians are sticking to local crypto services, exchanges and wallets. Nevertheless, the country is in Freewallet's top 20 list by number of users, which makes us extremely proud.
What to Buy for BTC
In the Brazilian city of Fortaleza, citizens will be allowed to pay for public transport with cryptocurrency, according to Cryptoglobe, which cited local media. The Ceart State Autonomous Carrier Cooperative (COOTRAPS) announced that a new function for buying tickets via QR codes will appear as part of a special application. Currently, debit and credit cards are the supported means of payment.
COOTRAPS is also considering adding cryptocurrencies other than Bitcoin. City authorities want to increase the efficiency of the payment system, reduce its cost and attract more people who will use this service. This is a way to reduce bureaucracy and make the system easier for users with the help of crypto.
In December 2018, Oásis Supermercados began accepting cryptocurrencies as a payment method. Now, shoppers in Rio de Janeiro can pay for purchases with Bitcoins, Bitcoin Cash and Litecoin. For this, the supermarket chain is working with CoinWISE. In this arrangement, the withdrawal of cryptocurrencies to fiat occurs every three days.
In Brazil, more and more local companies are beginning to support crypto. Clients of the Technisa construction company can get a 5% discount when paying with Bitcoins. Bitcoin Cash and Litecoin are accepted by transport companies Brasil Sul and Viação Garcia and metro operator Metrô Brasília.
In 2017, Dash announced a partnership with the Brazilian platform CoinBR. After that, the altcoin began to be accepted in 13,000 stores. Earlier Dash announced a collaboration with the Uphold platform.
According to a statement by Dash CEO Ryan Taylor, this will allow 94 percent of the population to use tokens in everyday life. Simultaneously with these events, the digital currency rate has more than doubled, since November 2017, when the coin was worth $300.
Analysts even believed at one point that, due to its widespread distribution in Brazil, the price of the altcoin would rise to $1,000, which wasn't that far-fetched back when the price was around $840.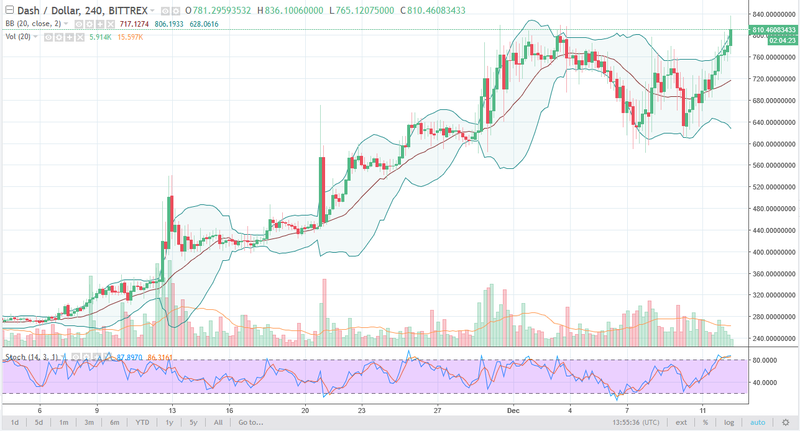 Source: newsbtc
But, as we all know, nothing lasts forever, and Dash is currently trading around $74, according to CryptoCompare.
Brazil: Blockchain for Good
Unlike crypto, which hasn't been warmly welcomed, blockchain is employed in many Brazilian social institutions.
In early September 2019, the first birth certificates were issued exclusively through blockchain technology without having to go through registration in the registry office. A new type of registration project was developed by technology company Growth Tech in partnership with IBM. Registration is done through Growth Tech's Notary Ledgers platform, which provides virtual notarial services.
The Brazilian Ministry of Education has proposed the creation of a blockchain platform for the issuance of digital certificates of education among non-state universities in order to combat the falsification of diplomas. Brazil Education Minister Abraham Weintraub said the government is considering this opportunity. The resources for financing the development of the platform will come from private educational institutions themselves, as they will be solely responsible for issuing diplomas.
In addition, to implement this measure, the ministry will require universities to create independent departments responsible for managing the blockchain-based platform. Local media have also reported that at least 14 private universities have already shown interest in the government's proposal. Gilberto Garcia, the former president of the National Board of Education, said the initiative also includes all educational institutions in the system, which will support the concept of transparency that the blockchain can offer.
PIX: The Prospects of Cryptocurrency in Brazil
Brazilian cryptosphere has had a bumpy road due to the slow development of crypto regulation in the country. For instance, recently the XDEX Brazilian cryptocurrency exchange, owned by the largest brokerage company in Latin America, XP Investimentos, announced its closure. And it's not the only company that has had to make this difficult decision due to disappointing market forecasts. A lot of cryptocurrency companies have had  to continue fighting banks in order to be provided with financial services. Just recently the Mercado Bitcoin exchange won its court case over a bank closing its bank account this March.
Nevertheless, the government is eager to implement blockchain decisions to improve the lives of its citizens. For instance, this February, the Central Bank of Brazil launched the PIX instant payment system which uses QR-codes and doesn't require personal data. This initiative is a tool to fight against alternative digital payment means, including cryptocurrencies.
The system, which involves all state banks, will allow for almost instant payments using mobile applications, Internet banking and ATMs 24/7. Hopefully, this measure will add to the blockchain adoption that's happening right now in Brazil. And, who knows, maybe after PIX proves the benefits of anonymity and cashless transfers, cryptocurrencies will also get regulated and be welcomed by the state.
Featured image by sergio souza on Unsplash
---
Solomon Brown, Head of PR at Freewallet. Drawn to the blockchain space by a belief in its ability to restructure global finance and passionate about telling stories, Solomon cut his teeth in blockchain startup promotion before joining Freewallet's Team in 2018. LinkedIn
---
Source
---
Back to the list