Back to the list
Bitcoin SV Drops 15% As New Evidence Confirms CSW Hasn't Got The 1.1M BTC Private Keys
cryptopotato.com
18 January 2020 12:08, UTC
Reading time: ~3 m
---
Craig Wright was supposed to receive the private keys needed to access over one million bitcoins at the start of this, but it appears that he didn't. New information was disclosed earlier today, that firmly denies the rumors but he might still receive them in the near future.
No Private Keys For Wright
As Cryptopotato reported in December last year, Craig Wright was supposed to receive the private keys for 1.1 million bitcoins from a bonded courier. The community speculated if this could have a devastating effect on the price, even though Wright said that he wouldn't sell them just to cause a crash.
Yet, new information emerged today from his lawyer, Andres Rivero, who is reportedly refusing the insinuations that his client has received the private keys. Previously, Wright admitted that he owns an "encrypted file," which was considered to possess the keys. Now though, the lawyer has informed that the file doesn't contain them.
However, Rivero has additionally noted that Wright still expects to receive the required keys and to have full access to the 1.1 M bitcoins.
Amid this information, Wright, who also claims he is the real creator of Bitcoin, catches a break with his on-going legal case against the family of his deceased business partner, David Kleiman. The court has previously ordered that Wright has to provide half of the bitcoins to Kleiman estate but he wouldn't be able to do it now since he allegedly doesn't have access to them.
Bitcoin SV Price Reacts To Rumors
As some of the community believed that Wright has actually received access to the bitcoins, this might have played a role with Bitcoin SV's price. Being Wright's most recent cryptocurrency project, BSV recorded a staggering price action week. At one point, it skyrocketed with over 100% in just a day and reached its new all-time high of $413.
Naturally, BSV's total market capitalization also noted a severe increase, and it surpassed Bitcoin Cash and was situated in 4th place.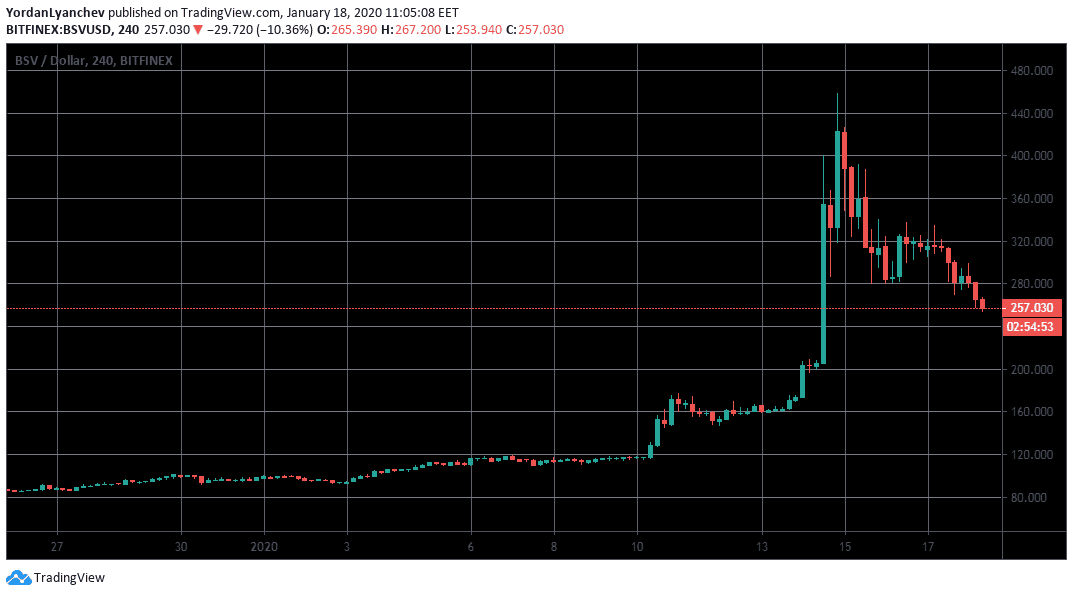 However, as it generally happens when unconfirmed information is associated with price action, Bitcoin SV couldn't support the high level. In fact, it has been declining for the last few days and is currently trading at around $256 and is below Bitcoin Cash as the 5th largest crypto by market cap. Since the news broke out, BSV is down about 15% on the day.
With that being said, it's still worth noting that just a week ago, BSV was at $115. Even with the retracement to $256, this is still a weekly surge of 123%.
---
You might also like:
---
---
Source
---
Back to the list