In a proactive response to Taiwan's forthcoming regulatory framework for cryptocurrencies, nine major crypto firms, including MaiCoin, BitoGroup, and ACE, have announced plans to establish an industry association.
The Financial Supervisory Commission (FSC) anticipates this move, expecting to release guidelines on crypto trading and payments by the end of September.
Taiwan Crypto Exchanges Form Working Group
The FSC has already mandated that Virtual Asset Services Providers (VASPs) must keep in line with the country's anti-money laundering (AML) regulations. However, myriad other concerns unique to the crypto industry still need to be addressed.
The planned guidelines aim to change this, introducing a comprehensive set of rules inspired by Hong Kong's VASP licensing framework.
The proposed guidelines emphasize consumer protection, suggesting a requirement for certain hot and cold wallet ratios for customer deposits with crypto exchanges. This measure seeks to ensure the safety of customer funds. Additionally, the guidelines propose mandatory insurance against user losses, further bolstering consumer confidence.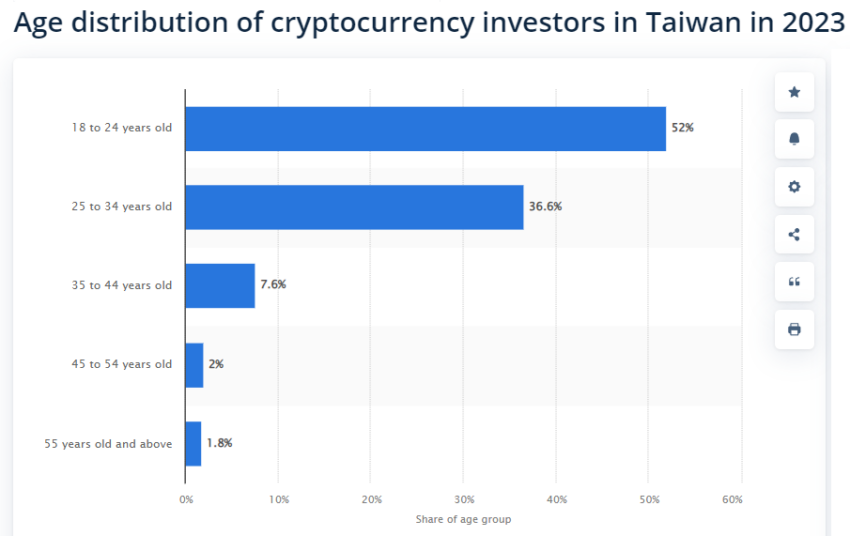 Age distribution of crypto investors in Taiwan 2023. Source: Statista
The FSC's guidelines also intend to restrict offshore crypto exchanges from operating onshore without proper compliance registration. This move will ensure that all players in Taiwan's crypto market adhere to the same standards.
Furthermore, the guidelines propose a ban on stablecoins tied to the Taiwanese dollar. It also includes restrictions on foreign exchange advertising within the country. These measures strive to stabilize the Taiwanese financial system and prevent consumers from being misled by deceptive advertising.
Read more: What Is a Stablecoin? A Beginner's Guide
A Push for Legitimacy
The FSC's approach to crypto regulation aligns with global trends, demonstrating a commitment to transparency and consumer protection. Furthermore, the FSC has expressed interest in promoting self-regulation within the industry.
To this end, the Ministry of Economic Affairs has drafted an amendment to existing legislation. It has now introduced a specific category for digital asset services.
The nine crypto firms forming the industry association have set up a working group to expedite the process. This group, led by Winston Hsiao, XREX's cofounder, hopes to develop self-supervisory rules based on the FSC's guidelines.
Another XREX co-founder, Wayne Huang, told The Block that he hopes the new FSC guidelines will:
"Provide this new industry legitimacy, oversight, a solid path to grow, and an accelerated means to acquire public trust."
The formation of this industry association and the impending release of the FSC's guidelines signify a new era for Taiwan's crypto sector.