The crypto industry has been under heavy fire from US regulators for most of this year. However, it might be due a welcome period of respite if the federal government goes into a temporary shutdown.
Securities and Exchange Commission chair Gary Gensler has expressed concern about his agency's ability to police crypto should the US government shut down.
Government and SEC Shutdown Looming
The US government will run out of funding after September 30. Unless Congress can reach a deal to pass a spending bill by the end of the month, it faces a shutdown.
This could restrict the activities of federal regulators such as the SEC, which may have its hands tied for a while.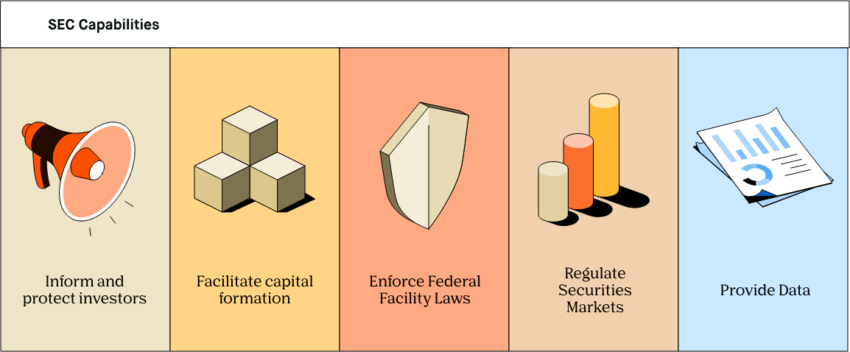 SEC Capabilities and Responsibilities. Source: Robinhood
Gary Gensler told Bloomberg that without his policing of markets, there would be no oversight of major events. He said:
"The public should understand we'll largely be a skeletal staff. The normal oversight we have on markets will not be possible."
Gensler, who was accused of creating a 'banana republic' at the SEC, added that companies that want to go public might not be able to have their filings reviewed.
However, considering the amount of time the SEC takes in their reviewing process, this is unlikely to be an issue.
Read more: What Does It Mean To Receive a Wells Notice From the SEC?
The silver lining is that the crypto industry would get some respite, and the avalanche of litigation may ease for a while.
Furthermore, Bloomberg ETF analyst Eric Balchunas reported other aspects of the interview. He was asked about whether courts have any effect on his thinking regarding crypto.
Gensler said, "I wish something the court could say would bring compliance sooner." Then he went into his usual anti-crypto tirade, labeling industry players and investors as "fraudsters and hucksters."
Bitcoin ETF Rejection Possibility
The SEC chair was also asked if a Grayscale loss could result in revoking Bitcoin ETFs, according to Balchunas. Gensler was evasive, replying:
"I'm not going to get ahead of the staff work. We take into consideration any time a court rules, and we consider it and think it through, and deal with filings that are in front of us."
Additionally, Crypto Law's response was actually closer to the truth of the matter:
"The courts are actually bringing Gary Gensler into compliance on crypto. He has wasted untold millions of public dollars on ridiculous lawsuits that are failing one after the other, while massive frauds go off like bombs right under under his nose."
Moreover, there has been no reaction from crypto markets, which remain at $1.1 trillion capitalization today.