Mark Scott, the lawyer embroiled in the infamous OneCoin cryptocurrency scandal, was denied his appeal for a new trial despite allegations of perjury by a key prosecution witness.
Scott was found guilty of money laundering and bank fraud conspiracy in 2019.
Money-Laundering OneCoin Lawyer Won't Get New Trial
Scott was accused of laundering $400 million from the OneCoin fraud and used the money to fund a lavish lifestyle. He had many luxury assets, including a yacht, multiple homes, and three Porsches.
His defense hinged on his claim of ignorance, asserting he was unaware that OneCoin was a fraudulent scheme. The prosecution, however, argued that Scott made $50 million setting up a fake investment fund to process money for Ruja Ignatova, the co-founder of OneCoin, who is currently on the FBI's Ten Most Wanted list.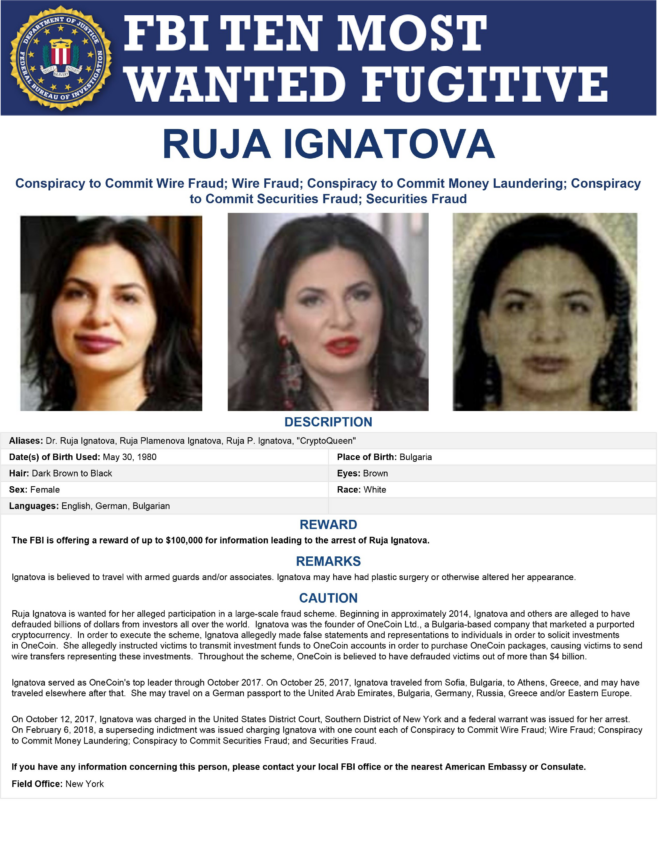 Ruja Ignatova on FBI Ten Most Wanted List. Source: CNN
Despite the revelation that Konstantin Ignatov, a government witness and brother of Ruja Ignatova, lied on the stand, US District Judge Edgardo Ramos ruled against a new trial for Scott. Ramos remained unconvinced that,
"An innocent person may have been convicted."
OneCoin, co-founded by Ruja Ignatova and Karl Sebastian Greenwood, operated as a multilevel marketing network, paying commissions to people worldwide to recruit others to buy OneCoin packages. Ignatova disappeared in 2017 as OneCoin came under scrutiny, and Greenwood was recently sentenced to 20 years in prison for his role in the scam.
Scott's lawyer, Arlo Devlin-Brown, expressed disappointment at the ruling, citing:
"Undisputed evidence that the Government's sole cooperating witness perjured himself."
He confirmed plans to appeal the decision.
Read more: 15 Most Common Crypto Scams To Look Out For
OneCoin Saga a Stain on Crypto
The OneCoin scandal is one of the largest fraud schemes in history, defrauding over 3.5 million people globally. The scheme generated €4.037 billion in sales revenue and also earned €2.735 billion in profits.
Greenwood lived a life of luxury on his ill-gotten gains, splurging on designer clothes, expensive watches, properties abroad, and a luxury yacht down payment.
Meanwhile, co-founder Ignatova, nicknamed "Cryptoqueen," remains on the run. Despite rumors of her demise, recent developments linked her to a property in London.
The FBI now lists her among their most wanted with a $100,000 reward for information leading to her arrest. Despite the denial of Scott's appeal, the repercussions of the OneCoin fraud continue to unfold.