Back to the list
Malta's Financial Services Authority highlights watchdog's plan to actively monitor crypto-related businesses
ambcrypto.com
07 September 2019 02:20, UTC
Reading time: ~3 m
---
The Malta Financial Services Authority [MFSA] is all set to monitor and manage business-related risks concerning all licensed virtual assets and cryptocurrency businesses, with the primary focus on fighting activities like financial crimes, money laundering, and terrorism financing. The MFSA intends to maintain the stability of the industry and the country at large by taking these measures.
In an effort towards the same, the MFSA is currently in the process of implementing SupTech intelligence tools which, according to the 'MFSA Strategic Plan 2019-2021,' would help it identify illicit activities and protect consumers, investors and market stakeholders. The report said,
"The implementation of SupTech intelligence tools will provide the MFSA with powerful oversight tools to automate regulatory processes and audit the risk management of virtual asset businesses that are licensed in Malta."
Dubbed as the 'MFSA Strategic Plan 2019–2021,' the report prioritized the challenges faced by local and international financial markets and risks emerging due to growing financial innovation and technologies.
While realizing the challenges emanating from blockchain and crypto-technology, the Maltese watchdog stated that it is working towards "modernizing the regulatory approach" and be a step ahead of industry developments. MFSA will continue to work closely with the Financial Intelligence Analysis Unit [FIAU] and other national and international authorities, including the newly set-up Malta Digital Innovation Authority [MDIA]
To achieve its Vision of 2021, the three-year roadmap constituted recommendations from the International Monetary Fund [IMF], Moneyval, rating agencies, the European Commission, the European Central Bank, and the European Banking Authority. The report read,
"The Maltese financial services sector is highly diversified and incorporates all financial activity including that of credit institutions, financial and electronic money institutions, securities and investment services companies, trading venues, insurance companies, pension schemes, trustees and crypto-assets."
Touted as the "blockchain island", Malta is known for its industry-friendly policies for start-ups that fail to or struggle in other parts of the world due to harsh or uncertain regulatory climate.
Leading cryptocurrency exchanges such as Binance and OKEx have already established a large presence on the small island. In an analysis carried out by the international investment bank, Morgan Stanley, as of 2018, Malta registered the most trading volume of cryptocurrency exchanges. According to Sheela Shah, who headed the bank's research team, "attractive regulations makes an exchange decide to choose one country over another – a set of laws for companies to follow when handling digital tokens, customer assets, AML policies, taxes, etc."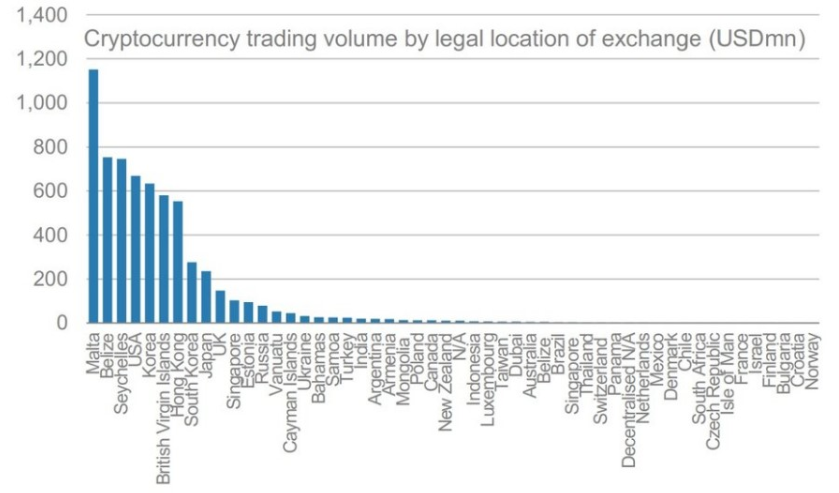 Source: Malta Chamber
Malta also happens to be the first EU Member State and country in the world to have rolled out a solid legislative framework in the blockchain and cryptocurrency space. Besides, the country has also provided for a new framework for start-ups and established entities who desire to register and certify their Distributed Ledger Technologies.
---
Source
---
Back to the list
Similar news