Florida Governor Ron DeSantis announced his run for the Republican nomination in 2024. He said that he would support the right to trade crypto but opposes CBDCs.
In a live Twitter Space event with Elon Musk, Florida Governor Ron DeSantis formally announced his run for president in 2024. DeSantis and Musk spoke in a session that was moderated by DeSantis supporter David Sacks. Musk has also previously said that he would support DeSantis and his bid for the presidency.
DeSantis Opposes a CBDC
Of interest to the crypto world is the fact that DeSantis said that he would support the growth of the crypto industry and would let people trade digital assets. He also opposed central bank digital currencies (CBDCs), which might seem him further curry favor with some in the crypto world.
Speaking on his stance on Bitcoin, DeSantis explained,
"You've got every right to do bitcoin. The only reason these people in Washington don't like it is because they don't control it. They're central planers, and they want to have control over society. So bitcoin represents a threat to them and so they're trying to regulate it out of existence. Look, could Congress enact a statute to ban things like bitcoin under the constitution? They may be able to do, I would oppose that."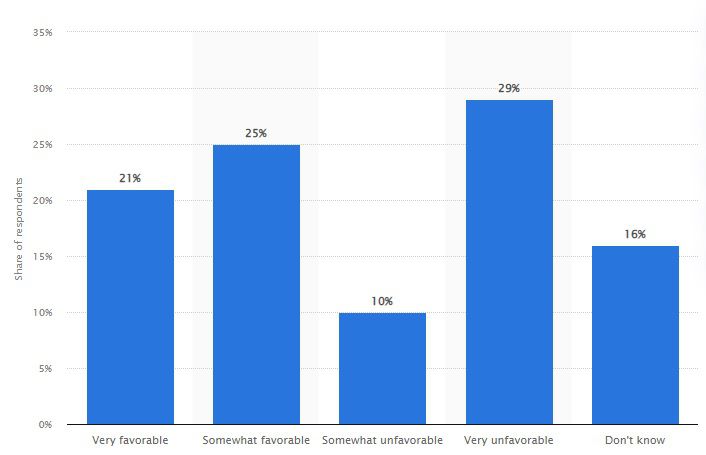 Ron DeSantis Approval Rating: Statista
DeSantis has an approval rating of 21% very favorable, 25% somewhat favorable, 10% somewhat unfavorable, and 29% very unfavorable. 16% have no position either way on the governor.
Presidential Candidate Robert Kennedy Jr. Also Pro Crypto
Robert F Kennedy Jr, who also announced his candidacy for the Democratic nomination in 2024, supports the crypto industry. Kennedy Jr. delivered the keynote address at the Bitcoin 2023 conference, saying that he "defend right to self custody, right to run a node at home and defend industry neutral regulation of energy."
He also said that he would "reverse the government's growing hostility toward this industry." Many in the crypto world feel that the United States Securities and Exchange Commission (SEC) and others are taking far too harsh a stance, so they would welcome such a turn.
Crypto on the Agenda in U.S. Politics
Crypto has increasingly become a policy on which lawmakers in the United States are fighting for roles. The industry has been pushing to make its voice heard, with companies spending millions of dollars lobbying in last year's midterm elections.
Among those who donated were now notorious crypto insider Sam Bankman-Fried, whose offerings were well documented following the collapse of FTX. Skybridge Capital was another notable donor, led by former Trump White House communications director Anthony Scaramucci.
Coinbase has also spoken about the need to engage politically. The firm stated in a post published in April that it was "on target to recruit 50,000 crypto advocates by the end of the year."